February is a month of love and romance and there's no better way to observe it than by taking a romantic trip to wine country.  Sonoma Valley is a mecca for the senses and a pastoral slice of paradise just 45 miles north of San Francisco. Offering a historic legacy and a leadership role in sustainable tourism, Sonoma Valley is an ideal place to say "I love you".
We suggest you start with choosing the right accommodation to fit your style and budget and Sonoma Valley features no shortage of choices. From high-end RV Parks to 5-star luxury resorts Sonoma Valley offers the full spectrum. Here is our short list of Sonoma Valley accommodations:
Petaluma KOA
If fresh air and scenery are your top priority, we recommend Petaluma KOA. Rated one of the Top RV campgrounds in California, this beautiful 70-acre property offers 312 RV sites and the best in family and big rig RV camping, just minutes away from Sonoma wineries. Guided tours of Sonoma wineries depart daily from KOA from May to October. On-property amenities include: a rec room, rock wall, pool and spa, and live weekend entertainment
Sonoma Valley Inn.
For an ideal proximity to the historic Sonoma Plaza, Sonoma Valley Inn is just steps away. Besides a coveted location, this family-owned property is absolutely lovely. It's designed around a serene garden courtyard and features a heated saltwater pool, steam room, and covered hot tub. The rooms are appointed with romantic touches including wood burning fireplaces and private balconies or patios.
Sonoma Carneros Barn House
If you're looking for something that feels just like home, check out the Sonoma Carneros Barn House. This ideal Sonoma vacation rental features a modern, two-story barn design and offers two spacious master suites, a fully stocked chef's kitchen, outdoor area for alfresco dining, and much more!
Flamingo Resort & Spa
This iconic hotel is as romantic as the day it opened. It's a glamourous historic landmark ideally situated between Sonoma Valley wineries and downtown Santa Rosa. The resort offers 170 newly remodeled rooms and suites, two pools, an 8,000-square-foot health club, and a full service spa. Plus, there's great entertainment including live music, dancing, and a Sunday Champagne Brunch
MacArthur Place Hotel & Spa.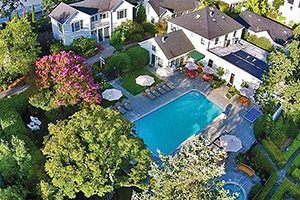 There's a wonderful hideaway just blocks from Sonoma Plaza called MacArthur Place Hotel & Spa. The property is tucked into seven beautifully landscaped acres in a landscaped setting of hedges and serene gardens. Once a magnificent 19th century estate, it is now an award winning enchanting oasis.
Once you've decided where to stay, you can turn your attention to the dozens of Sonoma Valley wineries waiting to host you. Here are our top suggestions:
Schug Carneros Estate
This family owned and operated winery is just southwest of town. Known for their elegant European-style Pinot Noir, the winery also produces superb Bordeaux varietals. Guests can choose to sample wines in the tasting room or take a self-guided vineyard tour.
Highway 12 Vineyards & Winery
Located on the corner of Sonoma Plaza in the historic Mission Hardware building, Highway 12 Vineyards & Winery offers guests a complimentary tasting and a wealth of knowledge and casual congeniality.
Larson Family Winery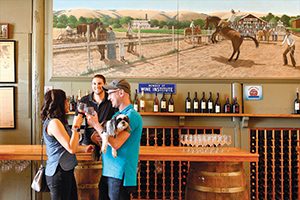 Located in Carneros, the winery was once home to the largest rodeo in Northern California. The winery blends the family's passion for winemaking with a fun loving country lifestyle. There's intriguing memorabilia and a captivating mural the barn-turned-tasting room. All family members (including canines) are welcome.
In addition to considering the wineries on Sonoma Valley's extensive list, visit heartofsonomavalley.com. Here you will find information on 28 amazing wineries offering world class wines, barrel tastings, food and wine pairings, winemaker tastings, and more all within minutes of the Sonoma Plaza. It's also a fantastic resource for event information and wine trail passes.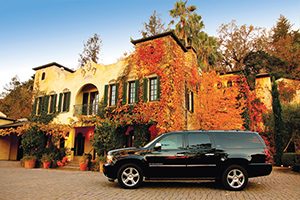 If you are having trouble coming up with your own itinerary, hiring a knowledgeable, personal guide is a great option. Jill Leone created Leone Wine Tours to show visitors a variety of Sonoma Valley's wineries and other attractions while they sit back and relax in a luxury vehicle. She can personalize a custom tour just for you. Beyond wineries, what are some of Sonoma Valley's great attractions?
Quarryhill Botanical Garden
This woodland garden is cradled in the foothills of the Mayacamas Mountains and features more than 20,000 plants of wild origin in a natural setting. Follow the winding gravel paths set amongst exotic shaded trees and tranquil ponds and enjoy the flora along the way.
The Olive Press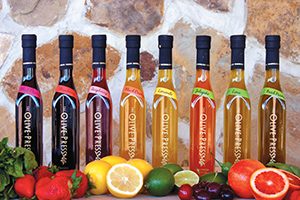 A great addition to your wine tasting itinerary is olive oil tasting. Visit Sonoma County's first and the nation's most award winning olive mill, the Olive Press. Located at Jacuzzi Family Vineyards, the Olive Press offers an array of enticing samples.
Cornerstone Sonoma
This wine country marketplace set among stunning gardens is ideal for world-class shopping, wine and spirit tastings, artisanal foods, local art, and more. The marketplace also offers seasonal classes, unique event venues and is home to Sunset Magazine's Test Gardens and Outdoor Test Kitchen.
As you see, there is plenty to do and fall in love with in the Sonoma Valley. We hope you'll plan to stay for several days to take it all in. Start planning your romantic getaway today!
The following article was provided by our contributing partner – Touring and Tasting Magazine.
Cheers – Ken