With over 50 wineries in the region (and growing) the Livermore Valley offers a rich history in the wine industry dating back to the time of Spanish missionaries in the 1800s. Situated in the San Francisco appellation, the valley is home to legendary Wente Vineyards, noted for putting California wines on the map, as well as other fifth generation family wineries full of stories and unique wines that reflect the region's soil that lends itself to more flavorful grapes. The region is a can't-miss for any wine lover looking to explore the plethora of welcoming tasting rooms offering award-winning wines and activities all year long.
For more information on where to stay, eat, and taste in the Livermore Valley, look to Livermore Valley Winegrowers Association.
Here are some notable Livermore Valley wineries that can't be missed
Murrieta's Well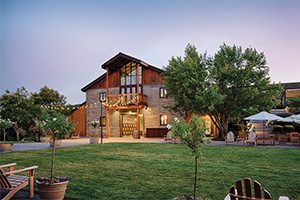 Hidden down a winding country lane, Murrieta's Well is an enchanting setting for wine tasting, private parties, and other private events. The winery has a full kitchen that offers a complete menu of small plates designed for guests to share and pair with the estate wines. Reserve a tasting at the beautiful tasting bar overlooking the estate, in the club lounge, in the historic barrel room, or on the outdoor patio.
Murrieta's Well's current portfolio of limited production wines includes a vibrant peach color Dry Rose composed of estate-grown Grenache and Counoise. Each varietal was cold-fermented separately to retain its distinct flavors. The Small Lot Merlot, a blend of estate-grown Merlot, Cabernet Sauvignon, and Petit Verdot, was also fermented and aged separately. It's a well-balanced wine with gripping tannins and a soft, supple mouthfeel.
Steven Kent Winery
It wasn't until 1996 that Steven Kent Mirassou brought his love of great Cabernet Sauvignon to the Livermore Valley and started The Steven Kent Winery, with the sole focus of crafting the very best possible Bordeaux wines.
Cabernet was anything but new to the Livermore Valley, but inspired by the region's climate and soils, Steven wanted to raise the bar, and he did. Today the winery is highly lauded for its stellar small-lot vintages of Cabernet Sauvignon and other Bordeaux grape varietals including a white Bordeaux-style blend, a truly historic Cabernet made from 100 percent best-of-vintage grapes, several limited production Cabs and blends, and Lineage, Steven Kent classic blend of the five basic red Bordeaux varietals. Wine lovers are invited to realize the true potential of the Livermore Valley in the winery's Barrel Room (open daily) and in The Reserve Room (open Saturdays and Sundays).
Cuda Ridge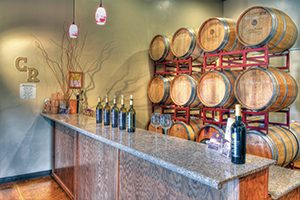 Cuda Ridge Wines is a family-owned winery that produces handcrafted small-lot Bordeaux-style varietals and blends. These world-class, award-winning wines are produced from grapes sourced from the region's premier vineyards. Their signature varietals, Cabernet Franc and Petit Verdot, have both received 90+ point ratings and other award winners include Merlot, Cabernet Sauvignon, and Malbec. While known for reds, Cuda Ridge also produces Sauvignon Blanc and Semillon, both historic varietals of Livermore Valley. Visit the winery for artisan charcuterie, picnic tables outside, local art and live music.
Fenestra Winery
Since 1976 Fenestra Winery has called Livermore Valley home. It was the area's first boutique winery and has offered a portfolio of impressive varieties of whites and reds made from grapes grown in the best vineyards in Livermore and beyond. Fenestra is a popular stop for wine lovers who enjoy the relaxed, country ambience while they taste the award-winning wines and picnic along the creek.
Livermore Wine Trolley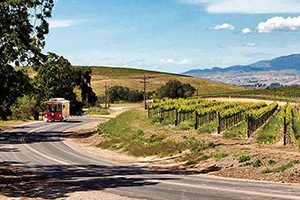 All aboard! Hop on the Livermore Wine Trolley and immerse yourself in the fantastical canyons and playful hills as you enjoy an all-inclusive guided wine tour. Guest can visit select wineries, enjoy lunch, and learn about the area while aboard an 18–36 passenger motorized trolley. You can even reserve a private charter for your special event or group!
Las Positas
The inspiration of this winery's name comes from Robert Livermore's Rancho Las Positas, a property of 40,000-acres with winding streams and plentiful watering holes. With a focus on Old World and New World wine production pioneering, Las Positas Vineyards offers exquisite handcrafted, small-lot wines. Make your way to the winery for food and wine events, live music, and entertainment.
Garre Vineyard & Winery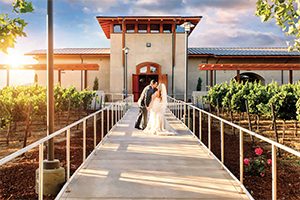 Looking back to the early 19th century, you'll find this Italian family and their wine making skills housed in a tiny village outside of Genoa, Italy. Fast forward to the present and the same heritage and attention to care is in every glass of Garré wines made in the Livermore Valley.
With an emphasis on Old Italy, special events such as weddings will be most memorable with the option of two venues at either the Bella Rosa or Martinelli Event Center. Garre Vineyard even offers a hand-selected list of Preferred Professionals to accommodate your needs. Whether it's the whimsical Italian gardens, the aroma of fresh baked focaccia, or their tasting room that boasts award-winning offerings, the Garre Vineyard is a bellissimo sight to behold.
Nottingham Cellars
Offering wines that receive 90+ point score reviews and numerous awards and accolades, Nottingham Cellars is definitely a worthwhile experience in Livermore Valley. The property houses numerous vineyards but their Casa de Vinas Vineyard is their benchmark. This is due to the fact that it houses the backbone to Nottingham Cellars: the Cabernet Sauvignon.
Accompanied with a winemaking philosophy that focus on flavors rather than numbers, it's not surprising that Nottingham Cellars offer wines that age wonderfully in the most discerning cellar.
The following article was provided by our contributing partner – Touring and Tasting Magazine.
Cheers – Ken