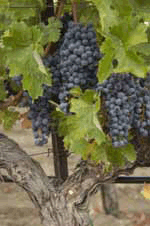 Merlot is one of my favorite food wines.  It is very easy to drink, approachable, and goes well with just about all red meat meals.  The very best Merlots do have some good structure along with very enjoyable flavors.  I realize the grape has had a lot of bad press since that silly movie "Sideways."  The negative press coupled with the serious over supply and quality issues from a few years back led to a fall in this noble grape's popularity.  Times have changed and Merlot producers are determined to put their beloved grape back on the map.  In our big blind tasting we tried 14 offerings.  10 of them made the cut as Very Good or better.  On the low end, the results were not as favorable.  But we did find a couple of Good+ and a Very Good offering to recommend.  I also worked in a smattering of additional Merlots that I tried this summer in CA.  This includes my top selection which just blew me away!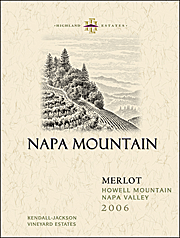 What was my favorite Merlot this year?  It was the 2006 Kendall Jackson "Napa Mountain" Merlot for $55.  I scored this wine Excellent with 96 points.  It is an incredible bargain at that price.  However, you will need to hurry and call the winery as there were only 581 cases of this gem made.  This Merlot was clearly one of the best wines that I tried on a recent trip to California.  It is full-bodied, extremely well balanced, and silky.  It displays absolutely delicious black cherry flavors along with noticeable tannins that are rather lengthy.  This is top notch Merlot!  You should get a bottle to show off to your best friends.  Have it ready for the next time someone knocks Merlot and then serve them this gem and they will be a Merlot fan forever.  Trust me, you will be spoiling them.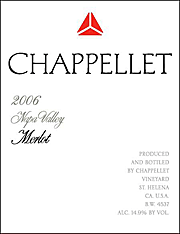 The next wine was the winner of our big blind tasting in August.  It was the 2006 Chappellet "Napa Valley" Merlot for $30.  The panel awarded this wine with 91 points.  It was full-bodied, nicely balanced, structured and velvety.  The flavor profile is a very tasty blueberry.  Its well managed tannins drift away nicely.  The panel really enjoyed this complex Merlot and felt it was a lot of wine for the money.  They would pair it with a NY strip steak.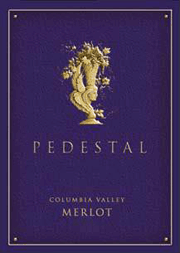 Right on the heals of the Chappellet was the 2006 Pedestal Merlot from Columbia Valley, WA.  This wine also scored  91 points and was only a fraction behind the Chappellet.  The big difference was the Pedestal costs a bit more at $55.  But as you will see based upon the next few wines, this is a common price range for some of the best Merlots.  Some are even higher.  Like past vintages, the Pedestal was full-bodied, very well balanced, and super refined.  The flavor profile was a rich and spicy black currant.  It showed very fine tannins that drifted away nicely.  This Merlot needed a little time and air to open up, but when it did, it did so beautifully.  The panel felt this elegant Merlot would pair very well with a filet mignon at your favorite steakhouse over the next couple of years.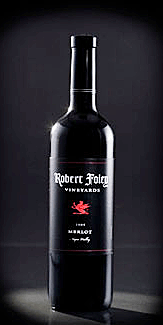 Next up was a Merlot that we enjoyed with colleagues at Grill 23 in Boston.  This Merlot was the 2005 Robert Foley from Napa Valley.  We scored this wine 91 points and it costs $45 per bottle.  As readers know we have scored Mr. Foley's Merlots very well in the past.  We feel he consistently makes one of the best Merlots each and every year. The 2005 vintage of his wine was very nicely balanced and rather smooth.  Our group enjoyed its very tasty blueberry flavors.  A few in the group picked up a touch of black currant and black pepper as well.  It paired quite well with our steaks and was a hit all around the table.

Next up from our big blind tasting was the 2005 Marchesi de Frescobaldi "Lamaione" Merlot from Toscana, Italy.  The panel was enamored with its silky and rather elegant style.  That combined with its impressive dusty black cherry flavors made it one of the most intriguing Merlots in the tasting.  We awarded this wine with 90 points.  It costs $72 and we would pair it with a filet mignon
The next Merlot surprised some panelists, but not me.  The 2006 Kendall Jackson "Grand Reserve" Merlot for $28 finished in 4th place in our recent big blind tasting and was given 89 points from the panel.  This offering was medium-bodied and nicely balanced.  It displayed rich and concentrated black raspberry flavors.  The panel also detected appealing notes of blackberry and black currant.  This was a complex and hearty Merlot that has substantial tannins right now.  The panel placed it with chicken gumbo or steak tips with a ginger sesame sauce in the near term.  The other option is to cellar it for a year or two.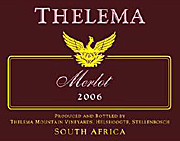 The next Merlot will really appeal to our Old World fans.  This offering also seems to show very well every year.  The 2006 Thelema Merlot from Stellenbosch, South Africa was voted Very Good and received 89 points.  This wine opens with a smoky grilled-meat-like bouquet and continues that style with smoky blackberry flavors with notes of black currant, licorice, and oak.  It was a classic and distinctive South African-styled Merlot that would pair perfectly with pot roast.  There were only 200 cases imported at $29 per bottle.  So if you like this style of Merlot, seek out this one soon.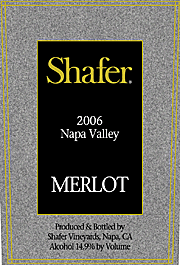 Shafer always makes a well received Merlot and their 2006 for $48 is no exception.  I rated this wine Very Good and scored it 89 points on my trip to California.  Like most of the 2006 vintage wines it was nicely balanced and very easy to drink.  It showed mild black currant flavors with notes of dark cocoa.  Its very refined tannins make it a pleasant food wine that I would serve with a pork tenderloin.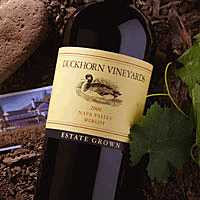 Next up is a pair of Merlots from Duckhorn.  Both wines scored Very Good and received 89 points from the panel.  The first wine was the 2006 Duckhorn "Estate Grown" Merlot for $85.  This wine was medium-bodied, very nicely balanced, and ultra smooth.  It displayed very tasty cherry flavors with notes of blueberry and plum.  The only thing holding this wine back from scoring well into the 90 point range was its relatively short finish.  The other Duckhorn entry was the 2004 "Red Wine" from Howell Mountain for $75.  This wine was 91% Merlot so we entered it into the Merlot field.  This offering was a little bigger.  It was full-bodied, very nicely balanced and smooth.  Its flavor profile was a pleasant blueberry with hints of plum and oak.  The panel suggested that this Merlot would pair well with pot roast.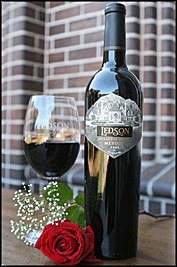 The next 2 Merlots were from wineries that were new to me.  I discovered both wineries and wines on my recent trip to California.  The first wine is the 2005 Ledson "Russian River Valley" Merlot for $34.  I scored this wine Very Good and gave it 89 points in a comparative tasting that I attended while visiting California.  This wine opens with a unique smoky blueberry bouquet.  It is medium-bodied, nicely balanced, elegant, and smooth.  The smoky profile continues on the palate along with blueberry and oak flavors as well.  I thought this was a pleasant near term Merlot to pair with filet mignon.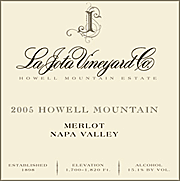 The second new discovery was the 2005 La Jota "Howell Mountain" Merlot for $45.  I also scored this wine Very Good and awarded it with 89 points.  I thought this offering was the best wine in the La Jota lineup.  It was a medium-bodied, balanced, and a very approachable wine.  The flavor profile was a mild black raspberry with some noted blueberry and a dash of black pepper and spice.  I really enjoyed this wine's very lengthy fine tannins that went on for quite some time.  It's a perfect wine for a nice thick cut of prime rib.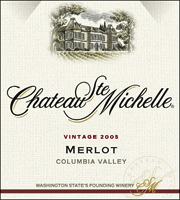 In the value range we came up with 4 Merlots that should meet your needs from a price and quality standpoint.  First from the big blind tasting came the 2005 Chateau Ste. Michelle Merlot from Columbia Valley, Washington for $16.  The panel scored this wine 87.3 points.  This mild cherry flavored Merlot also displayed notes of spice and beet.  The panel thought this nice everyday Merlot with meatloaf or barbecue steak tips. Finally, not only is this wine Very Good and affordable, it is also plentiful as 160,000 cases were made.

Next up is the winner from our mini flight of affordable Merlots.  The 2006 Dona Paula "Estate" Merlot from Tupungato, Argentina scored Very Good and received 87 points.  This offering was medium-bodied, balanced, and very easy to drink.  It presented gentle black cherry flavors and moderate tannins were tingly and stick around for a while.  We felt this very approachable Merlot was a Very Good bargain for $16 per bottle.  We would pair it with a big thick grilled burger.

The next 2 offering were rated 86 points.  We call them Good+.  They are Good values and a cut above the other offerings in their price range.  First was the 2008 Cono Sur "Bicycle" Merlot for $10.  This wine hails from the Central Valley in Chile.  It opens with an old oak and campfire-like bouquet.  It continues its Old World style on the palate with its soft and easy going light oak infused black cherry flavors.  It's a Good burger wine and it's at a really good price.  The last value wine is an old standby and a classic glass pour at many restaurants.  The 2006 Columbia Crest "Grand Estates" Merlot for $11 is medium-bodied, balanced, approachable, and soft.  The flavor profile is a gentle black cherry with a hint of blueberry and a touch of old oak.  This easy to drink Merlot would pair very nicely with a barbecue chicken sandwich.
Other recommended Merlots:
1) Darioush 2006 Merlot "Signature" (Napa) $48 (89)
2) Seven Hills 2007 Merlot "Seven Hills Vineyard" (Walla Walla, WA) $28 (89)
3) Robert Mondavi 2006 Merlot "Napa Valley" $23 (87)
As you can see this is a nice cross section of Merlots at various price ranges.  Merlot is slowly making a comeback and there are several really good ones out there to choose from.  Try one today and enjoy.
Cheers – Ken