California wine country has a history that dates back to the late 1800s and the founding of its first missions. Through the subsequent years, countless individuals and families have made their contributions to the land. Their vineyards and towns have flourished, and so has the lore. With the help of Touring & Tasting, we've collected some great wine country stories to share with you.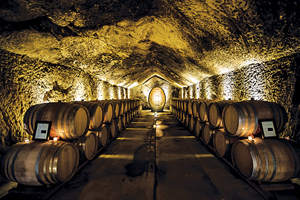 Buena Vista Winery, Sonoma
This historic winery, located just five minutes from Sonoma's downtown plaza square was first established in 1857 by Count Agoston Haraszthy. The "Count of Buena Vista" is often referred to as the Father of California Viticulture—for many good reasons. He is credited with creating California's first gravity flow winery, digging the area's first wine caves, and importing more than 300 different varieties of barrels from Europe. When you visit Buena Vista's Historic Press House today, you can take a History and Wine Tour with a guide dressed as a historic figure with many fascinating tales to tell.
Villa San-Juliette, Paso Robles
The story of this stunning winery began in Hollywood when childhood friends and top television producers Ken Warwick and Nigel Lythgoe (American Idol, So You Think You Can Dance) decided to purchase a winery. They interviewed 100 winemakers and settled on Matt Ortman who oversaw the construction of a fabulous new winery last year. Villa San-Juliette offers vista views, seated tastings, fun wine events, occasional A-list parties, and a great list of wines.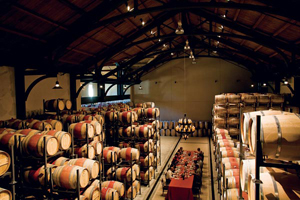 Trinchero Napa Valley, St. Helena
Named for its founder, Mario Trinchero, Trinchero Napa Valley has a fascinating story to tell about Napa Valley Cabernet Sauvignon. It's told in the tasting room with A Taste of Terroir, a horizontal line-up of four of the winery's single-vineyard Cabernets from St. Helena, Rutherford, Atlas Peak, and Mt. Veeder. By examining the aromas and flavors of these wines side-by-side, guests can detect the differences in these valleys. Daily seminars allow you to dig even deeper.
Demetria Estate, Los Olivos
In Greek Mythology, Demetria is the goddess of the harvest. So it's quite fitting that John and Sandra Zahoudanis chose the name for their winery, which they started to uphold John's Greek heritage and the couple's love of the land. The winery was one of the first in Santa Barbara wine country to use Biodynamic farming practices. Each wine tells a story of the land, the planets, and the moon. Winemaker Harry Waye crafts two distinctive portfolios: Rhône varietals from the estate and Chardonnay and Pinot Noir from nearby Santa Rita Hills and Santa Maria Valley. The storybook winery is tucked at the end of a long winding road overlooking Foxen Canyon. Well worth the drive!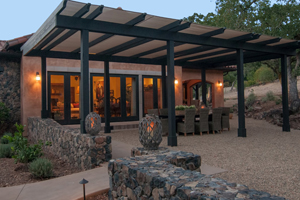 Villa Terra Nova, Sonoma
This enchanting vacation 5,300-square-foot home is a place where new stories are made. It's just a short drive from historic Sonoma Plaza, countless wineries, and restaurants. Picture spending the day wine tasting then stopping at the local Farmers' Market for fresh produce before you head for this splendid home. A massive, professionally equipped kitchen awaits, along with beautiful dining areas both inside and out. Cook together, or rely on Villa Terra Nova's private concierge service to arrange for an onsite chef. With five bedrooms and a two-bedroom guesthouse, this luxurious property accommodates up to a dozen guests. Ideal for family get-togethers and reunions.
Harney Lane Winery, Lodi
It seems that most Lodi wineries have a multigenerational family to tell, and this one is no exception. Jorja Lerner, a member of the family's fifth generation, and her husband Kyle are calling most of the shots these days, but the fourth and sixth generations do their part too. They manage every aspect from vineyard, to bottle, to consumer, and amazingly, they still find time to sit by their outdoor fire pit from time to time and enjoy their garden. And their wines, which consistently stand out at the major competitions.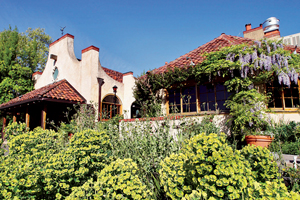 Rancho Caymus Inn, Rutherford
The historic land where Rancho Caymus Inn now stands was once awarded to George C. Yount as part of the Napa Valley's first land grant. More recently, it was purchased by the Komes family in 1991 and transformed into an elegant retreat in the heart of Rutherford Bench country. Here, each and every suite has a story to tell. Each is named for a pioneer in the Napa Valley, like Robert Lewis Stevenson and Black Bart. Guests can read about them as they settle into their well-appointed accommodations, with dozens of world famous wineries nearby.
Peju, Rutherford
If you believe that art tells a visual story, you should know about Peju. This fabulous boutique Napa Valley winery is dedicated to beautiful architecture, art, and wines. Housed in a unique 50-foot tower building, the winery features a manicured garden with enchanting sculptures and fountains. It has been named Top Artisan Winery of the Year by Wine & Spirits Magazine and a Top California Cabernet Producer by Wine Spectator.  Family owned and family run, Peju is a feast for the eyes and palate.
Michael David Winery, Lodi
Seven generations strong, Michael David Winery produces premium quality wines with eye-catching labels and great stories behind them. But you couldn't guess this as you pull up to the winery, located at the southwestern edge of the Lodi appellation. The Michael David tasting room is housed in the Phillips family's 40-year-old roadside fruit stand. They still sell produce picked in the family's fields. Plus there's a great café serving farm-style breakfasts, lunches, and legendary pies. It's a great place to swap tales and discover some very good wines.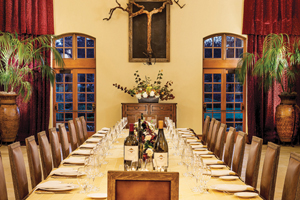 Kendall-Jackson, Sonoma
Firmly grounded in the heart of Sonoma County for 30 years, the story of Kendall-Jackson has always been the tale of a family. Winemaker Jess Jackson began the first chapter with a bang: the 1982 Kendall-Jackson Vintners Reserve. The vintage sold out in a matter of weeks and went on to win the American Wine Competition's first-ever Double Platinum award. But despite all the accolades, the real story here is about family and the time-honored principles of hard work, quality, and hospitality. A visit to the winery feels more like a visit to the home of a friend who encourages you to walk through the kitchen and check out the garden. The vibe is unhurried and utterly genuine.
The following article was provided by our contributing partner – Touring and Tasting Magazine.   Cheers – Ken