I know what you're thinking, Oktoberfest means beer. You suddenly feel the urge to throw on your favorite lederhosen & knock back a bucket-sized mug of sudsy Hefeweizen while shouting "Noch ein Bier, bitte!" Before you inevitably end up with those questionable Facebook photos Monday morning (Wow those suspenders looked a lot better after a few cold ones, didn't they?) let Touring & Tasting switch up your usual Oktoberfest routine this year…with wine! Germany is also famous for delicious wines, and you can even find a special wine tent at the famous Oktoberfest celebration in Munich. We might not all get to make it out to Germany this year, but here are a few of our favorite wine country destinations to make this October worth celebrating. Prost!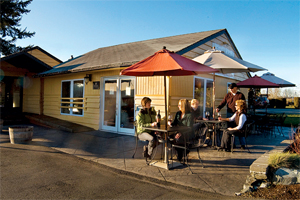 Brian Carter Cellars, Woodinville, WA
Calling all foodies: Brian Carter Cellars wines are extremely food friendly and are favorites of many of the top chefs in Woodinville as well as other chefs and sommeliers across the country. Tasting through their portfolio of wines is like taking a tour around the world, with delicious notes of famous wine regions in Bordeaux and Southern Rhone, France, Tuscany, Italy and even notes from Portugal and Spain. Each varietal is made separately in a small lot to fully enhance the complexities of each different grape, and then blended beautifully into the delicious final product you can taste in their tasting room today. Learn more about their winemaking process at their tasting room located in the heart of Woodinville Wine Country's Hollywood District!
Le Boat: Various Regions, France
Have you always wanted to visit France, but never seemed to find the right opportunity to plan the trip? Well we've found your perfect moment, and Le Boat is ready to do all the planning for you! Le Boat offers a variety of self-guided canal boat vacations in their three hand-selected regions: Canal du Midi, Nivernais, and Loire Valley, each offering a unique gastronomic experience, incredible wines and beautiful countryside views to make your 'tour de France' unforgettable. Follow one of their many exciting itineraries or set sail on your own, whatever you decide, a vacation with Le Boat will be the one of a lifetime. Book your trip before November 30th to save up to 12% and to secure your choice in boat and dates!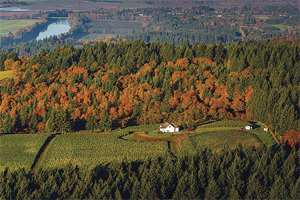 Le Cadeau: Willamette Valley, OR
"Le Cadeau" means "the gift" and while you may assume after tasting their incredible wines that the name refers to the Pinot Noir, owners Tom and Deb assure their guests that the true gift is the opportunity to pursue their dream with the beautiful land they have been blessed with. They believe the vineyard itself is the single most important aspect of the winemaking process, and have dedicated themselves to upholding the highest farming standards. Guests can taste the quality of their delicious Pinot Noir and other varietals at their brand new tasting room in Dundee!
Dolphin Bay Resort & Spa, Pismo Beach, CA
At Dolphin Bay Resort & Spa in Pismo Beach, every room is a suite! Every single one of their 62 one-bedroom suites have all the features of a home away from home, including a modern living room, gourmet kitchen and dining room. They also feature private laundry facilities, many include fireplaces and Jacuzzi bathtubs, and best of all they have a terrace or patio with an unbeatable view of the Pacific Ocean. If you can find a reason to leave your luxurious suite, you may choose to wade in the infinity-edged pool, visit the fitness center, or get a rejuvenating treatment at their amazing Spa. Dolphin Bay is the ideal spot for luxury and relaxation in Pismo Beach!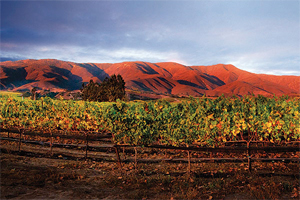 Santa Lucia Highlands, CA
Just 35 miles inland from Monterey is the famous wine region of Santa Lucia Highlands. It is an agricultural heartland, offering a rural wine country experience with a unique authenticity that will have visitors feeling proud of their travel decision.  Enjoy the winding drive through the beautiful valley where you'll find fresh fruit and vegetable stands, citrus orchards, and cattle ranches, and pull over at one of the many small family run wineries to taste a glass of delicious wine poured by the winemakers themselves!
Lucas Winery: Lodi, CA
The Lucas Winery team prides itself on their commitment to the quality of their wines. Perfect clusters are handpicked from their certified organic vineyard, and individually hand-sorted to ensure the highest quality in every single grape that goes into their wine. After this meticulous routine, they enter the winemaking process which is 100 percent solar powered.  The patient process of Lucas Winery wines results in true star quality and admirable respect for the environment. Visit their winery for a unique adventure including helping punch grapes, or enjoy an intimate tour of their property!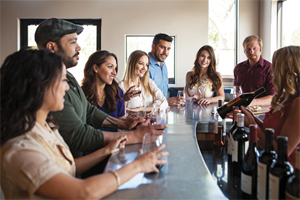 Hope Family Wines: Paso Robles, CA
When thinking of Paso Robles wines, Hope Family Wines should be on your short list. Following his family tradition & passion for winemaking, Austin Hope has been making a name for the family business, as well as for the Paso Robles wine region as Chairman of the Paso Robles Wine Country Alliance. Hope Family Wines has a rich history that fills the pages of every chapter of Paso Robles wine industry history, but also continues to pave the wave into innovation by embracing new technologies and non-traditional marketing methods. It is their vibrant history and hunger for constant improvement that will continue to keep Hope Family Wines at the top in Paso Robles!
Fess Parker Winery, Inn, and Spa: Santa Barbara County, CA
The winery itself is located along the Foxen Canyon Wine Trail, a winding road with stunning countryside views filled with cattle along the humble natural landscape. Tastings are available daily at the winery, where guests can taste the success of each current release, all of which have received 90 points or better in most of the major US wine publications. Just a short distance down the road in Los Olivos Is the Fess Parker Wine Country Inn, the perfect balance between the sophistication of a renowned luxury hotel, and the friendly and warm atmosphere of a small rustic inn. Guests are welcome to enjoy plenty of first class amenities, including spa services, a fitness room, and Petros, their highly acclaimed restaurant. Fess Parker has the perfect winery and wine country inn combination to make your next trip to Santa Barbara County unforgettable!
Timber Cove Inn: Sonoma, CA
If you're looking for an intimate, private getaway this month, we're sure you'll find just what you've been imagining at Timber Cove Inn on the Sonoma coast. The Inn is located on a seemingly untouched cliff overlooking the jaw-dropping California coastline, just a short and beautiful drive from over a dozen commercial wineries. They have maintained their rustic charm while adding modern amenities, making it the perfect cozy hideaway for your next wine country visit to Sonoma!
The following article was provided by our contributing partner – Touring and Tasting Magazine.
Cheers – Ken