Are you tired of the same 'ole New Years Resolutions year after year? At the start of the New Year gym parking lots fill up, fridges are full of fruits and veggies, and Pinterest boards light up with "get fit" inspiration. However, come February the gym rats get their front row spots back, your Pinterest board goes back to DIY crafting ideas you'll never get to, and you find yourself binge eating potato chips while watching the last 10 seasons of Friends (Thanks Netflix). This year, make a resolution you'll WANT to keep… with wine! Vow to drink more quality wine this year, and practice some self-improvement in the process!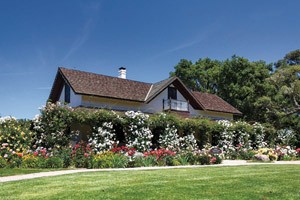 Transport yourself to New Orleans at Rideau Vineyard
Iris Rideau grew up in New Orleans and spent her childhood in a Creole household that has had an important impact on the wines she produces today. Her first language was French, and today she has dedicated her vineyard entirely to Rhone varieties. She hosts winemaker dinners in which she invites guests to taste her hometown with classic Creole dishes that pair beautifully with her exceptional wines. Rideau Vineyard is a beautiful country setting within the stunning Santa Ynez Valley!
Dress to Impress at Cinque Stelle
Winemaking is a family affair at Cinque Stelle, in fact the name, which means "Five Stars" in Italian, represents the five family members and their shared passion for producing high quality wines. They are known for their small-lot wines, with a focus on the Albarino, Tempranillo, Pinot Grigio, and Syrah grapes. These wines can be tasted while shopping around in their women's clothing boutique for a truly European experience!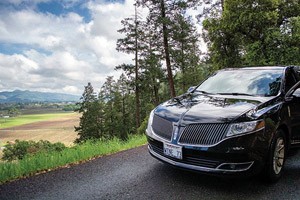 Travel in style with Napa Valley Tours
Planning a wine country getaway can be stressful and seem overwhelming; where to start, where to stay, where to eat? Let Napa Valley Tours & Transportation do the planning for you! They offer more than just an impressive fleet of vehicles; instead they provide their guests with a customized wine tasting experience. They realize that each guest has a different set of needs and interests, so they make an effort to talk with you beforehand to truly get a feel for what you're looking for. Then they use their impressive connections with the finest hotels, restaurants and wineries in the Napa Valley to plan the perfect wine country getaway for you!
Choose quality over quantity at Venteux Vineyard
Venteux Vineyard is the ultimate success story of two families coming together to produce rich, flavorful wines on an intimate scale. Although the number of wines produced may be small, the limited production allows for the quality that Venteux wines are known for. Stop by for the day to taste their delicious single-lot wines, or spend a weekend amongst the vines and take advantage of one of their unique lodging options. Whatever you decide, be sure to visit Venteux on your next visit to Paso Robles!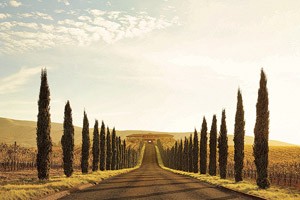 Give yourself more "me time" at Jamieson Ranch
At the Southern gateway to the Napa Valley resides Jamieson Ranch Vineyards, a 300-acre landscape of jaw-dropping vista views and gently rolling hills. Guests are in awe of the winery's beauty and friendly ambiance. It resembles a mountain lodge with its high ceilings, large fireplace, and cozy atmosphere. Their impressive portfolio of award winning wines will be the perfect compliment to the relaxing environment, and is the perfect place to cozy up this winter!
Appreciate Napa's history in Calistoga, CA
Calistoga is a charming little town located in the Northern Napa Valley. It is known for its famous hot springs, world-class wines and small town charm, but it is also rich in a history so untouched that it was named a "Distinctive Destination" by the National Trust of Historic Preservation. A visit to Calistoga is full of stunning Victorian architecture, delicious wines, and a sense of place that is unique to the quaint town. It is a must see during your next visit to the Napa Valley!
Dream big at Bello Family Vineyards
Michael Bello had two dreams, to own an award-winning racehorse and to make award-winning wine. To say that he achieved his goals would be an understatement. His horse won 13 stake races, which helped fund the highest quality grapes and practices that produce the Bello Family Wines we know and love today. These distinctive wines can be tasted in their tasting room in St. Helena, or guests can plan in advance to visit the Bello Family Estate for a one-of-a-kind Napa Valley experience.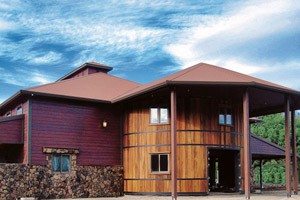 Spend more time outdoors at Cache Creek Vineyards
Cache Creek Vineyards takes great care in preserving the land and creatures that inhabit it. They have planted varies grasses and built ponds to develop a strong kinship with the herd of Tule elk that populated the land when they planted their first grapes. Today, the elk can still be spotted roaming the property, and their dedication to nature has remained stronger than ever. Guests are welcomed to taste at the bar, outside on the patio, or by spending a full day exploring the property. Regardless it is sure to be a unique wine country experience amidst the great outdoors.
Taste the distinctness of the Livermore Valley at Nottingham Cellars
Nottingham Cellars received its claim to fame from its limited production, single vineyard Cabernet and Bordeaux blends, but it has quickly grown to encompass the complexity of the Livermore Valley wine country. They demonstrate this diversity through three distinct brand names: Nottingham Cellars by the NC Collection, Vasco Urbano Wine Company, and 1846 by Nottingham Cellars Wines. This passionate family-owned and -operated winery has shown exceptional dedication to producing high quality wines and will surely play a large role in the future of Livermore Valley.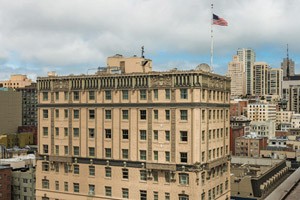 Adopt the urban lifestyle for a weekend at The Serrano Hotel
Located in the heart of the Theater District and just blocks from Union Square, The Serrano Hotel is the perfect vantage point for exploring all that San Francisco has to offer. The hotel includes 236 guest rooms and suites with the luxurious modern amenities that you would expect of a San Francisco hotel.  It is the ideal space for business guests, and provides an ideal meeting place for conferences and meetings. The Serrano also features the popular Jasper's Corner Tap & Kitchen, an American style pub with a lengthy list of beers and a creative menu to go along with it! Relax on the property or go explore the city—either way, the Serrano Hotel is the perfect place to stay on your next visit to the Bay Area!