When looking back on 2015 it is clear we have shared some great wineries offering unique flavors, sought after views, and incredible architecture. We hope that you were able to enjoy some of these great venues and the many high-quality products they offer. The new year presents a great opportunity to step into a world of excitement and explore some award- winning wine destinations. Below we have listed 10 noteworthy establishments we know you will love. Enjoy!
Patz & Hall
Patz & Hall is defined by its excellent Chardonnays and Pinot Noirs that have drawn national attention and even earned the winery the title as one of the top 100 wineries in the world according to by a major wine publication.  In 2014, the doors opened to the new home for Patz & Hall – Sonoma House at Patz & Hall in the heart of Sonoma County wine country. The stunning building is set on an idyllic property surrounded by vineyards and mountains. Inside, there are numerous inviting spots for intimate tasting experiences, while outside, a gorgeous patio awaits.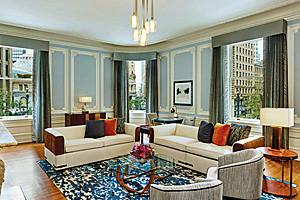 Palace Hotel
In 1875 the Palace Hotel opened its doors in San Francisco for the first time with a luxurious ambiance that has continued to impress thousands of guests for over a century.  Today, The Palace Hotel continues to maintain its luxurious standard by highlighting the original architecture and authentic elements while pairing them with classically inspired, modern décor. Recent renovations capture stunning city views and provide guests elegant accommodations.  Hotel services and amenities include: three different on-site restaurants, a beautiful indoor heated pool with a view, state of the art fitness center, and much more!
Heathman Kirkland Resort
One of the main reasons that guests are so drawn into the Heathman Hotel is the fact that it is merely steps away from the azure waters of Lake Washington. It's a peaceful oasis amid the bustle of suburban Kirkland on the outskirts of Seattle.  The upscale boutique hotel exudes elegance and warmth, pampering guests with special services and amenities. After a day out on the town, guests can return for dinner at the hotel's renowned restaurant, Trellis, a wine country inspired eatery that features true farm-to-table cuisine on its seasonal menu prepared by executive Chef, Brian Scheehser.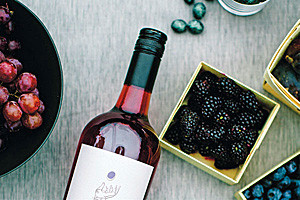 Napa Cellars
Founded in 1968, Napa Cellars crafts wine that expresses the characteristics that have become widely recognized as the classic, Napa Valley style: ripe, rich, and balanced. The inviting tasting room sits alongside St. Helena Highway, surrounded by picturesque Oakville vineyards and is open daily to all. Many guests bring along a picnic lunch to enjoy on the patio after their tasting. Guests are also encouraged to stay awhile so they can thoroughly absorb the friendly vibe and the very special sense of place that's the heart and soul of the Napa Valley.
Nottingham Cellars
Skillful craftsmanship and distinct microclimates are two important reasons that Nottingham Cellars is a name that is synonymous with premium quality, Livermore Valley wine. Vintage after vintage, Nottingham Cellars wines receive top awards, high acclaim, and many 90-plus scores from the world's top critics. It's evident that this passionate family-owned and-operated winery will be decisive in writing the next chapter in the history of Livermore Valley wine.  So don't miss the opportunity to visit the tasting room and experience it for yourself!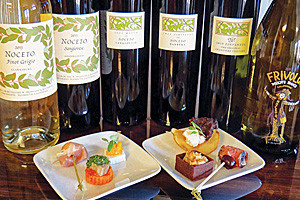 Vino Noceto
In 1984 Jim and Suzie Gullet purchased their first vineyard parcel with a unique idea that turned a lot of heads from many of the neighboring wineries.  In an area that was essentially a sea of zinfandel, the Gullet's decided their property was a perfect environment for the Sangiovese grape. Today, Vino Noceto is a renowned Sangiovese specialist, producing eight different premium Sangiovese wines as well as an array of Italian and foothill varietals, including Pinot Grigio, Barbera, Zinfandel, and Moscato. Visitors can enjoy a variety of tasting options from the country inspired tasting room in the vineyard's picturesque big red barn.
Icicle Village Resort
Because of its ideal proximity to the Cascade Mountains and the Bavarian village of Leavenworth, WA, Icicle Village Resort is the perfect all-season destination for guests seeking quality family time, outdoor adventure, romance, or a bit of everything! Regardless of the season, there are many amenities to enjoy including: a seasonal outdoor sport court and a sports bar with a 75-inch television screen that can be enjoyed all-year-round. The onsite activity center can schedule fun activities for its youngest guests so that the adults can enjoy some of the luxurious spa and salon services at the Alpine Spa including: facials, therapeutic massages, body treatments, manicures and pedicures, and much more.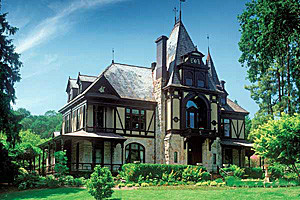 Beringer Vineyards
At Beringer Vineyards there is 130 years of rich history for visitors to explore. As Napa's oldest functioning winery, it's no surprise that Beringer is the only winery to win Wine Spectator's Wine of the Year for both a red and a white wine. Beringer hosts several tasting experiences including the Cave Legacy tour; wine and food pairings, an exclusive tasting of the Private Reserve Cabernet Sauvignon from different vintages, and tastings in many unique spots like the Old Winery: the mansion's ornate reserve tasting bar, and the wraparound porch of the Rhine House.  Beringer is truly a one-of-a-kind destination that you must experience for yourself.
Mettler Family Vineyards
Throughout eight generations in the grape growing industry, Mettler Family Vineyards has cultivated an unrivaled kinship with the earth. The Mettlers have chosen to run their farm as both sustainable and Certified Organic. Their wines stand up in both domestic and international competitions and the tasting room is a "must-see" nestled in the middle of 25 acres of vineyards.
The following article was provided by our contributing partner – Touring and Tasting Magazine.
Cheers – Ken