We hope you have had a great start to the New Year. Are you sticking to your New Year's resolutions? We are keeping up on our resolution to bring you even more incredible wine country locales. After the holidays it seems like everyone begins to look forward to Spring, but we are bringing you 10 new ways to love these winter months when the tasting rooms are less crowded and the low winter sun brings out the warm colors of wine country landscapes. Since Valentine's Day is coming up and February is the month of love, these venues are hand-selected to help inspire love throughout the month — be it with friends, family, romantic partners, or yourself!
Grgich Hills Estate
Located on Napa's historic St. Helena Highway, Grgich Hills Estate is a stunning combination of lush grounds and balanced, elegant wines. Since starting Grgich Hills, Mike Grgich has continued receiving international awards for his estate grown wines, and he has been recognized for being a leader in natural winegrowing and sustainability. As Mike Grgich often says, "From our vineyard to your glass, naturally!" Take one of the captivating walking tours or enjoy a seated tasting.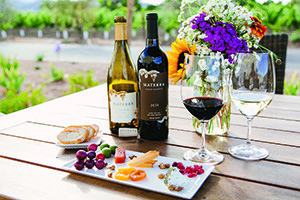 Materra | Cunat Family Vineyards
In Latin, the name Materra is a rough translation for Mother Earth. It's quite a fitting name for wines from the 50-acre vineyard in Napa's esteemed Oak Knoll district. Each Materra wine is a perfect expression of the land, the grapes, and the passion the Cunat family has invested in each bottle. With a commitment to treat every guest like family, tastings are a warm and personal experience.
Michael David Winery
Recently named Winery of the Year at the 2016 Unified Wine & Grape Symposium, Michael David Winery has been producing premium quality wines for 6 generations from the heart of the Lodi region. Built in 1972 around the family's original roadside fruit stand, the winery building features a cafe serving farm-style breakfasts and lunch, a bakery with famous pies and gourmet cookies, and a tasting room where Michael David wines are proudly poured. Plus, the pet-friendly grounds ensure that no friends get left out this Valentine's Day.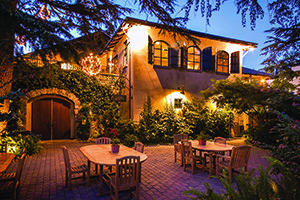 Wine & Roses
Set on a 7-acre estate with towering trees, flowers, and herb gardens, Wine & Roses is a breath-taking escape located in the famous Lodi wine region. Whether you're treating yourself or your partner, Wine & Roses is a relaxing retreat like no other. Beat the winter blues by sipping wine and spending the day at the award-winning spa. The restaurant serves locally-inspired flavors and features live music throughout the week.  Special "Romance Month" packages are offered throughout February for the couple looking for a romantic escape.
Elizabeth Chambers
Formerly the McMinnville Power Generation Building, this genuine wine cellar has a great industrial feel and large, spacious tasting room. Founded just two years ago, and already known for their friendly and knowledgeable staff and outstanding Pinot, Elizabeth Chambers Cellars is a welcome addition to the McMinnville wine district of Oregon. With the winery and cellars in the same building, guests can watch the winemaker at work while they sample the flavors. Try a flight and sip the elegant wines out on the delightful patio, weather permitting.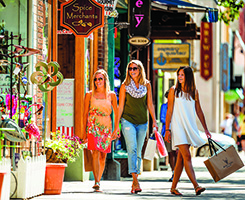 Traverse City, MI
Set at the edge of Lake Michigan's beautiful Grand Traverse Bay, Traverse City is known for its miles of sandy beaches and the Caribbean color of its waters. Traverse City is perfect for adventurous vacationers who enjoy hiking, skiing, or snowmobiling. For the more laid-back wanderer, spas offer massages with warmed Lake Michigan stones. The tasting rooms are less busy during the winter months and, if Mother Nature cooperates, you might catch a glimpse of winemakers pressing grapes for ice wine – a high-end dessert wine produced from grapes that have been frozen while still on the vine.
Wente Winemakers Studio
Why not create your own special blend during the month of love? From the nation's oldest continuously-operated family winery comes the engaging Winemaker's Studio, a hands-on tasting experience. Blend, bottle, cork, and label you own wine. Learn how to identify specific aromas or simply discover your perfect wine and cheese pairing!  With an experience that "changes as often as the vines," each visit promises to be completely unique.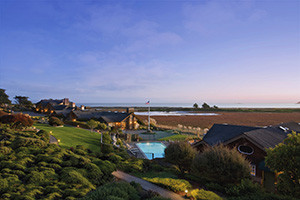 Bodega Bay Lodge
Just a short walk from Doran Beach, Bodega Bay Lodge in Sonoma is perfect for a beach getaway. Each room has a king-size bed, wood-burning fire place, and a private balcony with scenic views of the Sonoma Coast. Morning fog creates a surreal atmosphere before burning off to reveal the striking coast line. At dusk you can watch the sunset from the infinity-edge spa or the heated pool. The cozy fireside bar and Duck Club restaurant serve dishes made with ingredients from local family farms that are sure to delight. Taste the local wines and explore outdoor activities during the day and retreat to the calm, quiet coast by night.
Peju
One of the most beautiful and iconic wineries in Napa, for the past 30 years, Peju has been blending art and industry as beautifully as they blend their wines. Wander through the gardens and enjoy the sculptures, koi pond, and towering sycamore trees. Tastings are held in the famous Peju tower – one of the tallest, most unique buildings in Napa. Peju offers a wine experience unlike any other as guests sample current release wines in a presentation-style setting.
Southwest Idaho
From snow-packed mountains to relaxing hot springs, Southwest Idaho is a wonderful winter escape. For the adventurous, the snow-packed peaks are perfect for everything from skiing to tubing and snowshoeing. At the end of an invigorating outdoor adventure it's easy to stop into a tasting room or two.  Wine touring can be a great all-day adventure of its own. With 35 wineries set against spectacular Southwest Idaho scenery, this region has it all!
The following article was provided by our contributing partner – Touring and Tasting Magazine.
Cheers – Ken