It's been a long week. Work has exhausted you and all you can think about is a little rest and relaxation. Why not treat yourself to a weekend in wine country? Touring, tasting, and relaxing with a nice glass of wine, now that's the right way to spend a weekend. What better way to spend the weekend than by traveling through Northern California's wine country!
Cool weather, sprawling natural landscapes and urban metropolises are defining features of Northern California. While San Francisco has its fair share of wineries, the small coastal cities of Monterey, Carmel and Santa Cruz, are essential stops for any curious wine lover. The misty coastal breeze and mountainous terrain of the Northern Central Coast produce the perfect recipe for rich and flavorful California wines.
While your friends spend the weekend, camping, hiking, or staying in, take the time to explore the Northern California wine country. From the Bay Area and Livermore, to Monterey and Santa Cruz, there are wineries and wines for all lovers of California wine. Take this opportunity that the weekend has given you to explore the California wine country, I promise you won't regret it!
For those who don't like to embark upon an adventure without a "game-plan" here is Touring & Tasting's guide to your perfect Northern California Wine Weekend:
Friday (San Francisco):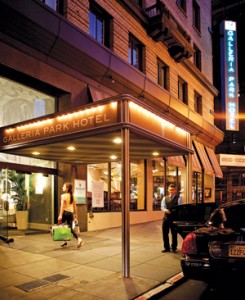 Let the wine tasting adventure begin! You just found yourself in one of the most beautiful and eclectic cities in the world. A city this big has to have good wine, right? You betcha! Hidden within a 20,000 square-foot naval hangar on Treasure Island, The Winery SF has been supplying San Franciscans with excellent Bay Area wine since 2010.  The mission of The Winery SF? To teach visitors all they would ever want to know about wine tasting. Guests are invited to taste in the middle of the winery, surrounded by barrels and all manner of winemaking devices. The Winery SF is a wine tasting, and winemaking experience, you won't want to miss. After you've been wine tasting all night, it's time to relax, freshen up and get some rest for the long day ahead. Galleria Park Hotel in downtown San Francisco invites guests to relax in a modern urban oasis. Stylish, friendly and comfortable, Galleria Park Hotel is the perfect stop for any weary traveller.
Saturday: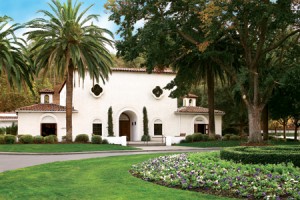 Congratulations! You are well rested and ready for a long day of wine tasting ahead. A short drive south and you find yourself in Livermore Valley wine country. From the hustle and bustle of San Francisco, to the quiet and serene Livermore Valley, you are ready for a day of rest, relaxation and wine. First stop: Wente Vineyards.  Named Winery of the Year by Wine Enthusiast in 2011, Wente Vineyards prides themselves in mixing old word winemaking with new world innovation. Deliciously crisp Chardonnay and elegant Pinot Noir will guarantee a wine tasting experience like no other. At the top of the Crane Ridge in the Valley rests Crooked Vine Winery. Intimate, scenic, and friendly, the Crooked Vine tasting room will please the most veteran wine lover. It's been a long day of driving, touring, and tasting, now it's time for some much need R&R. Stay the night at the Purple Orchid Wine Country Resort & Spa and experience firsthand wine country luxury. Spa treatments, comfortable rooms, and Livermore Valley hospitality guarantee that any wine traveller will have a resort experience they won't soon forget.
Sunday: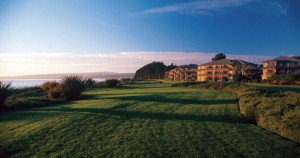 Spend the last day of your wine weekend traveling and tasting through the Northern Central Coast.  Monterey, Carmel and Salinas are a few of the wine destinations visitors can visit. Travel to the Carmel Valley for the first stop on this wine tour at Bernardus Winery. The proclaimed home of American Bordeaux, Bernardus invites guests with elegance and Northern Central Coast charm. From the hills of Carmel to the vineyards of Soledad, Hahn Estates welcomes wine lovers with open arms. Excellent Monterey Pinot Noir and Chardonnay invite wine lovers of all tastes to stay and relax with a bottle of California wine. We encourage you to spend the last night of your wine weekend at Seascape Beach Resort. Located in the heart of the Northern Central Coast, Seascape impresses its guests with stunning coastal views, excellent amenities and an excellent location, just minutes away from Santa Cruz. The wine weekend may have come and gone, but just think about how much amazing California wine you just had. Your wine weekend might not look exactly like this, but use this game plan as inspiration for your own. Wine tasting and wine country adventures awaits!
The following article was provided by our contributing partner – Touring and Tasting Magazine.   Cheers – Ken