The KWG Tasting Panel reviewed some Champagnes and Sparkling Wines over the last few months.  Here are our favorites.

Our winners this year comes from the Schramsberg Winery.  They produced 2 mid-tier sparklers that caught our attention.  The first offering is the 2006 "Blanc de Blanc Brut" which is made from 100% Chardonnay grapes from California's North Coast.  This Sparkler won our blind tasting in late October and was awarded 90 points from the panel.  It is priced at a very reasonable $36.  We found it to be full-bodied, well balanced, creamy, and effervescent.  Its flavor profile was a mineral infused lime with a touch of grapefruit.  It was noted that it would be a great food sparkler.  Bacon wrapped scallops, baked stuffed shrimp, and lobster bisque were all mentioned as a very nice match with this wine.
Not to be out done by its sister, the 2006 Schramsberg "Blanc de Noirs Brut" for $38 was also awarded 90 points by a mini group in June when we tried it.  This crowd pleasing sparkler is made from 90% Pinot Noir and 10% Chardonnay.  It is a little lighter on its feet when compared to the "Blanc de Blanc".  It is medium-bodied, crisp, and slightly tart with citrus flavors.  One reviewer tasted lemon and minerality peaking through the most. It was noted that its flavors lasted for quite some time.  This offering was a very refreshing sparkling wine and would be perfect as an aperitif and would pair well with spring rolls.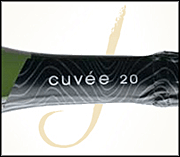 Next up is a sparkling wine that I recently tried and think it warrants your attention this holiday season.  The non-vintage J Vineyards "Cuvee 20" is a delightful offering for $20.  I awarded it 90 points.  It offers very tiny bubbles and forward, yet mild acidity with lemon flavors.  There are pleasant hints of minerality and dough notes mixed in.  I thought this impressive sparkler was the complete package.  It would be a very nice opener to serve slightly cool with your favorite appetizers on New Year's Eve.

We follow up that great deal with another one from the Anderson Valley in California.  The non-vintage Scharffenberger "Brut" for $19 was very popular with our panel this year.  It finished in second place in our big blind tasting.  We awarded it with 89 points.  This blend of 83% Chardonnay and 17% Pinor Noir is full-bodied, balanced, and crisp.  Its delicate lemon flavors with a touch of green apple and toast make it a perfect sparkler to consider with swordfish or oysters.  The best part is that it is readily available with 25,000 cases made.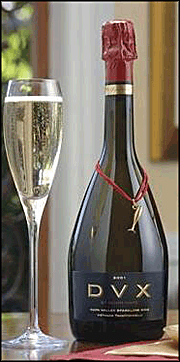 Next up was the 2001 Mumm Napa "DVX" for $55.  This Very Good 50/50 sparkler made from Pinot Noir and Chardonnay finished in 3rd place in our big blind tasting with 89 points.  This medium-bodied and balanced sparkler was quite bubbly.  The panel found its flavor profile to be a mineral infused lime with notes of dough and green apple mixed in.  One panelist suggested pairing it with pate and many others agreed.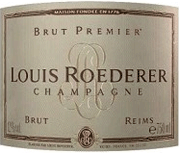 Our favorite Champagne this year was the non-vintage Louis Roederer "Brut Premier".  This Very Good sparkler costs $47 and was also awarded 89 points.  This offering was light on its feet, yet zesty and lively.  Its flavor profile was citrus focused with ripe lemon being the most dominant flavor.  There were also some nutty notes detected as well as key limes.  The panel felt this sparkler would pair nicely with mussels with garlic broth or baked brie.

Our last recommendation is the non-vintage Roederer Estate "Brut" from the Anderson Valley.  This wine is always Very Good and at $23 it is both affordable and plentiful with 80,000 cases made.  We awarded this sparkler made from 60% Chardonnay and 40% Pinot Noir with 88 points.  It is medium-bodied and balanced between its crispy acidity and mild key lime and granny smith fruit flavors.  One panelist said they would love a glass with their Caesar salad and grilled chicken.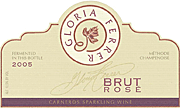 We conclude with our favorite Rose offering.  The 2005 Gloria Ferrer "Brut Rose" from Carneros, CA is made from 92% Pinot Noir and 8% Chardonnay.  We gave this sparkler 88 points.  It is an attractive light peach colored wine that opens with a nutty black tea like bouquet.  It is medium-bodied, balanced, and slightly creamy with lots of bubbles.  It displays mild raspberry flavors with notes of black tea and minerality throughout.  I thought it would be a very good option to serve with smoked salmon on a cold winter's night.
We find Sparklers to be a terrific festive wine option.  They are a nice complement to some light foods and a great way to open an evening.  We certainly hope you enjoy some of these over the next few weeks at your holiday parties.
Cheers! Ken