Touring & Tasting's Top 8 Most Scenic Wine Country Destinations
Rolling hills, scenic views and green vineyards are just a few defining features of any great wine country destination. When you visit wine country, you want to escape and get lost in the beauty of the land and the taste of the wine.  Of course, wine is an important part of any wine country destination, but imagine finding yourself sitting and relaxing with a glass of wine, the sounds of the ocean in the distance and a warm fire to keep you company. Amazing, right? Let Touring & Tasting take you to your perfect wine country destination. It might be on the coast, right next to the ocean, or even atop a small hill overlooking rows and rows of vineyards. Whatever your perfect wine country destination is, Touring & Tasting can help you get there. Here are Touring & Tasting's Top 8 Most Scenic Wine Country Destinations: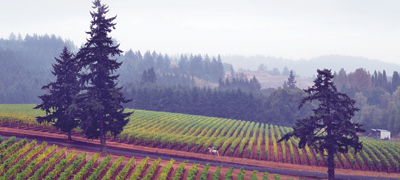 Duck Pond Cellars
Quiet countryside, vineyards as far as the eye can see and excellent Oregon wines define Duck Pond Cellars in Dundee, Oregon. Fine makers of award winning Pinot Noir, as well as modestly priced Syrah, Duck Pond Cellars oozes Oregon wine country. The views of the Willamette Valley from the Duck Pond Cellars tasting room are incredible. Stunning views, Oregon wine and the peacefulness of the Willamette Valley are more than enough to entice any wine lover to pay a visit to Duck Pond Cellars.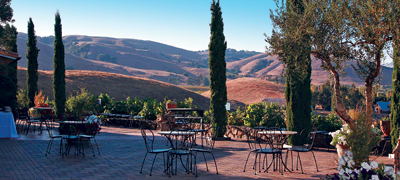 Viansa Winery & Marketplace
Settled atop a hill overlooking California's Sonoma Valley, Viansa Winery & Marketplace is a sight to behold. Rustic, vine-covered and a Tuscan escape in California, Viansa Winery is known for both its beauty and its wine. Pinot Noir, Estate Primitivo and Sauvignon Blanc are just a few Viansa wines worth the attention of any wine lover. Visitors can sit on the patio, with a cool glass of Sauvignon Blanc and enjoy the truly majestic views of the legendary Sonoma Valley.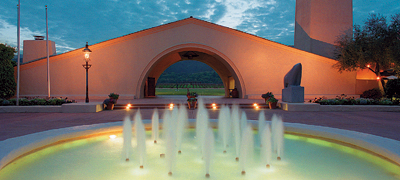 Robert Mondavi Winery
The first major winery in the Napa Valley, Robert Mondavi Winery has a long lasting legacy of fine winemaking. Visitors to the Napa Valley tasting room are welcomed with picturesque views of the green vineyards and rolling hills that surround the Robert Mondavi Winery. Pristine grounds, interactive tours and various tasting options provide enough experiences to leave any wine lover more than satisfied.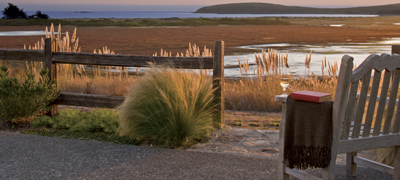 Bodega Bay Lodge
Stunning views of the Pacific Ocean greet visitors to the Bodega Bay Lodge in Bodega Bay, CA. Nestled along the Sonoma Coast, the Bodega Bay Lodge exudes luxury.  Private balconies overlooking the coast, a world-class spa and other luxurious amenities guarantee that any weary wine traveller will be treated quite all right at the Bodega Bay Lodge. The view of the Pacific Ocean is unparalleled and the warmth of the Lodge cannot be found anywhere else.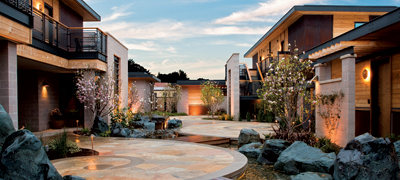 Bardessono
A truly environmentally conscious hotel, Bardessono in the Napa Valley is a world-class hotel experience you won't want to miss. Perfectly combining eco-friendliness with wine country luxury, Bardessono is a destination in itself. As if the stunning grounds weren't enough, Bardessono offers guests amazing culinary experiences at Lucy Restaurant & Bar, as well as state of the art spa treatments. Wine travelers, take note, Bardessono will be your next stop when you are touring & tasting through the Napa Valley, I guarantee it.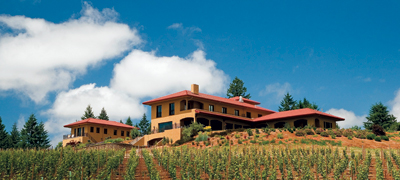 Black Walnut Inn
Situated in the heart of the WillametteValley, the Black Walnut Inn is truly a wine country resort. Completely surrounded by vineyards and nestled at the top of a hill, the Black Walnut Inn greets quests with quiet wine country charm and big world-class luxury. Guests at the Black Walnut Inn get to enjoy a hearty gourmet breakfast before wine tasting and a light appetizer after, talk about good treatment! Those looking for an escape in Oregon wine country, look no further than Black Walnut Inn, it's a wine country experience you won't want to miss.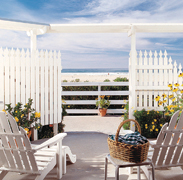 SeaVenture Resort
Nestled near the quaint seaside streets of downtown Pismo Beach, CA, SeaVenture Resort is the perfect seaside getaway. Luxurious rooms with personal fireplaces, balcony hot tubs and stunning views of the Pacific Ocean greet every guest of SeaVenture resort. Imagine yourself on the beach, laying out with a cool glass of wine, soaking up the California sun. Now that sounds like some rest and relaxation to me!
Stunning ocean views, hilltop vineyard escapes and world-class luxury experiences await visitors of these wine country destinations. Your wine country experience should be a beautiful one, so why not visit wineries and hotels that are as beautiful as the wine you will be drinking. Location is everything, after all.
The following article was provided by our contributing partner – Touring and Tasting Magazine.   Cheers – Ken