With New Year's Eve just around the corner, I thought I would give you several terrific Champagne and Sparkling Wine options that we found this fall that will make your celebration extra special. We hope you enjoy them as much as we did. I also think most of these are readily available and can be found for less than the SRP prices below.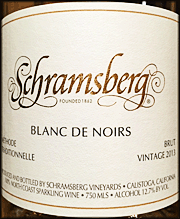 Schramsberg 2013 "Blanc de Noirs" $42 (92)
This sparkling wine from Schramsberg was one of my favorites this year. It is medium bodied, pleasantly acidic and bright with tasty mineral infused lime and bread dough flavors. This sparkler was very popular with our tasting group.
Laurent-Perrier NV "La Cuvee Brut" $45 (92)
Another winner that the Panel discovered is this Champagne from Laurent-Perrier. This offering is light bodied, bright and lively. The Panel was drawn in by its mineral infused lime flavors with notes of bread, mild grapefruit and a hint of golden delicious apples. It was a treat!
Duval-Leroy NV "Brut Reserve" $50 (92)
This Champagne from Duval-Leroy is another winner that I discovered at the Colonial Spirits fall wine event. It is light bodied, nicely balanced and fresh. Our group really liked its tasty mild lime and mineral flavors with notes of mild bread dough. This one is another crowd pleaser that everyone will enjoy!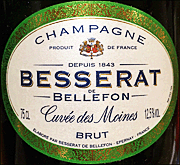 Besserat de Bellefon NV "Cuvee des Moines Brut" $50 (92)
Nicolay covered the Besserat "Cuvee des Moines Brut" and really enjoyed its robust and pronounced stone fruit flavors with a ginger and a tangerine finish. He felt this was one of the better showings this year.
Charles Heidsieck NV "Brut Reserve" $65 (92)
This Champagne with nice streaming bubbles was very well received by the Tasting Panel. It is medium bodied, nicely balanced and smooth. We really enjoyed its mineral infused bread dough flavors with notes of ripe lemon and tart Granny Smith apple.
Other Winners To Consider
Eric Taillet NV "Brut Egali't" $35 (90)
This one is as clean of a Champagne as it comes. It displays higher in acidity than most Champagnes but this adds to the wine's overall appeal. – Nicolay
J Vineyards NV "Cuvee 20" $38 (90)
This crowd-pleasing sparkler is also very good. It is medium bodied and mouthwatering with very nice effervescence. It has gentle lime and light grapefruit flavors with hints of quince.
Andre Jacquart NV "Brut Experience Premier Cru Blanc de Blancs" $46 (90)
This Champagne is light bodied, bright, fresh and smooth. It displays mineral infused tart green apple flavors with notes of white pepper and ginger. It finishes dry and refreshing.
Rose Bubble Winners


J Vineyards NV "Brut Rose" $45 (92)
This coral colored sparkler displays lots of very tiny bubbles. It is light bodied, balanced and fresh with tasty mild mineral infused gentle strawberry and bread dough flavors. A very good sparkler to serve with shrimp cocktail on New Year's Eve!
Goldeneye 2014 "Brut Rose" $56 (92)
This Pinot based sparkler from the Anderson Valley is impressive. It was light to medium bodied, pleasantly acidic and nicely coats your mouth. I really liked its mild bread dough and strawberry flavors with notes of lime, tangerine and Maraschino cherry mixed in. Pair with fresh sliced salmon.
Eric Taillet NV "Luminosi'T Brut Rose" $40 (91)
This salmon colored Champagne Rose is lengthy and filled with the fruit flavors that linger and last. It is a sipper to enjoy with smoked halibut or roasted duck. – Nicolay
Schramsberg 2014 "Brut Rose" $45 (91)
This coral colored sparkling wine from Schramsberg very food friendly. It displays tasty mineral infused strawberry and bread dough flavors with hints of cinnamon and red raspberry.
Collet NV Champagne "Brut Rose" $50 (90)
Once again this Rose hits all the right notes. Nicolay enjoyed its smoked nut flavors with notes of stone fruits and berries. He would pair it with Asian cuisine or seared scallops.
Yorkville Cellars 2016 "Brut Rose" $36 (89)
If you are interested in an Organic Sparkler, check out this very good one from Yorkville made 100% Malbec. It has pleasant light strawberry and mineral flavors with a touch of bread dough and lemon. Enjoy with steamed mussels.
Bargain Bubble Values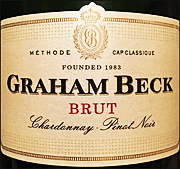 Graham Beck NV "Brut" $19 (89)
This Sparkler from South Africa is very nice. It is medium bodied, bubbly and round. While this is not the most complex Sparkler, it is pleasant and priced properly. It is a very good option for a large gathering.
Prosper Maufoux NV "Cremant de Bourgogne Rose" $20 (89)
This Rose displays flavors strawberries, raspberries, candied lemons, and a nice dollop of mint on the finish. The finish is long and fresh with some acidity. Enjoy on its own. – Nicolay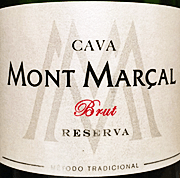 Mont Marcal 2015 "Brut Reserva Cava" $13 (88)
Joe thought this Cava would be perfect if you were having a lot of friends and family over for the holidays and looking for an affordable sparkler that will please everyone. It has an enjoyable palate presence and will be well-received at your holiday party. Serve with sushi. – Joe
14 Hands NV "Brut Rose" $15 (88)
This Washington State Sparkler made from seven different grapes varieties is a very good value. It has exceptionally fine bubbles and a fruit salad like flavor profile. This is another very good party offering. – Nicolay
Paul Mas NV "Cote Mas Cremant de Limoux Brut" $16 (88)
Our last recommendation is this Cremant de Limoux. It features flavors such as peaches, granny smith apples, and the slightest hint of peppermint. Nicolay thought it would make for a perfect aperitif around the holidays.
Cheers and Happy New Year!!
Ken