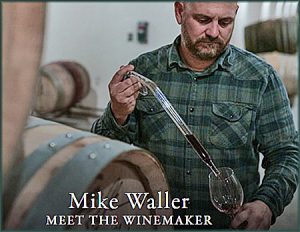 We learned several things in speaking with Mike on March 9th. The first thing we learned, was that Mike has worked alongside legendary vintner Josh Jensen for more than a decade, helping to guide winemaking at Calera.
We also learned that while earning his degree in viticulture and enology UC Davis, Mike worked at Saintsbury, where he began to develop a passion for Pinot Noir. After graduation, Mike spent a year as the wine chemist at Beringer, before moving home to the Central Coast to become the assistant winemaker at Chalone in 2004.
In 2007, Josh Jensen invited Mike to become the assistant winemaker at Calera. He jumped at the opportunity. Mike and Josh quickly discovered that they shared similar philosophies, palates, and approaches to growing and making wine. In 2009, Josh named Mike the winemaker for Calera. As you will see below, Mike was the right man for the job!
Below is a summary of all the impressive wines that we covered with Mike. The links are to our full reviews. If you are interested in ordering and trying these wines, you will find a few of them via your favorite wine shop or fine dining restaurant. The rest are available for order via the Calera website.
Calera 2020 Chenin Blanc "Central Coast" $38 (KWGTP 91.5)
Calera 2018 Pinot Noir "Mills Vineyard" (Mt. Harlan) $80 (KWGTP 93)
Calera 2019 Pinot Noir "Central Coast" $30 (KWGTP 89.5)
Calera 2019 Pinot Noir "Muns Vineyard" (Santa Cruz Mountains) $50 (KWGTP 92.5)
Calera 2019 Pinot Noir "Santa Lucia Highlands" $50 (KWGTP 91.5)
Calera 2019 Pinot Noir "Chalone Vineyard" (Monterey County) $50 (KWGTP 93)
Calera 2019 Pinot Noir "de Villiers Vineyard" (Mt. Harlan) $80 (KWGTP 94)
Calera 2019 Pinot Noir "Jensen" (Mt. Harlan) $105 (KWGTP 94)
You can find reviews of past and additional Calera wines that we covered on the KWG Calera winery page on our website.  Cheers! Ken