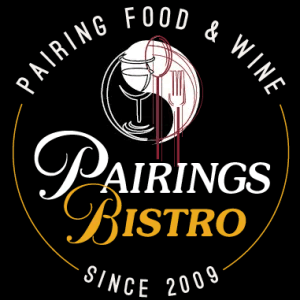 I recently attended my nephew's graduation lunch party at Parings Bistro in Bel Air, Maryland. The food and the setting were fantastic! I have been here before, but this time, I felt moved to share with my readers about the experience. This way, if they are anywhere near this wonderful wine centric bistro just north of Baltimore, they can stop by and enjoy it as well.
Parings Bistro is located at 2105 Laurel Bush Road in Suite 108 in Bel Air, Maryland. As I mentioned we were there for a gourmet four course lunch.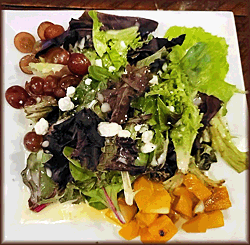 My lunch opened with the golden beets salad made from Third Way Farm mixed greens, crumbled goat cheese, grapes, and candied walnuts with a honey lemon poppy seed vinaigrette. I asked them to hold the goat cheese as that is not my thing. It was yummy!
In the meantime, I ordered a KWG recommended bottle of the 93-point 2022 Craggy Range "Te Muna" Sauvignon Blanc. This was enjoyed by me, Theresa, and my sister Sheri! They have a large selection of wines available in the restaurant for dinner or retail purchase. They have their "regular wine list" and they have a "reserve wine list" to choose from. I found the pricing to be very competitive and I found several KWG recommendations on the list and shelves!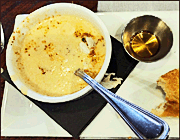 While sipping my Sauvignon Blanc we were served the second course which was a delicious cream of crab soup made with local fresh cream, lump crab, dry sherry, and Cunningham's bread. I need the recipe for this gem. My sister Lori knows the owner, Jon and I have put in a request! It was that good!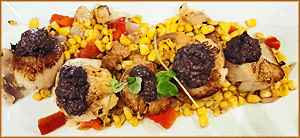 My main course was a seared scallops recipe served with a corn and bacon relish and topped with a black bean tapenade. It was cooked perfectly and also delicious. Finally, we closed out the lunch with one of my favorites. The Madagascar vanilla crème brûlée was an easy selection for me. As Theresa said, "that one had my name all over it!"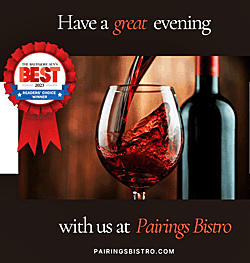 It was a great lunch and I highly recommend that you visit Parings Bistro if you are in the area. These delicious options are on the lunch menu. They also are an option on the dinner menu. If you can only stop in to buy some wine. Their wine shop offers over 200 wines from around the world. As I mentioned previously, wine can be purchased for lunch or dinner at the restaurant or for take-out. As a matter of fact, they have been recently selected as a winner in the 2023 Baltimore Sun's BEST Readers' Choice for Best Wine List! For two final tidbits. They also have a Cafe and Market next door if you are in the area early for a quick breakfast, lunch, coffee, or ice cream. Finally, they also have a food truck that you might see at events out and about in the area! I can guarantee you will have a great meal and some terrific wine if you make a stop at Parings Bistro in Bel Air. Enjoy and Cheers! – Ken