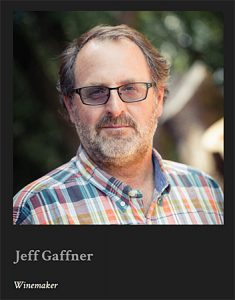 On May 31, 2023, we had a chance to interview and catch up with Jeff Gaffner. Jeff is the winemaker for Black Kite Cellars. In our Zoom interview, we covered seven of his new-release wines. We interviewed Mike last March to explore his background and cover many of his 2019 Black Kite vintage wines plus a wine from his Saxon Brown project. The new interview covers two Black Kite 2020 Chardonnays and five Black Kite 2021 Pinots. Check out what we learned from Jeff.
Before we get to the wine reviews, I thought I would share a few tidbits we learned during the tasting with Jeff.
• Jeff was involved with the first 3 vintages of Three Sticks.
• 2020 vintage was going to be a special vintage before the smoke.
• 2022 heat spell – Pinot affected more than other grapes.
• 2023 challenge will be vigor and robust canopies.
• Kite's Rest Vineyard – No longer available.
• So, they have invested in other new vineyards in the Sonoma Coast, West Sonoma County and Annapolis/Fort Ross.
Below is a summary of the wine offerings from Black Kite that we covered with Jeff. The links below are to our full reviews. If you are interested in ordering and trying these wines, you will find some of these wines via your favorite fine wine shop or on top quality wines lists. You can also purchase these wines on the Black Kite website.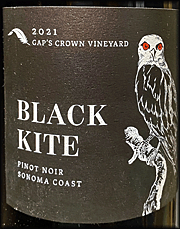 Black Kite 2020 Chardonnay "Gap's Crown Vineyard" (Sonoma Coast) $65 (KWGTP 94)
Black Kite 2020 Chardonnay "Jasper Freestone Vineyard" (Sonoma Coast) $85 (

KWGTP 93.5

)
Black Kite 2021 Pinot Noir "Ferrington Vineyard" (Anderson Valley) $75 (

KWGTP 92

)
Black Kite 2021 Pinot Noir "Roberts Road Vineyard" (Sonoma Coast) $75 (

KWGTP 93

)
Black Kite 2021 Pinot Noir "Gap's Crown Vineyard" (Sonoma Coast) $75 (

KWGTP 95.5

)
Black Kite 2021 Pinot Noir "Jasper Freestone" (Sonoma Coast) $75 (

KWGTP 93.5

)
Black Kite 2021 Pinot Noir "Soar" (Sonoma Coast) $120 (

KWGTP 95

)
You can find reviews of past and future Black Kite wines that we cover on the Black Kite KWG winery page on our website. We hope you enjoy these terrific wines as much as we did. Cheers! – Ken