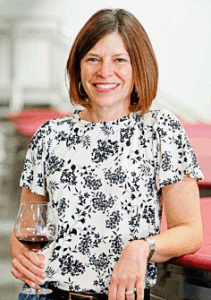 On May 24, 2023, we had a chance to meet and interview (virtually) Heidi von der Mehden. Heidi is the winemaker for Merry Edwards Winery. Heidi joined Merry Edwards in 2015 as associate winemaker. At the beginning of the 2018 harvest, Merry Edwards announced that Heidi would succeed her as winemaker. In our Zoom interview, we covered six of Heidi's spring-release wines. Check out what we learned about Heidi and the Merry Edwards wines.
Before we get to the wine reviews, I thought I would share a few tidbits we learned before and during the tasting with Heidi.
Heidi received a degree in chemistry from Santa Clara University in 1997.
She became a lab technician for Kenwood Vineyards during the harvest of 2000. She worked her way up to enologist.
In 2004, she joined Mauritson Winery as assistant winemaker, overseeing the day-to-day activities of the winery.
In 2007, Heidi had an opportunity to work with Richard Arrowood as associate winemaker for Arrowood Winery.
After working with him for 3 years, Heidi was promoted to winemaker after when Richard departed.
When Merry was ready to retire, she needed a good partner to ensure her legacy. Since no heirs wanted winery, she found that partner in 2019 when she sold the winery to Maison Louis Roederer.
She then retired in 2020.
Olivet Lane Vineyard – was planted in 1975, at the recommendation of Dr. Amand Kasimatis at UC Davis, they planted 40% Pinot Noir and 60% Chardonnay. This vineyard was one of the first vineyards in the region devoted exclusively to these two varieties.
The Dach Vineyard is pronounced "Dash."
Coopersmith Vineyard – Merry Edwards and her husband, Ken Coopersmith, purchased this 9.5-acre apple orchard in 1999. They planted it in the summer of 2001. It is currently planted to 100 percent of the highly successful UCD 37 Pinot Noir clone, aka Merry's clone. Coopersmith shined in 2021 per Heidi. We whole heartily agree!
UCD 37 Pinot Noir clone, aka Merry's clone originated from cuttings from Mount Eden Vineyards.
Meredith Estate is the flagship wine of Merry Edwards Winery. Merry is short for Meredith. In 1996, Merry purchased this 24-acre site, an abandoned apple orchard southwest of the Sebastopol city limits. Two years later, she converted the entire parcel to Pinot Noir.
The winery produces about 25,000 cases per year. 50% is her highly acclaimed Sauvignon Blanc. The remainder is Pinot Noir. (With a little Chard mixed in)
Merry used to do 5 punchdowns per day. Heidi does 3.
Below is a summary of the wine offerings from Merry Edwards that we covered with Heidi. The links below are to our full reviews. If you are interested in ordering and trying these wines, you will find some of these wines via your favorite fine wine shop or on top quality wines lists. You can also purchase these wines on the Merry Edwards website.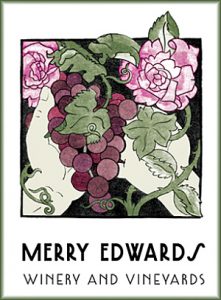 1) Merry Edwards 2021 Pinot Noir "Olivet Lane Vineyard" (RRV) $75 (KWGTP 93)
2) Merry Edwards 2021 Pinot Noir "Dach Vineyard" (Anderson Valley) $75 (KWGTP 92)
3) Merry Edwards 2021 Pinot Noir "Georganne Vineyard" (RRV) $70 (KWGTP 93.5)
4) Merry Edwards 2021 Pinot Noir "Coopersmith Vineyard" (RRV) $70 (KWGTP 95)
5) Merry Edwards 2021 Pinot Noir "Russian River Valley" 100% $65 (KWGTP 92.5)
6) Merry Edwards 2021 Sauvignon Blanc "Russian River Valley" $48 (KWGTP 93)
You can find reviews of past and future Merry Edwards wines that we cover on the Merry Edwards KWG winery page on our website. We hope you enjoy these terrific wines as much as we did. Cheers! – Ken