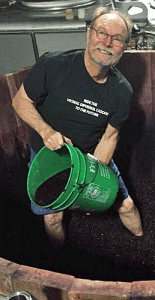 On, June 21, 2023, we had a chance to interview and catch up with Joel Peterson. Joel is the winemaker for Once & Future winery. In our Zoom interview, we covered his new-release wines. We interviewed Joel last August to explore his background and cover his 2020 vintage wines. The new interview covers eight of his 2021 single-vineyard Zinfandels and a bonus red blend that Joel shared with us at My Birthday Bash Tasting in May! Check out what we learned from Joel.
Before we get to the wine reviews, I thought I would share a few new tidbits we learned during the tasting.
2022 Outlook – early grapes – He expects it to be O.K. with ripeness.
2023 Cool vintage, no frost, will likely thin like crazy.
Vogensen Vineyard – only a ½ acre.

First vineyard he ever worked with.
First encounter with Ravens. Hence Ravenswood!
This vineyard put him on the map!

Historic Vineyards like Oakley – are very likely to unfortunately go away.
While you hope Cabernet Sauvignon vineyards last 25 years. A lot need to be replanted every 10 years because of virus.
Zinfandel vineyards have to deal with Red Blotch disease. It can cause delayed berry ripening, altered berry color, and a smaller berry size. It also can affect tannin levels and other phenolic factors that reduce the quality and market value of wine made from affected grapes.
Below is a summary of the wine offerings from Once & Future that we covered with Joel. The links below are to our full reviews. If you are interested in ordering and trying these wines, you will find some of these wines via your favorite fine wine shop or on top quality wines lists. You can also find a few online. Your best bet is to call (855) 566-3946 or e-mail the winery for information. (info@onceandfuturewine.com)

1. Once & Future 2021 Zinfandel "Oakley Road Vineyard" (Contra Costa) $50 (KWGTP 93.5)
2. Once & Future 2021 Zinfandel "Dickerson Vineyard" (Napa Valley) $50 (KWGTP 93)
3. Once & Future 2021 Zinfandel "Teldeschi Frank's Block" (Dry Creek) $50 (KWGTP 95.5)
4. Once & Future 2021 Zinfandel "Old Hill Ranch" (Sonoma Valley) $55 (KWGTP 94.5)
5. Once & Future 2021 Zinfandel "Bacigalupi Vineyard" (RRV) $50 (KWGTP 94)
6. Once & Future 2021 Zinfandel "Green & Red Vineyard" (Napa Valley) $50 (KWGTP 95)
7. Once & Future 2021 Zinfandel "Vogensen Vineyard" (DCV) 100% $50 (KWGTP 91)
8. Once & Future 2021 Zinfandel "Bedrock Vineyard" (Sonoma Valley) $50 (KWGTP 94)
Bonus Wine: Once and Future 2020 Red Blend "Frances Cuvee Bedrock Vineyard" (Sonoma Valley) $65 (KWGTP 94)
You can find reviews of past and future Once & Future wines that we cover on the Once & Future KWG winery page on our website. We hope you enjoy these terrific wines as much as we did. Cheers! – Ken