Dolphins, 49ers and Bears…oh my! Football season has officially arrived and Touring & Tasting is here to be your quarterback in the Wine Country game. We've made a list of all the destinations sure to make your next fall getaway a touchdown. So swap out your longneck for a nice glass of wine and let us help you bring home the win!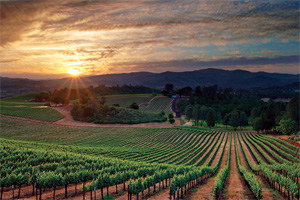 End Zone: Vigilance Winery (Lake County, CA)
Vigilance Winery in Lower Lake, CA is the perfect place to visit this fall. The owners, the Shannon Family, have been at the forefront of sustainable farming practices, including raising over 1500 grass-fed lamb, which help maintain the property's exquisite natural beauty. They offer a variety of wines for tasting, and encourage guests to walk or hike throughout their property, or sit on their deck and enjoy the gorgeous views. A visit to Vigilance is both relaxing and rewarding, and is the perfect destination to take your mind off things this fall!
10-Yard Line: Jamieson Ranch (Napa Valley, CA)
The cozy comfort of Jamieson Ranch's mountain lodge atmosphere is just the retreat you need this autumn. Take a vineyard-to-bottle tour through their property, or enjoy a seated, paired menu from their intriguing new culinary program, Napa Comfort Food: Wood-Fired, Wine Friendly, which highlights the season's freshest ingredients and produce grown just steps away from the kitchen in one of their organic gardens. Whether you're drawn to the wine country for the five star food, delicious wines, or spectacular views, Jamieson Ranch is a must-see on your next visit through Napa Valley!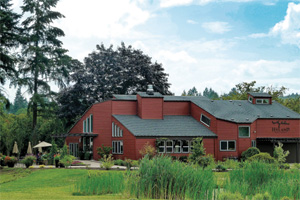 20-Yard Line: Hyland Estates (Willamette Valley, OR)
As one of Oregon's largest and oldest vineyards, it is no surprise that Hyland Estates has been able to withstand the test of time. Their Pinot Noir and Riesling are highly regarded by well-known wine critics, including consistent scores in the 90s. A visit to the brand new tasting room allows for a modern experience while tasting the wines that are still produced from the historic vineyards. Take a tour of the grounds, enjoy a relaxing picnic while soaking up the views, or indulge in a cheese pairing in the beautiful tasting room, whatever you decide, you'll be glad you chose Hyland Estates for your fall getaway!
30-Yard Line: Rancho Caymus Inn (Napa Valley, CA)
Rancho Caymus Inn sits on what was once given to pioneer George C. Grant as Napa Valley's first land grant. Today, this land is in the vibrant heart of the Napa Valley Wine County, giving hotel guests easy access and convenience to all that the valley has to offer (Bet you didn't see that one coming, George). The inn has stayed true to its historical roots, featuring Spanish hacienda-style buildings, each named after a different pioneer. The rich history and stories that make this destination so unique are paired perfectly with the luxury of the first-class amenities. This quaint boutique inn is the perfect place to hide out and get some much-needed relaxation time this fall.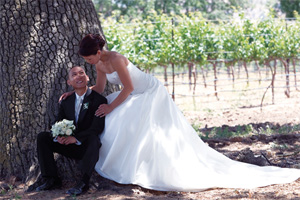 40-Yard Line: Garre Vineyard/Bella Rosa (Livermore, CA)
The Molinaro family has been staying true to their Italian roots with their delicious wines, amazing food, and deep family values since the winery's opening. They are passing this love on to future couples and making wedding dreams come true at their new wedding venue called Bella Rosa. You will feel right at home when visiting their stunning property, and when you're not too busy enjoying all the delicious food and wine (which you will be), play a game of bocce ball or relax in the cozy tasting room!
50-Yard Line: Bouchaine Vineyards (Napa Valley, CA)
As Napa Carneros' most southern winery, Bouchaine Vineyards has a stunning landscape unique to the region. Visitors are invited to take a self-guided tour through the gently rolling hills amidst Pinot Noir and Chardonnay vineyards, all while enjoying the surrounding views, which on a clear day showcase the San Francisco skyline. Their tasting room is a perfect place to wind down, and their friendly staff will make you feel right at home!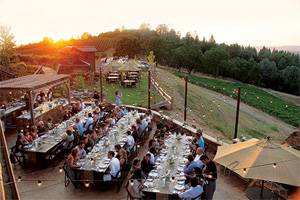 40-Yard Line: Skinner Vineyards (Sierra Foothills, CA)
With a prestigious legacy to uphold, the Skinner family is making a portfolio of wines that their great-great-great grandfather, a Scottish miner, would be proud of. You may be choose to sit in the 360 degree tasting room over looking their rolling California landscape, but if you close your eyes, their delicious Rhone inspired wines will suddenly transport you into Southern France. Escape to Skinner Vineyards (or pretend you're in Rhone) for French inspired wines, beautiful views, and delicious food—the perfect recipe for an unforgettable fall retreat!
30-Yard Line: Le Vigne (Paso Robles, CA)
It has been a year of change and big improvements for Le Vigne winery, and this fall we suggest you see for yourself how much they have grown! They've built a brand new, 360-degree tasting room where they're pouring exciting new wines paired with delicious new culinary offerings, including the region's largest selection of gourmet international cheeses. So grab a glass and some delectable bites and spend your day on a tour or enjoying a picnic through their many acres of brand new vineyards!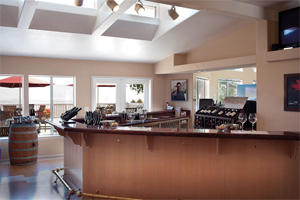 20-Yard Line: Hahn Estates (Monterey County, CA)
If the Santa Lucia Highlands were a NFL team, Hahn Estates would undoubtedly be the captain. They spearheaded the effort to designate the Santa Lucia Highlands as an official appellation, and continue to lead the pack today with some of the best Pinot Noir and Chardonnay in the region. Chef Dyon Foster provides guests with an unforgettable culinary experience, showcasing fresh ingredients grown steps away from the dining room, and pairing perfectly with their famous wines. If you're not too full from all the delicious food & wine (good luck with that), take an ATV tour and enjoy the panoramic views as you drive through the estate!
10-Yard Line: Heritage Oak (Lodi, CA)
Resting just steps away from a 20-acre Riparian woodland along the shore of Mokelumne River, Heritage Oak offers a unique wine tasting experience that screams "autumn." The tasting room is pouring their exciting variety of delicious wines, all of which are grown on their beautiful property. If you manage to tackle the difficult task of choosing your favorite, bring a bottle down to the sandy beach on the riverbank, or reward yourself with it after a hike on one of the many trails through their property. If you're ready for it to finally feel like fall, Heritage Oak is the perfect place for you!
TOUCHDOWN!
You've made it this far and now possess all the necessary skills and knowledge to bring home the win this fall. After visiting one of these unique wine country getaway destinations, we're certain you'll have a new favorite player in the wine country game. Football season is in full swing, and we have a feeling it's going to be the best one yet.
The following article was provided by our contributing partner – Touring and Tasting Magazine.
Cheers – Ken