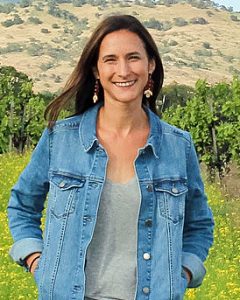 During our Zoom interview on July 27th, we had a chance to get to know Rebekah Wineburg who is the Winemaker at both Quintessa & Post & Vine. Rebekah's passion for winemaking began when she visited Napa Valley with her parents at just 16. It is fascinating that her visit made such a lasting impression on her. She went on to pursue a dual degree in chemistry and biology at Macalester college with the dream of becoming a winemaker.
Her background is full of interesting experiences that have led to her current winemaker responsibilities at Quintessa and her partnership in owning Post and Vine with her friend Erica Kincaid, whom she had met back in the Rudd days.
Her wine background includes a fortuitous internship at Ornellaia. She also worked at Spy Valley in New Zealand, Rudd, and Buccella prior to her two current winemaker projects. I first discovered Rebekah's talent when I covered the excellent Buccella 2010 Cabernet Sauvignon.

In 2012, Post & Vine was launched. That project puts Old Vine Vineyards at center stage. One of the reasons for starting this project was to save classic Old Vine vineyards by displaying the impressive wines they can produce. It started with a field blend of mixed black varieties from Testa Vineyard. As you will see in our tasting notes, she has spread her wings to include a terrific offering from the Mule Plane Vineyard in Lodi. That wine really caught our attention in this tasting session.

Rebekah has also been the winemaker at Quintessa since 2015. She is a great ambassador of the brand and is doing a terrific job as winemaker at this historic winery.
If you are interested in more information about Quintessa's history, this video is a brief summary.
If you are interested in more information on Rebekah and her projects. Here is the link to a terrific Q&A session she did with The Wine Write that goes into a lot more details.
Now onto the wines. We covered seven of Rebekah's new release wines. We also added the 2019 Faust from the Huneeus collection. We wanted to cover this wine even though she didn't make it. Then lastly for fun, we added a 2011 Quintessa which was from one of our Panel member's collection. Even though this wine was made by Rebekah's predecessor, it was fun to cover it with her knowledge and insight on the wine. We have been huge fans of the 2018 wines from Rutherford, so we fully expected it to beat out the 2019. Well, we were wrong. The 2019 edged out the 2018 with the Panel. Here is a video from Quintessa on their impressive 2019 wine.
The links below are to our full reviews. If you are interested in ordering and trying these wines, you will find the Quintessa wines via your favorite fine wine shop or on top quality wines lists. The Sauvignon Blancs are also available for order via the Quintessa website. The 2019 Quintessa is currently allocated. If your are interested, you should give the winery a call. As for the Post & Vine wines, you can purchase these wines directly from their website.
1. Quintessa 2020 Sauvignon Blanc "Illumination" (Napa/Sonoma) $55 (KWGTP 93)
2. Quintessa 2021 Sauvignon Blanc "Illumination" (Napa/Sonoma) $55 (KWGTP 94)
3. Post & Vine 2021 "Rose of Carignane" (Contra Costa County) $19 (KWGTP 91)
4. Post & Vine 2019 "Old Vine Field Blend" (Mendocino) $36 (KWGTP 91)
5. Post & Vine 2020 Carignane "Mule Plane Vineyard" (Lodi) $28 (KWGTP 92.5)
6. Faust 2019 Cabernet Sauvignon "Napa Valley" (CA) $65 (KWGTP 93)
7. Quintessa 2018 US Red "Red Wine" (Rutherford) $240 (KWGTP 96)
8. Quintessa 2019 US Red "Red Wine" (Rutherford) $250 (KWGTP 98)
9. Quintessa 2011 US Red "Red Wine" (Rutherford) $145 (KWGTP 93.5)
You can find reviews of past and future Quintessa wines that we cover on the KWG Quintessa winery page on our website. The Post & Vine reviews that we cover on the KWG Post & Vine winery page on our website. Rebekah's wines are awesome, and you should definitely try these wines. There is something for everyone at all price points. You certainly will not be disappointed! Enjoy – Ken