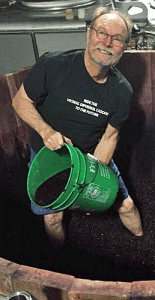 During our Zoom interview on August 10th, we had a chance catch up with Joel Peterson who is the winemaker at Once and Future Wines. This is the second year in a row we have had Joel on with the Tasting Panel. This year, we covered 7 of his new-release 2020 vintage wines. This was a couple less than last year as he was unable to be produced a few wines because of the fires. As you will come to see, Joel has really knocked it out of the park with his 2019 and 2020 vintages. If you don't know anything about his Once and Future project, get ready to explore some Zins. If you his loved his old Ravenswood Zinfandels, then you are in for a treat when you get a chance to explore his Once & Future offerings.
I am not going to share all of Joel's background and how he got into winemaking. There is very nice outline about Joel's background on his website.
That said, here are a few nuggets that link his Ravenswood history to today. Joel started Ravenswood in 1976. He wanted to focus on Zinfandel. He made "Single Vineyard" Zin's in a somewhat gothic, Old-World style. He thought the winery, if he was lucky, would grow to 6 or 7 thousand cases. In 1983, seven years after the first vintage, Ravenswood began to grow. The popularity of Ravenswood "Vintners Blend" took center stage. Over the following three decades Ravenswood's annual production grew to early one million cases. At one point it became the world's bestselling red Zinfandel brand.
Joel is very proud of the wines he made at Ravenswood. I have even linked to some of my favorites from the vineyards listed here. Old Hill Ranch, Dickerson, Belloni, Barricia, Teldeschi are all fantastic vineyards and produced some stellar Zinfandel's over the years. However, after nearly 45 years in the wine business, he felt it was time to look backwards and get back to his roots and the original plans.
So, Joel started Once and Future to return to the original vision that he had for Ravenswood from the beginning. A project that specializes in wines from special vineyards made with a sensitivity to place and in a style that he personally loved and believe in. His goal was to make wines that forced him to dust off his old redwood vats and get out a new punch down tool. (His original tool is in the Smithsonian) Wines that dye his hands black/purple and preserve and reflect the greatness of the vineyards that he works with. In short, he makes wines that he loves to make, and you will also love and enjoy!
So, what are these wines? The links below are to our full reviews of all 7 wines that we covered. If you are interested in ordering and trying these wines, you can find a few online, but the best bet is to call or e-mail winery for information.
1. Once and Future 2020 Mataro "Oakley Road Vineyard" (Contra Costa) $40 (KWGTP 91)
2. Once and Future 2020 Zinfandel "Oakley Road Vineyard" (Contra Costa) $49 (KWGTP 91)
3. Once and Future 2020 Zinfandel "Dickerson Vineyard" (Napa Valley) $49 (KWGTP 92)
4. Once and Future 2020 Zinfandel "Teldeschi Frank's Block" (Dry Creek) $49 (KWGTP 94.5)
5. Once and Future 2020 Zinfandel "Old Hill Ranch" (Sonoma Valley) $55 (KWGTP 93.5)
6. Once and Future 2020 Zinfandel "Bedrock Vineyard Old Vine" (Sonoma Valley) $49 (KWGTP 94.5)
7. Once and Future 2020 Merlot "Sangiacomo Vineyard" (Carneros) 100% $65 (KWGTP 92)
You can find reviews of past and future Once & Future wines that we cover on the KWG Once & Future winery page on our website. If you love Zinfandel, then seeking out and trying Joel's wines is a must. You certainly will not be disappointed! Enjoy – Ken