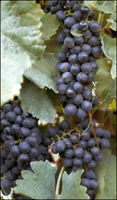 Our annual Syrah and Shiraz tastings are some of my favorite tastings of the year. The flavor profiles I like the best include blueberry, blackberry, and boysenberry. This is a grape that frequently delivers these flavors. Overall, you are going to find the best Syrah and Shiraz offerings are a bit on the expensive side. However, there are a few deals sprinkled in here as well. I hope you find and enjoy some of these gems. I know we enjoyed them!

The highest scoring Syrah, which was the winner of our Big Blind tasting is the 2009 Paul Hobbs "Kick Ranch Vineyard" Syrah for $50. It is outstanding. The panel rewarded it by assigning it 93 points. This wine is full-bodied, balanced, and silky smooth. The panel loved its ripe blackberry flavors with notes of integrated oak. They also detected secondary flavors, like minerality and plum. It is a pretty complex Syrah. The finish is rather dry and its dusty tannins are sticky and sail on for quite some time. The panel suggested that this is a sipping Syrah. Sit back with some sharp cheddar cheese and enjoy! Also note, there were only 193 cases were made, so call the winery and beg.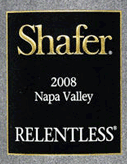 Our next wine always seems to be near the top of our Syrah results each year. Perhaps it is because it is a blend and they sneak in some Petite Sirah. (Another favorite grape of the panel). The 2008 Shafer "Relentless" for $60 was award 92 points. It is pitch black colored and finished in second place in our big blind tasting. On the palate, this wine is full-bodied, very well balanced, and super smooth. The flavor profile is a delicious mild blackberry and black currant blend with nicely integrated black licorice. There are hints of black pepper as well. It finishes very dry and its tannins are very sticky and quite prolonged. The panel suggested serving this wine with duck. This wine will be easier to find as 3,300 cases were made.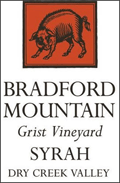 Our next Syrah is a great deal. So much of a deal, that my panel bought up the few remaining cases left in our state. So after your read this, you will need to call your favorite retailer right away to see if you can get some.  The 2007 Bradford Mountain "Grist Vineyard" Syrah for $25 is a steal. The panel rewarded it with 91 points and immediately ordered it once they heard the price. There were only 500 cases of this organic gem made, so you will have to hurry to get some. This wine was full-bodied, balanced, and savory. It displayed boysenberry flavors wrapped in a blanket of smoky oak. The panel also detected notes of plum, black cherry, and a dash of black pepper that added to the complexity and intrigue. The panel loved this wine and suggested pairing it with beef bourguignon or venison stew.

Next up is a single vineyard offering from Andrew Murray. His 2008 "Terra Bella Vineyard" for $36 is initially a bit in your face and over the top. It fooled many on the panel who thought it was from Australia. It opens with a fragrant blackberry liquor bouquet with a hint of plum. On the palate, this wine is intense, rich and concentrated with very extracted blackberry flavors. We also detected notes of integrated oak, plum, spice, and black pepper. The panel suggested bringing this wine up to the ski lodge and serving it with sharp cheddar cheese or creole shrimp scampi. Hurry if you want to try it. Only 240 cases were made.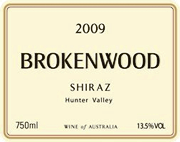 If you want to try the real McCoy from down under, then give the 2009 Brokenwood "Hunter Valley" Shiraz a try. At $40 it is a bit pricey, but it is an impressive offering and received 91 points. It opens with an inviting blackberry jam and blueberry bouquet. It is full-bodied, initially a little acidic, mouthwatering and juicy, but does smooth out with some aeration. I really enjoyed its mild oak-infused ripe blackberry flavors with notes of black raspberry and a hint of black cherry. This wine is built for Mr. P's barbecue ribs and boy was it a perfect match.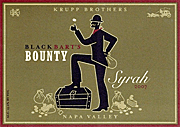 Krupp Brothers has always been a leader in the Syrah category. Their 2007 "Black Bart's Bount" Syrah is just another example of how good they are. This $45 offering from the Napa Valley is a gem. On the palate, this wine is full-bodied, balanced, fruit forward, and rich. The flavor profile is a dark chocolate and black currant blend with notes of blackberry, blueberry and oak. It was rather complex. It finishes dry, chewy and its dusty tannins stick around for quite a while.
The next two 91 pointers both come with a big step up in price. Both are from Kilikanoon. However, they originate from two different valleys in Australia. The first one is the 2008 Kilikanoon "M" Shiraz for $70. This offering hails from the McLaren Vale. The panel described it as medium-bodied, balanced, and smooth. We enjoyed its very tasty mild boysenberry flavors with notes of blueberry and a touch of mild oak and blackberry. It finishes dry and its fine tannins are nicely prolonged. The group suggested that this Shiraz would pair well with a prime rib.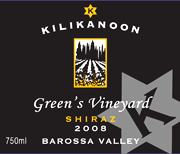 Next up is the Kilikanoon 2008 "Green Vineyard" Shiraz also for $70. This one comes from the famous Barossa Valley. I personally found this Shiraz to be quite impressive! It is full-bodied, well balanced, and rather smooth. The flavor profile is a very tasty mild blackberry with notes of oak and hints of plum, blueberry, and vanilla. It is quite complex. This wine is the bigger one of the two. The panel suggested pairing it with duck breast, braised short ribs or a veal chop. There were only 50 cases of each of these wines imported into the US. Go right to the folks at Old Bridge Cellars if you want to try some.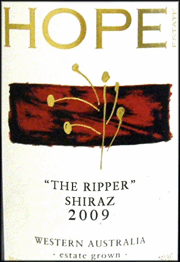 We will start off our 90 pointers with one of the best deals in this report. The 2009 Hope Estate "The Ripper" Shiraz for $15 is a steal. This Western Australian gem is full-bodied, balanced, rich and very fruit forward. Its flavor profile is a concentrated blackberry and boysenberry blend with nicely integrated vanilla oak. It finishes dry and its fine tannins are gentle and friendly. I would pair this wine with braised barbecue short ribs.
The next two 90 pointers are also from down under. I will present each briefly. The 2008 Plantagenet "Mount Barker" Shiraz for $29 gets real interesting on the palate. It is medium-bodied, balanced, and very easy to drink. I really liked its very tasty mild red raspberry flavors with hints of red cherry. There is a touch of pomegranate and a dash of pepper mixed in. Pair it with grilled salmon. The 2010 Two Hands "Gnarly Dudes" Shiraz from the Barossa Valley is full-bodied, well balanced, and smooth. We enjoyed its plum and blackberry flavors with notes of mild oak. It would be nice with sharp cheddar cheese by the fireplace on a cold winter night.
John Duval Wines 2009 Shiraz "Entity" (Barossa Valley, Australia) $40 (90)
Reininger 2008 Syrah "Walla Walla Valley" (Washington) $43 (90)
Maisonry 2009 Syrah "Proprietary Red" (Napa Valley, CA) $48 (90)
Cakebread 2009 Syrah "Napa Valley" (Napa Valley, CA) $55 (90)
Krupp Brothers 2008 Syrah "Black Bart Stagecoach Vineyard" (Napa Valley, CA) $60 (90)
Kilikanoon 2008 Shiraz "Oracle" (Clare Valley, Australia) $70 (90)
Donelan 2009 Syrah "Cuvee Keltie" (Sonoma County, CA) $75 (90)
Other Very Good Shiraz And Syrahs To Consider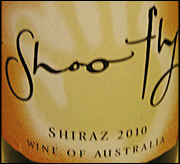 Shoofly 2010 Shiraz (South Australia) $14 (89)
A great value Shiraz that is medium-bodied, nicely balanced, smooth and fruit-forward. I really enjoyed its tasty black-raspberry jam flavors with hints of integrated mild oak. Pair it with a pulled pork sandwich.
Andrew Murray 2008 Syrah "Tous les Jours" (Central Coast, CA) $16 (89)
This is another good value California Syrah that is light enough to appeal to Pinot lover. It is medium-bodied, smooth, and very approachable. It displays pleasant black plum flavors with hints of blackberry and red currant.
Acorn 2008 Syrah "Axiom" (Russian River Valley, CA) $33 (89)
Montes 2007 Syrah "StarAngel" (Paso Robles, CA) $35 (89)
Sequel 2007 Syrah (Columbia Valley, WA) $55 (89)
Turtle Creek 2009 Syrah (Grass Valley, CA) $18 (88)
Leeuwin Estate 2008 Shiraz "Siblings" (Margaret River, Australia) $20 (88)
Stark Conde 2008 Syrah (Stellenbosch, South Africa) $27 (88)
Leeuwin Estate 2008 Shiraz "Art Series" (Margaret River, Australia) $35 (88)
Plantagenet 2008 Shiraz "Hazard Hill" (Western Australia) $13 (87)
A Couple Of Good Entry Level Options
Mandolin 2009 Syrah "Central Coast" (CA) $10 (86)
D'Arenberg 2010 Shiraz "The Stump Jump" (McLaren Vale, Australia) $12 (86)