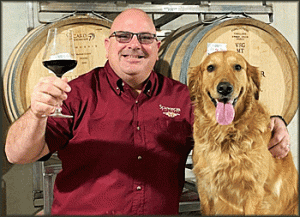 On August 23, 2023, we had the opportunity to meet and interview Andy Schweiger (virtually). Andy is the winemaker at Schweiger Vineyards. In our Zoom interview, we covered six of his currently available wines ranging in vintage from 2017 through 2021. Check out what we learned about Andy. Be sure to read our reviews in our latest blog post.
Before we get to the wine reviews, I thought I would share a few tidbits we learned during the tasting with Andy.
Proprietors Fred & Sally Schweiger have owned this land since 1961. Fred found a parcel of land for sale at the very top of the Mayacamas mountain range. He purchased the property, that was completely forested, for $250 an acre.
In 1979, record high-interest rates put a pause in Fred's construction business. As a result, Fred and Sally decided to clear the land and plant and develop a vineyard on their own. The goal was 2-3 acres. It ended up being 35 acres out of 55 acres.
They used the sale of cleared trees to help fund grapevines, trellises, and irrigation equipment.
1984 was their first harvest of Chardonnay and Cabernet Sauvignon.
They sold grapes to many well-known wineries including ZD, Newton, and Fife.
Andy worked on the bottling line and as a cellar worker at ZD.
Andy attended Davis and then worked at Joseph Phelps, Trefethen, Chateau St. Jean and Cain Cellars.
In 1994, Andy joined the family business to create the first vintage of Schweiger Chardonnay, Merlot, and Cabernet Sauvignon. They used 10% of their grapes.
In 1999, they started to keep "all" their grapes.
In 2020, the fires came within 10 feet of their building. Barrel room temps got over 100 degree's and cooked the wine.
Andy did song, music and wine shows on Zoom during COVID to keep the business going.

The Schweiger Live interview with Delfeato Marsalis led to Branford Marsalis calling Andy.

"Seeds are the secret!"
Andy exclusively does punch downs. He does not do pump overs.
Below is a summary of the wine offerings from Schweiger Vineyards that we covered. The links below are to our full reviews. If you are interested in ordering and trying these wines, you will find some of these wines via your favorite fine wine shop or on top quality wines lists. You can also purchase these wines on the Schweiger Vineyards website.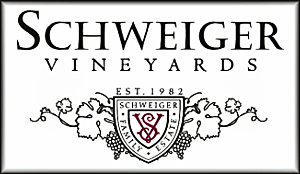 1. Schweiger Vineyards 2021 Sauvignon Blanc "Uboldi Vineyard" (Sonoma Valley) $38 (KWGTP 92)
2. Schweiger Vineyards 2021 Chardonnay (Spring Mountain) $50 (KWGTP 92)
3. Schweiger Vineyards 2017 Cabernet Sauvignon (Spring Mountain) $89 (KWGTP 92)
4. Schweiger Vineyards 2017 "Dedication" (Spring Mountain) $125 (KWGTP 95)
5. Schweiger Vineyards 2018 Merlot (Spring Mountain) $75 (KWGTP 93)
6. Schweiger Vineyards 2019 Cabernet Franc (Spring Mountain) $70 (KWGTP 92.5)
You can find reviews of past and additional Schweiger wines that we cover on the KWG Schweiger Vineyards winery page on our website. Cheers! Ken