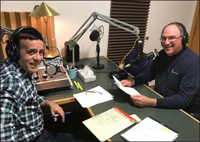 Recently, Ken was a guest with WBZ radio host Jordan Rich on his Connoisseurs Corner radio segment. Ken and Jordan discussed many topics over 6 radio spots just in time for the summer wine season.
Some of those topics included:
How Has the Pandemic Effected the Wine World?
Good Value Wines For This Summer
Pine Ridge 2018 "Chenin Blanc + Viognier" (89)
Susana Balbo 2018 "Crios Rose of Malbec" (89)
Rose Wine Winners
Pratsch 2018 "Rose of Zweigelt" (89)
Peyrassol 2019 "Commanderie de la Peyrassol" Rose (91)
Sauvignon Blanc Winners
Merriam Vineyards 2019 "Danielle" Sauvignon Blanc (91)
St. Supery 2018 Sauvignon Blanc (90)
Pinot Noir Winners
Ponzi 2016 "Classico" Pinot Noir (91)
Au Bon Climat 2016 "Knox Alexander" Pinot Noir (93)
Try Something New – A White Wine and a Red Wine
Boutari 2018 Moschofilero (90)
Ruffino 2016 "Modus" (91)
I hope you enjoy listening and hope you can find some of these very nice wines!
Cheers – Ken