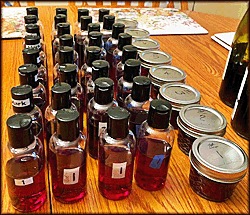 Welcome to the new world of virtual tastings! When the new world of social distancing came into our lives, I had to solve a key issue: How could the KensWineGuide.com Tasting Panel still meet to review wines? Then it hit me… the Tasting Panel still has to come by to pick up their "homework samples," so how about create a system so they could pick up unmarked samples for a blind tasting as well! From that point on, our virtual tasting was born. Seven of my primary Tasting Panel members each bought a set of eight 4 ounce clear plastic sample bottles with lids numbered 1 through 8. Each Panel member receives a 90 milliliter sample of each wine to review. They are poured about 1 to 2 hours before the tasting, placed in box outside and picked up the same evening.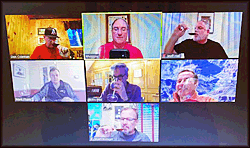 The Tasting Panel then meets online via Zoom and we go through the wines. The notes and scores are scanned and sent back to me for consolidation. Those wines that qualify as very good or better get posted on the website. The Tasting Panel then cleans and air dries the bottles. They return them in a box to me the following weekend. Each box is labeled with the taster's name on it. My virus avoidance protocol is to let the box sit until the following Wednesday.
We are meeting weekly during the pandemic, covering 8 wines every Wednesday evening at 7:30 pm. Since we normally meet once a month to do a big blind tasting of 13 wines and then usually have one smaller separate mini-tasting of 8 wines, we are actually covering more wines now with the Panel!
As you can see this is a fair amount of work, but we love it. If you would like to try and attend a virtual tasting, there are lots of variations out there. Our friends at WineSellers have an extensive list of winemakers talking about their wines which seems to be the most common approach. A more involved version is the Flanagan model. Eric is offering to send you his virtual tasting wines at a 50% discount and free shipping before the event. Then you can try the wines together with him and Riley which is a more interactive approach.
No matter what the world brings us, good friends always find a way to come together and enjoy delicious wines and socialize. We at KensWineGuide.com will continue to search for that perfect bottle of wine and pass on our favorites along the way! Cheers – Ken