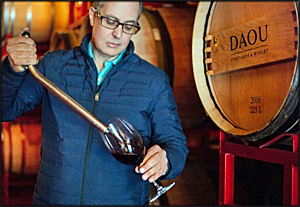 On January 11, 2023, we had a chance to once again catch up with Daniel Daou, the proprietor and winemaker at DAOU Vineyards and Patrimony. In this Zoom interview, we covered eight of his new-release wines. We did another interview with Daniel last January to cover his background and the 2019 vintage primarily. The new interview is about his 2020 DAOU wines and we also covered the 2019 Patrimony. Finally, we also caught up on what is new and planned at DAOU.
Before we get to the wines, I thought I would share some tidbits and updates about Daniel.
We talked extensively about the 2020 vintage and all the challenges DAOU and others faced.
We learned that Australia is way ahead of the US in dealing with and analyzing for smoke taint.
There appears to be two labs in Australia recommended by the Australian Wine Research Institute (AWRI)

Affinity Labs &
Vintessential Laboratories

We talked about his daughter Lizzy who is going to be a winemaker. She has done internships at Quintessa, Domaine Gros Frere et Soeu, Quinta de Covela, Chateau Latour and of course worked at DAOU
We talked about his upcoming project in Tuscany. It sounds like Lizzy will be deeply involved.
Lastly, we discussed doing a retrospective tasting of his DAOU "Estate" Cabernet, vintages 2013 thru 2020. That tasting is planned for late March. Stay tuned for the results!
Below is a summary of the terrific current wines from DAOU & Patrimony that we covered with Daniel. The links below are to our full reviews. If you are interested in ordering and trying these wines, you will find some of these wines via your favorite fine wine shop or on top quality wines lists. You can also purchase these wines on the DAOU website. For Patrimony you can see the offering here and join their waitlist here.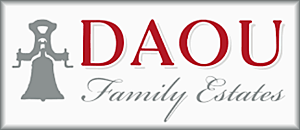 1) DAOU 2020 Chardonnay "Estate" (Adelaida District) $100 (KWGTP 94)
2) DAOU 2020 Red Blends "Cuvee Lizzy" (Paso Robles) $85 (KWGTP 94)
3) DAOU 2020 Cabernet Franc "Estate" (Adelaida District) $95 (KWGTP 94)
4) DAOU 2020 Cabernet Sauvignon "Estate" (Adelaida District) $95 (KWGTP 94.5)
5) DAOU 2020 Malbec "Estate" (Adelaida District) $100 (KWGTP 94)
6) DAOU 2020 Red Blends "Mayote" (Adelaida District) $125 (KWGTP 96)
7) DAOU 2020 Cabernet Sauvignon "Soul of the Lion" (Adelaida District) $170 (KWGTP 96.5)
8) Patrimony 2019 Cabernet Sauvignon (Adelaida District) $275 (KWGTP 98.5)
You can find reviews of past and future DAOU and Patrimony wines that we cover on the respective DAOU and Patrimony KWG winery pages on our website. We hope you enjoy these terrific wines as much as we did. Cheers! – Ken