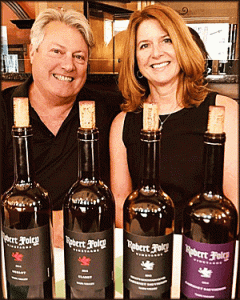 During our Zoom interview on January 4, we had a chance to catch up with Robert "Bob" Foley, who is the winemaker at his winery Robert Foley Vineyards. We also had the pleasure of having Kelly Kehoe join us as well. The evening of the tasting a bad storm was hitting Howell Mountain. We made it through the last wine before the storm knocked out the internet on their end. We wrapped up by phone. Fortunately, we finished 99% of the interview beforehand.
Bob is not only a great winemaker, but he also always has some great stories to tell as well. We have been covering Bob's wines for years and have attended many of his wine dinners in the Boston area. He has lots of fans around here. Massachusetts is one of Bob's top markets!
That said, before we get to the wines, I thought I would share some tidbits and updates about Bob and Robert Foley Winery.
• The winery is basically at the summit of Howell Mountain
• The winery is entirely run by just three people. Bob, Kelly (Business Manager) & Shannon (Tech Savvy Super Woman)
• Bob is 69 year's old and still does all the winemaking, by himself!
⇒  We asked if an intern or assistant would be helpful. He said, "They would only slow me down!"
• Robert Foley Vineyards was started in 1998 (24 years ago)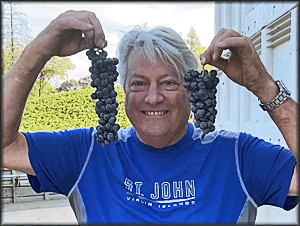 • They own some of the vineyards that they use. But the key for Bob is that he calls all the shots, and he controls all the viticulture at the vineyards.
⇒  Bob feels that wine is basically made in the vineyard. This was a lesson that he learned from André
Tchelistcheff.
⇒ Balance the grapes in the vineyard if you want better wines.
• I have always thought Bob was one of the top "Merlot" winemakers in the US, if not the best. We asked him what his secret was. While there are many variables. The key is Clone 3 grapes. Bob says nothing compares to Clone 3!
• Thoughts on mountain fruit
⇒  Unless very hot, vintage variation is not an issue on the mountain.
⇒  Mountain fruit hold acidity longer.
⇒  Mountain fruit is usually picked a lot later than valley fruit.
• Bob likes "Big and in your face wines!" (So do we!)
• Clone 7 is his favorite Cabernet Sauvignon clone because it can deliver what he wants!
• Claret is a British term used, unofficially, in reference to red Bordeaux wine. Some American producers use the trademarked term of Meritage. But to do that, the winery must join the Meritage Alliance and the blend must consist exclusively of two or more Bordeaux grape varieties. Bob's flagship wine "Claret" is grandfathered in and allows him to still use that title which is no longer allowed.
• We loved Bob's new labeled wine. Niedeldieke is sourced from a single vineyard planted to Clone 7 on a hillside in Calistoga 10 years ago. It was another great impression from the 2019 vintage.
• Bob has always made very good Petite Sirah, but his 2019 offering might be his best ever! Wow!
• Finally, Bob has some new wines and sources on the horizon! We are looking forward to covering them when they are released.
Below is a summary of the terrific currant and pre-release wines from Robert Foley Vineyards that we covered with Bob. The links below are to our full reviews. If you are interested in ordering and trying these wines, you will find some of these wines via your favorite fine wine shop or on top quality wines lists. You can also purchase these wines on the Robert Foley website. If it's not listed yet, call Kelly at the winery to order some.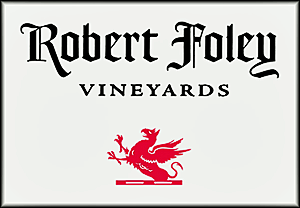 1. Robert Foley 2021 Chardonnay "Napa Valley" (Unoaked) $35 (KWGTP 90)
2. Robert Foley 2017 "Claret" (Napa Valley) $125 (KWGTP 95)
3. Robert Foley 2018 Merlot "Howell Mountain" $75 (KWGTP 94.5)
4. Robert Foley 2017 Cabernet Sauvignon "Napa Valley" $92 (KWGTP 94)
5. Robert Foley 2015 Cabernet Sauvignon "Mt. Veeder" $125 (KWGTP 92)
6. Robert Foley 2017 Cabernet Sauvignon "Howell Mountain" $200 (KWGTP 93.5)
7. Niedeldieke 2019 Cabernet Sauvignon "Napa Valley" $125 (KWGTP 95.5)
8. Robert Foley 2019 Petite Sirah "Napa Valley" $60 (KWGTP 96)
You can find reviews of past and future Robert Foley wines that we cover on the Robert Foley KWG winery page on our website. We hope you enjoy these terrific wines as much as we did. Cheers! – Ken