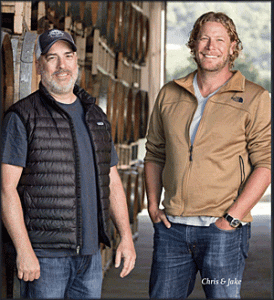 On January 25, 2023, we had a chance to interview Jake Bilbro for the first time. Jake and his wife Alexis own Limerick Lane Cellars and Limerick Lane Vineyards. We had covered a few vintages of the Limerick Lane wines in the past and it was nice to finally meet Jake virtually on Zoom. In this interview, we covered eight of his new-release wines.
Before we get to the wines, I thought I would share some tidbits about Limerick Lane and Jake.
Jake is a fourth-generation Sonoma County winemaker and grape grower.
Jake grew up around wine at his dad, Chris's winery, Marietta Cellars.
His brother Scot, now runs Marietta Cellars.
His other brother Sam, owns and runs Idlewild Wines.

Piedmontese inspired wines from the rugged hills of northern California

According to Jake's bio, his greatest accomplishment is introducing his children to the wonders of cream soda while walking the century old vines on the estate. As a cream soda lover, myself, I knew I would like him!
After building up Limerick Lane, Jake realized that he could not do everything. So, he hired his current winemaker, Chris Pittenger.

Chris worked at several notable wineries in the past. Robert Biale in Napa, Torbreck (Australia), Williams-Selyem (Healdsburg), and finally, four harvests at West Sonoma Coast winery Marcassin (under Helen Turley).
Just prior to Limerick Lane, Chris then spent 11 years as winemaker at Rhone focused Skinner Vineyards in El Dorado making some extraordinary Mourvédre and Grenache.

Lastly, Limerick Lane now makes about 5,500 cases of wine per year.
Below is a summary of the impressive current wines from Limerick Lane that we covered with Jake. The links below are to our full reviews. If you are interested in ordering and trying these wines, you will find some of these wines via your favorite fine wine shop or on top quality wines lists. You can also purchase these wines on the Limerick Lane website.

Limerick Lane 2020 Zinfandel "Banfield Vineyard" (Russian River) $62 (KWGTP 93)
Limerick Lane 2020 Zinfandel "Squatter's Hill" (Russian River) $52 (

KWGTP 92.5

)
Limerick Lane 2020 Red Blend "Rocks & Fog" (Sonoma County) $56 (

KWGTP 93

)
Limerick Lane 2020 Zinfandel "1910 Block" (Russian River) $68 (

KWGTP 93

)
Limerick Lane 2020 Zinfandel "Rocky Knoll" (Russian River) $65 (

KWGTP 93.5

)
Limerick Lane 2020 Zinfandel "Bedrock Vineyard" (Sonoma Valley) $63 (

KWGTP 92.5

)
Limerick Lane 2020 Zinfandel "Monte Rosso Vineyard" (Moon Mountain) $72 (

KWGTP 93

)
Limerick Lane 2020 Zinfandel "Marquis" (Sonoma County) $72 (

KWGTP 95

)
You can find reviews of past and future Limerick Lane wines that we cover on the Limerick Lane KWG winery page on our website. We hope you enjoy these terrific wines as much as we did. Cheers! – Ken