If you were to step foot in wine country today, you would notice an instant jittery feeling of excitement in the air. You can feel, see, and smell this intriguing energy, which can only mean one thing—it's harvest season! These are the months that winemakers and wine enthusiasts live for, it's the Christmas morning of winemaking that makes all their hard work worth it. Harvest is the best time to visit wine country and you don't want to miss out on experiencing this special time of year. Amazing wine, amazing vibes, and amazing weather… have we convinced you yet? Harvest some happiness in your life this fall by visiting one of our recommended wineries!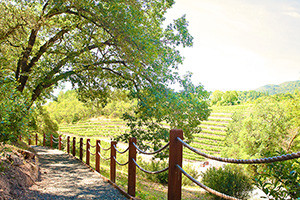 Fantesca Estate Winery | Napa Valley, CA
Inspired by the rich female heritage of the property, Susan and Duane Hoff founded Fantesca in 2004 on the beautiful hillside of Spring Mountain knowing that they would have an incredible reputation to uphold. 150 years ago, the vineyard produced the grapes that Hannah Weinberg would use to craft one of Napa's first award winning wines. The notoriety continues to this day, as the winery's portfolio boasts the only Chardonnay crafted by Heidi Barrett, who has received numerous 100 point scores from Robert Parker. Private visits are arranged by advanced appointment to ensure that every guest gets a true sense of what it's like to be a Fantesca collector.
Buttonwood Farm Winery | Solvang, CA
Had you visited the farm a couple hundred years ago, one would have likely been greeted by horses, goats, chickens, and more. Today, Buttonwood Farm is still proudly operating as a family owned winery where the words "organic" and "sustainable" have been relevant long before they became mainstream. Enjoy a variety of distinctive, well structured, and balanced wines with a unique Buttonwood flare. Don't just take our word for it though, Buttonwood wines routinely receive acclaim, including a recent award of 91 points from Stephen Tanzer's International Wine Cellar. Sit back, grab a glass, and enjoy some great wine in the beautiful tasting room that features artwork by Seyburn Zorthian or take the opportunity to explore the captivating picnic grounds Buttonwood has to offer right in the middle of Santa Barbara County's Santa Ynez Valley. It truly is a hidden gem.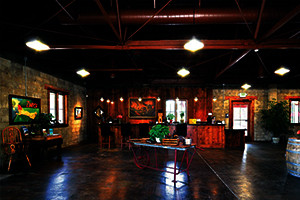 Klinker Brick Winery | Lodi, CA
Klinker bricks get their name for the unusual sound that they make when banged together but what really makes them unique is their deep color and enormous density. These qualities are what gave Klinker Brick Winery it's name five generations ago, and have lead growers Steve and Lori Felton to produce world-class, Old Vine Zinfandel for the past 15 years. While Old Vine Zinfandel is their specialty, the winery has added several distinct new wines including a dry style Rosé and a captivating, pungent Cabernet blend called Bricks and Mortar. Guests have the opportunity to enjoy all that the winery has to offer in a beautiful tasting room boasting lofty ceilings and historic concrete brick walls.
Peju Winery | Napa Valley, CA
Judging by its celebrated presence in the Napa Valley today, its hard to imagine that 32 years ago the Peju Family Winery was simply just a vision. Over the years the winery has transformed from a simple grape growing venture into a landmark winery with a reputation for elegant, complex and balanced wines in the classic Bordeaux variety. The family owned and operated winery takes pride in featuring organic and sustainably farmed fruits in all of its wine selections. As if the delicious wine itself wasn't enough, tastings are held in an exquisite 50 foot tall tower. Rest assured that your visit to this beautiful property, nestled in the heart of the Napa Valley will be a warm and welcoming one thanks to the amazing hospitality provided by the Peju family.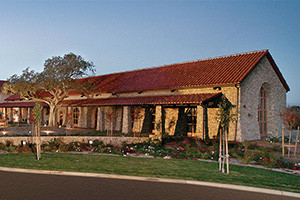 Vina Robles | Paso Robles, CA
It's no secret that Europe and California both have a lot to offer when it comes to great food, great wine, and great hospitality. The two prime locations may be thousands of miles apart, but even a great distance is no match for partners Hans Nef and Hans R. Michael. In the mid 1990's, the partners were able to successfully combine the finesse of European influence with bold natural California flavors to create an incredible selection of ultra premium wines at Vina Robles. Today, visitors have access to a chic 14,000 square foot hospitality center where the excitement extends far beyond the delicious wine. Numerous tasting menus, delicious food parings, gourmet lunches, and even an incredible amphitheater are all elements of the lavish accommodations at Vina Robles where you can be sure to expect gracious hospitality and an excellent wine country experience.
Steven Kent Winery | Livermore Valley, CA
Growing up in a family that had been making wine for six generations, Steven Kent Mirassou wanted to continue this passion for winemaking with a focus on his love of great Cabernet Sauvignon. While Cabernet Sauvignon has been grown in Livermore since the late 1800's, Steven Kent Winery has raised the bar, crafting small lot vintages that according to Wine Enthusiast, produce today's greatest Livermore Cabernets. Visit the winery's Barrel Room, or the Reserve Room on the weekends, in the heart of Livermore Valley wine country, to taste for yourself the superior wines of Steven Kent Winery.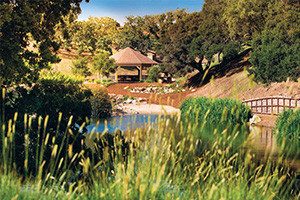 Pence Ranch | Santa Ynez Valley, CA
Since his early adult life Blaire Pence has had a passion for two things: Chardonnay and Pinot Noir.  After traveling abroad to Europe and having the opportunity to experience what Pence believes to be the worlds greatest wines, he decided that he would bring the brilliance of Burgundy to the California coast. Today Pence Ranch sits on a heavenly 200-acre property that was fastidiously designed to produce unwaveringly rich and flavorful produce. The main focus is still rooted in Pence's passion for wine, however, the ranch also produces other crops to remain sustainable and provide the crew and visitors with delicious home grown meals. Bring a picnic and enjoy an exceptional wine tasting experience alongside the shaded pond area.  The dedication to excellence can be tasted in every sip of the tasting menu at Pence Ranch.
Riverbench Vineyard & Winery | Santa Barbara, CA
Riverbench is a name that resonates with high quality Santa Barbara Chardonnay and Pinot Noir. Since 1973, they have been committed to producing some of the region's best Burgundian varieties, but they haven't stopped there. In 2008, they introduced the first Certified Sustainable Sparkling Wine in Santa Barbara, their Jumper Blanc de Blancs, expanding their impressive reputation to the world of sparkling wines. All of their delicious wines are poured in two charming tasting rooms, one at their vineyard in Santa Maria, and the other in the Funk Zone of downtown Santa Barbara.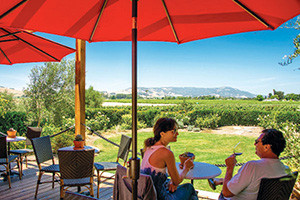 Anaba Wines | Sonoma, CA
What sounds better than spending the day tasting Chardonnays, Pinot Noirs, Rhone varietals, and Rhone-style blends? How about tasting them in an elegantly renovated century-old farmhouse that's powered entirely by sustainable wind energy? At Anaba Wines this is the exact standard of hospitality that wine connoisseurs from near and far have come to expect.  Overseen by talented duo Ross Cobb and Katy Wilson, the wines produced from this extremely sustainable vineyard have received numerous awards throughout the years. If you have the chance to visit Anaba Wines make sure that your taste buds are prepared to embrace some of the finest wines of Sonoma County!
And for Transportation…
Beau Wine Tours | Napa Valley, CA
California is the home of thousands of acres of world renowned wine country; Sonoma County and Napa Valley happen to be two of California's most popular destinations for those looking to enjoy beautiful scenery, delicious wine, and a relaxing ambiance. Here you will find yourself surrounded by rolling hills of romantic vines, luxury hotels, golf resorts, five star restaurants, world-class theatres, and more. Whether you're a novice or an expert, Beau Wine Tours can help you discover the many hidden gems that are sprawled amidst this sensational area. With two decades of experience the company has created relationships with many of the attractions that people come from all over to see. Anybody who appreciates the highest level of service and comfort—without compromise—will surely be satisfied when booking a ride with Beau Wine Tours.
The following article was provided by our contributing partner – Touring and Tasting Magazine.
Cheers – Ken