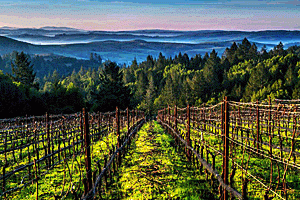 The KensWineGuide.com Tasting Panel was offered the opportunity via Flanagan Wines to try a vertical tasting from the well-respected Platt Vineyard in Sonoma Coast. Before we get to the tasting results here is a little bit information about the vineyard. The vineyard was originally planted in 2003 and 2004 by Lew and Joan Platt. Lew passed away in 2005 and never saw his vineyard fully developed. In 2015, Eric Flanagan and his partners at Russian River Partners purchased the 308 acre property. Only 31.3 acres of the estate are dedicated to wine vines. 18.3 acres are dedicated to Pinot Noir and 13 acres are for Chardonnay. The vineyard is 5 miles from the coastline, so we were anticipating cool climate fruit and some good acidity in the wines.
Eric Flanagan allowed us to try his 2015, 2016 and 2017 vintages of Chardonnay and Pinot Noir. All wines were made by winemaker Cabell Coursey. The Tasting Panel was very much looking forward to this engaging tasting knowing that the winemaker and the vineyard were the same for all three vintages. We were wondering if the wines would all be similar? How much variation do you get vintage to vintage? The results were rather intriguing.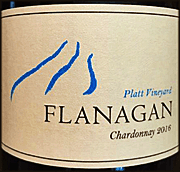 We started with the Chardonnay's and we definitely found similarities in all three wines. That said, there were differences and we did have our favorites. We start with the oldest wine first. The 2015 Flanagan Chardonnay was medium to full bodied, with medium plus acidity and mouthwatering. We absolutely found the acidity in this one. The flavor profile is very citrusy featuring primarily lemon with notes of pear and oak with hints of butter and nutmeg. It finished dry and its acidity allowed for it to be nicely extended. We thought this offering was food friendly and versatile. We would suggest pairing with Chicken St. Timothy. We scored this wine 91 points. We next tried the 2016 Flanagan Chardonnay. This one was our favorite of the three and we scored it 93 points. We found this one to be the most full-bodied wine. We also felt it was well-balanced and nicely coated your mouth. We really enjoyed its tasty Anjou pear and lemon verbena flavors with notes of nicely integrated vanilla oak and some hints of pineapple and faint minerality. Our group suggested pairing this impressive Chard with baked stuffed lobster. Our last wine was the 2017 Flanagan Chardonnay. This wine was the lightest in color and lightest in terms of mouthfeel, as it was medium bodied and slightly acidic. The flavor profile was a mild pineapple and light lemon blend with nicely integrated crushed stone minerality. The finish had nice extended length. This Chard is very versatile and would pair nicely with chicken francese. We scored this offering 92 points. Overall, we thought the Chardonnays were all very good wines and a nice reflection of this terrific vineyard.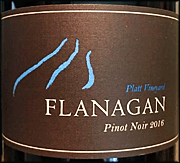 Next we moved on to the Pinot Noirs. We once again started with the 2015 vintage. This wine was more savory than fruity. It was medium bodied and slightly acidic on the palate. It displayed black plum flavors with notes of black tea, oak and graphite with a hint of cumin seed. It drifted away nicely and we would pair this 91 point Pinot with a Colorado lamb chop. Next up was our favorite wine of the entire vertical. The 2016 was Excellent! We awarded this wine 94 points. It opens with a heavenly bouquet featuring blueberry, oak and cola with a hint of pencil shavings. You could enjoy the smell this wine for hours. In the mouth, this wine is medium bodied, well-balanced, smooth and soft. We loved its delicious plum and cedar flavors with notes of boysenberry and a hint of thyme. It closes with some refined moderate sticky tannins that linger for quite some time. We suggested pairing this beauty with a roasted quail with Pinot Noir sauce. Last but not least was the current 2017 Pinot Noir. This offering was a bit young but developed nicely in the glass and bottle with some time and aeration. On the palate, it was barely medium bodied, balanced and delicate. It displayed pleasant mild red plum flavors with notes of red raspberry tea and graphite with just a hint of RC Cola. It initially shows some prominent tannins, but they did fade with some aeration. This vintage still could use some bottle age to reach its full potential. We scored this wine 92 points.
Overall, the Pinot's appeared to differ more than the Chard's in terms of vintage variation. What we did find interesting, for both varietals, was a consistent path in terms of what vintages we liked best. 2016 was our clear winner, followed by 2017 and finally 2015. As I always say, vintage does matter and in this case that was true.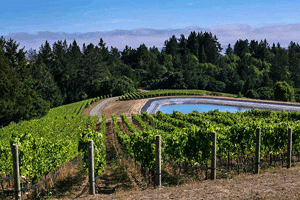 We look forward to covering more Platt Vineyard wines in the future to see how these wines evolve over the years. The current producers using Platt fruit are Flanagan, Failla (Ehren Jordan), Crescere (James MacPhail), Sherrer (Fred Sherrer), Purlieu (Julian Fayard), Rivers-Marie (Thomas Brown), Vice Versa (Philippe Melka), Venge Wines, 32 Winds (Matt Taylor) and Dalecio Wines (Philippe Melka). We suggested that perhaps down the road, we could do a single vintage tasting with all the wines produced from Platt. That certainly would be a treat and interesting to see the differences. We strongly encourage readers to try these wines and certainly check out Platt Vineyard Pinot Noir and Chardonnays when you see them on a menu or retail shelf. You certainly will be pleased. We were for sure!  Cheers – Ken