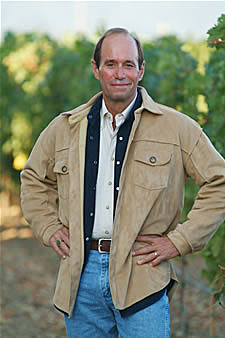 When I was asked if we would like to speak to Andy Beckstoffer about his vineyards and the wines that are produced from his grapes, my response was a resounding Yes!  From where I sit Andy is a rock star in the vineyard management game and his grapes are his microphone.  Based upon the wines my tasting panel and I tasted during our phone interview, we felt we could keep Andy on this pedestal a little longer.  However, as Andy would probably tell you, in the grape business you are only as good as your last vintage.
Fortunately for Andy and his family, they have had the luxury of owning some of the best vineyards in California.  They own 10 vineyards in Napa, 7 in Mendocino, and 3 in Lake County.  Beckstoffer Vineyards has pioneered innovations in grape growing technology by changing the way grapes are grown.  Some of those changes have come in the form of canopy management techniques that include new methods in pruning, trellising, and vine spacing that have brought improved access to sunlight, resulting in increases in both quality and tonnage.  Adding drip irrigation has opened up whole new sections of the Carneros region to new plantings.  Sustainable agriculture has also brought new life to soils and vineyards.  According to Andy, "The past ten years have been a revolutionary time in the wine industry.  The adoption of new global technologies, rootings and clones in the vineyard, and the attitude to strive for the highest quality allows us to enter the 21st century as consistent producers of many of the best wines in the world, with the growers and vintners participating together in the work and in the prize."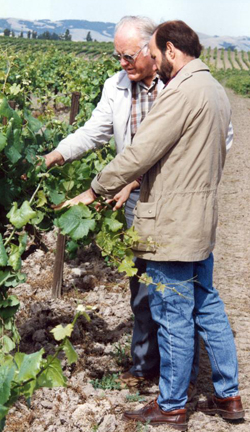 Andy has been in the business for a long time.  You can read his bio to learn about his long and storied history in the grape growing business.  As a pioneer in the CA grape growing game Andy has been rather influential.  I would have to say that a lot of grape growers today benefit from his vision as the founding director of the Napa Valley Grape Growers Association (NVGGA).  But this story is not about Andy, but instead it is about his vineyards and the grapes grown in them.  From there the story evolves into the wines that those grapes were made into and the enjoyment that they bring to all those who have a chance to enjoy them.
I brought together 4 of my most experienced Ken's Wine Guide tasting panel members for this intriguing tasting and phone interview with Andy.  Andy led us through the history of each vineyard as we tried seven wines from his vineyards.
We started with two wines from the Las Amigas Vineyard in Carneros.  Andy told us that he purchased the vineyard from Louis Martini in 1993.  He said the vineyards have relatively deep clay loam soils.  That, along with the cool climate of Carneros, and the closer vine spacing, has led to the production of some outstanding Merlot fruit for many years.

Before we tasted the Merlot, we started with a very nice Pinot Noir from this vineyard.  The 2006 Signorello Pinot Noir "Las Amigas Vineyard" was very impressive.  We scored the wine Very Good+ and awarded it with 90 points.  We really enjoyed how smooth, elegant, and soft this Pinot was.  Its flavor profile was a tasty, juicy blueberry with some dark chocolate mixed in.  The panel agreed that it was a food-friendly and easy to drink Pinot Noir.  It did take a little while to open up, but we noticed that it developed more complexity with some time and air.
Next we moved onto the Merlot.  We tried the 2005 Provenance "Beckstoffer Las Amigas Vineyard" Merlot for $60.  We score this wine as Very Good.  Like the Pinot, we found the wine to be very nicely balanced, soft, and elegant.  Its flavor profile was blueberry and blackberry with hints of currant and black olive.  It was a very nice Merlot.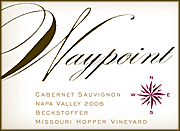 After the Merlot we moved on to the Cabernets.  We started with the 2006 Waypoint 2006 "Missouri Hopper Vineyard" Cab for $65.  Andy told us quite a story about the history of Missouri Hopper.  Let us just say that story hints that the entertainment that was provided to her customers at her "boarding house" went well beyond the wine served.  Anyway, this vineyard is located in Oakville and the wine was well received.  We had not previously heard of Waypoint winery, but they made a terrific first impression.  We scored this wine 91.2 points.  Being a 2006, it is still quite young.  This wine was a very different style than the rest.  We felt this particular Cab would appeal more to "Old World" fans and readers given its dusty, mild black currant flavor profile with black licorice notes, and a hint of black pepper.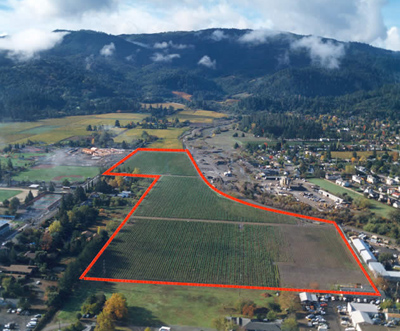 The next two wines that we tasted provided us with a truly unique experience.  Both Cabs came from the Dr. Crane Vineyard in St. Helena.  This tiny vineyard is only 25 acres in all.  It was originally planted by Napa pioneer Dr. George Beldon Crane in 1858.  This historic vineyard property is located west of Route 29 in the city of St. Helena within the St. Helena AVA.  As you can see by the picture, it is surrounded by quite a bit of urban sprawl.  It was replanted in 1998 with multiple clones of Cabernet Sauvignon, Petit Verdot, and Cabernet Franc.  As we found out, the vineyard designated wines from this vineyard are Rock Stars like the grape grower himself!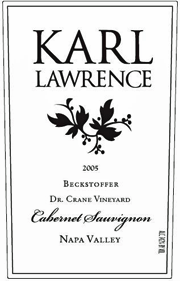 The first wine we tried was the 2005 Karl Lawrence "Dr. Crane Vineyard" Cab for $75.  Like the previous wines we tried, this Cab was very elegant and well balanced.  On the palate we experienced a ripe red cherry pie covered with dark chocolate shavings.  It was quite enjoyable and we scored this wine Very Good+ and 91.2 points.  Here's where the story gets interesting.

Next up was the 2005 Paul Hobbs "Dr. Crane Vineyard" Cab for $165.  Andy explained that Paul's grapes were likely grown within a few feet of the Karl Lawrence grapes, maybe even in the next row.  He also said it is likely that they were harvested within a few weeks of each other.  These facts intrigued our panel.
So was there a difference in the bottles?  Oh yeah.  The 2005 Paul Hobbs "Dr. Crane Vineyard" Cab was the best Cab we had in the tasting.  This was an Excellent wine and was awarded 96 points.  This Cab was silky, extremely well balanced, and very elegant.  It displayed a delicious blend of black cherry and blackberry.  Its finish was dry and sailed on for quite some time.  It was a rather impressive wine.  We all agreed this was a special occasion wine that would pair perfectly with a filet mignon.  This little experiment was the perfect example of how different winemaking techniques, with similar if not the same grapes, can produce very different wines.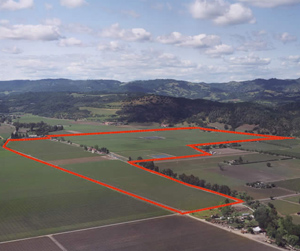 Next up was a wine from the Beckstoffer Georges III Vineyard which was the former Beaulieu Vineyard No. 3.  This vineyard was originally planted by Georges De Latour of Beaulieu in 1928.  The vineyard is located adjacent to the Caymus Winery between Conn Creek Road and Silverado Trail within the Rutherford AVA.  Several clones of Cabernet Sauvignon are planted on the 300 acres of gravelly loam soil.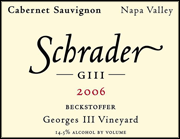 The offering we experienced was the 2006 Schrader "Georges III" for $125.  Like the Hobbs, we rated this wine Excellent and scored it 94.4 points.  With some bottle age this beauty might be able to catch up to the Hobbs.  In the meantime, this Cab is full bodied, nicely balanced, and fruit forward with very juicy cherry and blueberry flavors.  Its moderate tannins are rather lengthy with noteworthy persistence.  The panel felt this Cab was worthy of just drinking on its own or with food they would pair it with a New York strip steak.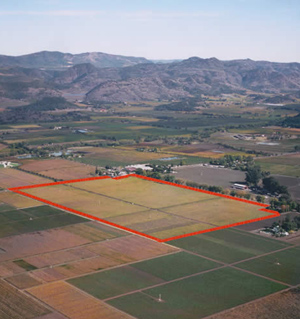 We concluded our tasting with a Cab from Andy's most famous vineyard, the To Kalon Vineyard.  The 89 acre Beckstoffer portion of the historic original To Kalon Vineyard in the Oakville was purchased from Beaulieu Vineyard in 1993.  It was previously called Beaulieu Vineyard No. 4.  It was replanted by Beckstoffer from 1994 to 1997 after phylloxera hit it.  Today multiple clones of Cabernet Sauvignon and Cabernet Franc with modern trellising and closer vine spacing, allow the vineyard to produce several luxury vineyard designated wines such as the one we tried.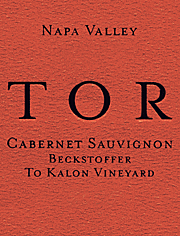 The 2006 Tor "Beckstoffer To Kalon" Cab for $150 is a full bodied Cab that is well balanced, juicy, and displays jammy black cherry and menthol flavors.  The finish of this very young Cab is quite dry and shows excellent length.  The panel felt this wine should cellar well.  We scored it 93+ points because of its potential to develop into an excellent wine.  It is definitely a wine that shows great potential.
We hope you enjoyed the journey through Andy's vineyards and the resulting wines as much as we did.  We enjoyed learning the history behind the vines and vineyards.  Andy is passionate about preserving the historical importance of these wonderful vineyards.  Based upon the wines we tried, we can certainly see why he is so passionate about preserving these vineyard sites.  They have a history and quality level well above your typical vineyard.  In conclusion, I can say with 100% certainty that the evening was a great experience.  If you want to learn more about the history of Andy Beckstoffer and Beckstoffer Vineyards you should definitely visit their website at BeckstofferVineyards.com.
C
heers,
Ken and the Tasting Panel