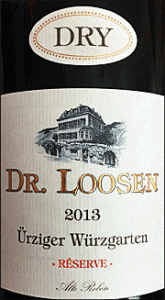 Riesling in general gets a bad rap. It is a noble grape and can be made in almost every style. Most folks know it as a sweet wine grape. While it truly does make great sweet wine, this post is about the other side. It also can be made "Dry" or "Trocken" as they say in Germany. The results are equally delicious. Now here is the rub. Those that like sweet Riesling, usually don't like Dry Riesling. So you have to gather tasters who do like this style, to truly evaluate and appreciate these Rieslings. I found some great evaluators and we recently went through some Dry Rieslings that were submitted. We found some real gems to share with you. Those plus some others that I covered earlier this year, will give you quite a few to look for, discover and enjoy!
We will start with two incredible offerings that I discovered at a tasting with Ernie Loosen this spring. These offerings are quite limited and expensive, but if you can afford them, you can truly see the higher end of Dry Riesling. The top score is this 2013 Dr. Loosen "Urziger Wurzgarten GG Reserve" Riesling for $92. Only 220 cases were made and I scored it 95 points. It is Excellent! It is light bodied, slightly acidic and refreshing with delicious mineral infused Anjou pear flavors with hints of green tea. I also picked up a touch of grapefruit towards the end. This fantastic wine finishes dry and pleasantly refreshing. It would be a perfect pairing for grilled swordfish. Next up is the 2015 Dr. Loosen "Erdener Pralat GG Alte Reben Alte Reben" Riesling for $64. This Dry Riesling is also very impressive. I gave this one 93 points. This one is a little different in that it is light bodied, pleasantly acidic and juicy. It displays tasty mineral infused lime flavors with notes of tart mild yellow grapefruit and a touch of lychee. Like the first one, this offering would also pair nicely with grilled swordfish.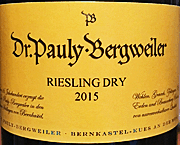 Now this next wine shows that you don't have to spend a lot of money to truly enjoy some very good Dry Riesling. The 2015 Dr. Pauly Bergweiler "QbA Dry" Riesling from Mosel, Germany is an absolute steal at $15. The Tasting Panel loved this wine and rewarded it with 92 points. We found it to be light to medium bodied, nicely balanced, soft and delicate on the palate. It has delicious mild Anjou pear flavors with notes of lemon-lime and hints of green apple and faint minerality mixed in. The Panel suggested pairing this gem with Stuart's scallops with Brussel sprouts or something from the raw bar. Hurry to grab some, the word is out!
Another gem is the 2015 Hermann Wiemer "HJW Vineyard" Riesling from the Finger Lakes. This is one of a few very good "Dry" Rieslings from the Finger Lakes in this report. This single vineyard offering for $39 landed 92 points from yours truly. The HJW is medium bodied, slightly acidic, clean and fresh. I really liked its very tasty mineral infused quince, lime and lychee flavors with notes of apricot and a hint of white pepper. This very food friendly Riesling would pair nicely with fried clams.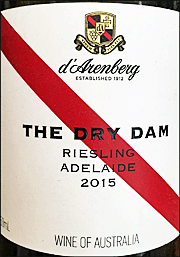 Our next two 91 point Dry Rieslings hail from Australia. The first is from the southeastern Australia in Adelaide. The 2015 d'Arenberg "Dry Dam" Riesling for $17 is another steal. It is medium bodied and shows very nice gentle acidity and balance. I found it to have tasty lime and tangerine flavors with hints of green apple and a touch of pineapple. It finishes dry and refreshing. This very appealing offering is food friendly and easy to quaff. I would serve it slightly chilled on a hot day with grilled swordfish skewers. Next up is the 2014 Frankland Estate "Isolation Ridge" Riesling for $40. This was one of top finishers in our recent blind tasting. It is light bodied and nicely balanced between its gentle acidity and delicate fruit. It displays mild mineral infused green apple flavors with notes of Anjou pear and a hint of lemon and ginger. The Panel suggested pairing this food friendly offering with baked scrod or a pork roast.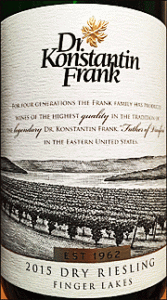 Our three 90 pointers come from the Finger Lakes, Australia and California. We will start off with the best deal of the three. The 2015 Dr. Konstantin Frank "Dry" Riesling is from the Finger Lakes. At $16 it is a bargain. This wine had broad appeal with the Tasting Panel. We found it to be light bodied, juicy and have plenty of mouthwatering acidity. We enjoyed its pleasant iced tea flavors with notes of lemon-lime and a touch of green apple, peach pit and nectarine. The Panel suggested pairing this Riesling with grilled grouper or Chilean sea bass. Next up is another very good Aussie offering. The 2015 Leeuwin Estate "Art Series" Riesling from the Margaret River is medium bodied, brisk and fresh. I enjoyed its mild grapefruit flavors with notes of minerality and some hints of white pepper and lime. It finishes very refreshing and would pair well with grilled swordfish skewers. Our last 90 pointer hails from Marin County California. The 2016 Dutton Goldfield "Chileno Valley Vineyard" Riesling for $30 was also very well received by the Tasting Panel. It opens with an appealing floral bouquet with notes of rose petal and gardenia. We found it to be light bodied, balanced, mellow and delicate. Its tasty mild chamomile tea flavors with hints of lime, yellow peach and mild minerality were well received. Its dry finish takes a very long time to drift away. The Panel thought this Riesling would pair very well with baked Dover sole or a Thanksgiving turkey sandwich.
Our 89 Point Winners
Anthony Road 2015 Riesling "Dry" (Finger Lakes) $18
This wine is light bodied and nicely balanced between its acidity and fruit. It displays tasty mild grapefruit flavors with notes of gentle lime and mild minerality. Dry and refreshing. A nice beach wine!
Robert Weil 2015 Riesling "Trocken" (Rheingau) $20
Displays lots of tiny bubbles that dissipate quickly. Balanced and fresh. It has gentle lime and green apple flavors and notes of delicate minerality. Hints of grapefruit. Panel thought it was nice quaffer for the beach.
Hermann J. Wiemer 2015 Riesling "Dry Reserve" (Finger Lakes) $29
Another Wiemer winner. This one is medium bodied, off-dry and very ripe. We liked its peach and lychee flavors with notes of minerality and hints of apricot, ginger and golden apple. Reminded us of Gewurz!
Frankland Estate 2014 Riesling "Rocky Gully" (Western Australia) $25 (88 Points)
This wine is medium bodied and mouthwatering with bright acidity. The Panel liked its lychee and delicate grapefruit flavors with notes of minerality and lime. A refreshing choice for the beach with Thai rolls.
We hope you enjoy these Rieslings as much as we did. Be sure to comment on your favorite Dry Rieslings. We will post them to share with our readers.
Cheers – Ken