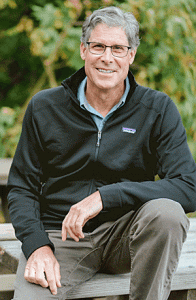 During our Zoom interview on June 29th, we had a chance to catch-up with Phillip Corallo-Titus who is the winemaker at Chappellet. Phillip has been the winemaker there since 1990. Phillip is also involved with his family winery Titus. He owns that winery with his brother Eric.
This was our second Zoom interview with Phillip. The first time was in the summer of 2021. We covered the Chappellet winery story during that session. This time, in addition to covering the wines, we talked about a variety of topics. We briefly talked about the Titus wines that we covered this winter and spring. We also discussed how we hoped to cover some of his Acumen wines next year since we have tried one of his older offerings and we liked it. He mentioned that there are not going to be any reds from Chappellet in 2020, so this is the plan for next year along with Chappellet whites. For fun, we also discussed a 2013 Nellcôte Cab that he made. We recently had a chance to try that wine and it was still showing really well. As for Chappellet, this year we talked a bit about how Phillip and long time vineyard manager Dave Pirio have used their experiences to guide the winery through COVID, the 2020 fires and the lack of water due to drought conditions in California.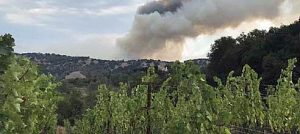 As a matter of fact, Prichard Hill was almost lost to fires in 2020. If it were not for the High Demand Earth Work bulldozing crew that was clearing land for a vineyard at Ovid when the Hennessey fire broke out, we might not be having this interview. Using their bulldozers, the crew cleared chaparral, brush, and other vegetation to create a nearly 4-mile firebreak across Pritchard Hill. It saved the wineries in this area. While it certainly takes a very experienced team to deal with fires, COVID and water shortages, it also takes some luck to deal with the last few years. We are very glad that Phillip and his team had a few strokes of luck along with their experience.
Now onto the wines. While most people know Chappellet for their Cabernets. Some of us geeks also know the history behind their exceptional Chenin Blanc. But the Chappellet portfolio includes much more, like terrific Cabernet Franc and Merlot which we covered last year. They have also expanded their reach in 2019, by unveiling their new Grower Collection of wines, which focuses on cool-climate Chardonnays and Pinot Noirs from the finest Sonoma County vineyards. We covered one of each of those wines with Phillip this year .
Below is a summary of the five wines that we covered with Phillip. As you will see, they were all very good. But my favorite over the years has always been his Cabs. This vintage was no different. As matter of fact, the "Signature" Cab took an even bigger step up this vintage!
The links below are to our full reviews. If you are interested in ordering and trying these wines, you will find the "Signature" Cab and the "Pritchard Hill" Cab via your favorite fine wine shop or on top quality wines lists. The Cab and the first three wines are also available for order via the Chappellet website. The 2019 Pritchard Hill currently has a waitlist. If interested, you should join the list.

1. Chappellet 2020 Chardonnay "Grower Collection El Novillero" (Carneros) $55 (KWGTP 91.5)
2. Chappellet 2019 Pinot Noir "Grower Collection Apple Lane" (RRV) $60 (KWGTP 93)
3. Chappellet 2019 Red Blend "Las Piedras" (Napa Valley) $85 (KWGTP 93)
4. Chappellet 2019 Cabernet Sauvignon "Signature" (Napa Valley) $90 (KWGTP 95)
5. Chappellet 2019 Cabernet Sauvignon "Pritchard Hill" (Napa Valley) $325 (KWGTP 98)
You can find reviews of past and future Chappellet wines that we cover on the KWG Chappellet winery page on our website. Phillip's wines continue to impress us. You should definitely try these wines and many more past options from the Chappellet portfolio. You will not be disappointed! Enjoy – Ken