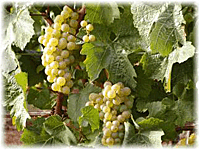 This year's blind tastings of Chardonnays left me and our three Ken's Wine Guide Tasting Panels with more questions than answers.  As you know Chardonnay is the most popular white wine in America.  So why change when you are on top?  Perhaps it is because that is what you are supposed to do according to some experts.  Maybe your Chard was not the front runner, so you think that making a different style will differentiate you?  I'm not sure why the change, but the change in style is definitely taking place.  Remember the phrase "Where's the Beef?"  I'm starting a new catch phrase.  "Where's the Oak?"  There are definitely less oak and less creamy, buttery-styled Chardonnays out there.  Why?  I'm not sure.  It seems to me that those are two of the qualities that made the grape so popular.  Yes, there was a lot of over-oaking in the heydays of Chardonnay.  That did lead to a lot of woody Chardonnays, hiding the fruit flavors of the grape.  But there is a middle ground too.  There was also a lot of poor quality Chard dumped on the market as well.  But there also were plenty of nicely oaked, well-balanced, creamy, buttery Chards as well.  We found a few of them in our blind tastings.  Over all, we found that Chardonnay seems to be drifting away from the traditional style that made this grape so popular.
We had two large tastings and a mini tasting of Chardonnay.  In the first tasting we recommended 11 wines out of 16.  Three of them scored over 90 points with Very Good+ ratings.  In the second tasting we recommended 9 out of 16 wines with none of the wines exceeding a Very Good score.  In this tasting, many of the panelists were clamoring about the lack of oak.  From the mini tasting we recommended five wines.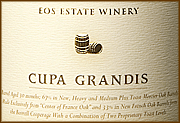 In the first Chardonnay tasting we had 3 wines that truly caught our panel's attention.  Our winner was the EOS 2006 "Cupa Grandis" Chardonnay $55.  This Chard from Paso Robles was ultra smooth and elegant.  Its attractive spearmint like bouquet really caught the attention of many of the panelists.  It was really tasty with light citrus like flavors and light oak integrated in the wine.  This wine was clearly a winner.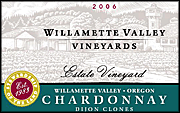 Our second place finisher came from Oregon.  It was the Willamette Valley Vineyards "Estate Vineyard" Chardonnay $30.  This wine scored 90 points from the panel.  This wine would have easily won our Oregon Chard tasting that we held back in June.  It was well-balanced, creamy, buttery, and oaky.  It was made in the style of Chardonnay that made the grape famous.  Our panel agreed and rewarded it.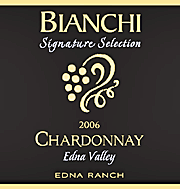 Our third place wine came from Bianchi Winery who has faired quite favorably with our panel over that last few months.  Their 2006 Signature Selection Chardonnay $19 from the "Edna Ranch" scored a solid 90 points.  We found that many of our recommended Chards came from the Edna Valley.  This particular Chard had a very inviting tropical fruit like bouquet.  It was also creamy and well-balanced with flavorful pineapple flavors and a touch of oak.
Finally, our fourth place finisher was another "Edna Ranch" Chard.  The 2007 Vina Robles "Edna Ranch" Chard $17 scored an 89.25 and was well received by the entire panel.  This wine had an intense banana and cantaloupe like bouquet.  On the palate, this wine was creamy, balanced, and displayed crispy lime-like flavors with a touch of peach.
The remaining recommendations from Tasting #1:
#5 Michael & David 2006 "7 Heavenly Chards"$17 (Lodi, CA) (88.75)
#6 EOS 2006 "Estate Bottled" $14 (Paso Robles, CA) (88.5)
#7 Bonterra 2006 $13 (Mendocino, CA) (88.25) *Organic*
#8 Emiliana 2007 "Natura" $11 (Casablanca Valley, Chile) (88.125) *Organic*
#9 Dry Creek Vineyard 2006 $20 (Russian River Valley, CA) (87.75)
#10 Viu Manent 2007 "Reserva" $14 (Casablanca Valley, Chile) (87.75)
#11 Wakefield 2006 "Promised Land Unoaked" $13 (South Australia) (87.5)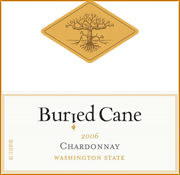 The second Chardonnay tasting was filled with many Very Good Chards, but none of them could break the barrier to score a consensus Very Good +.  In a bit of a surprise, our winner came from the state of Washington.  It was the 2006 Buried Cane Chardonnay $15.  It scored an 88.75 from the panel.  It started with an attractive Mango-like bouquet and finished with smooth and creamy peach flavors.  This wine was quite attractive, which pushed it to the top of this tasting.  It's a great bargain as well!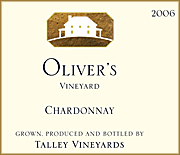 Our Second place finisher came from a well known Chard producer.  This wine was the 2006 Talley "Oliver's Vineyard" Chardonnay $32.  This wine scored an 88.42 from the panel.  This wine featured big tropical fruit flavors with nicely integrated butter and oak.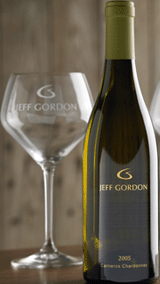 In third place was another big name wine.  The Jeff Gordon 2006 Carneros Chardonnay $50 was my favorite wine in this tasting.  Overall it finished with a panel score of 88.33.  This wine featured light pineapple and lime flavors with a touch of oak.  It was smooth, creamy, and elegant.  With a little more oak, I think this wine would have easily scored a 90+.  In fourth place we return to Talley Vineyards.  Their 2006 "Arroyo Grande" Chardonnay $26 is consistently Very Good.  This year the panel scored the wine 88.17.  It features an attractive pineapple bouquet and shows crisp and tangy lemon and pear like flavors.
The remaining recommendations from Tasting #2:
#5 Willamette Valley Vineyards 2006 "Dijon Clone" $18 (Willamette Valley, OR) (87.9)
#6 Ad Hoc 2007 "Hen & Chicken" $18 (Western Australia (87.83)
#7 Four Vines 2007 "Naked" $14 (Santa Barbara, CA) (87.67)
#8 EOS 2006 "Reserve" $20 (Paso Robles, CA) (87.5)
#9 Fantesca 2006 $45 (Napa Valley, CA) (87.5)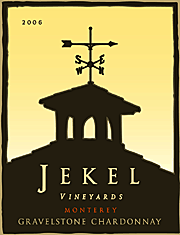 In our Small Mini Tasting with fewer panelists we found some really nice options.  Most ot them were bargains as well.  The first wine that we recommended and was very well-liked was the Jekel 2006 "Gravelstone"$11 (Monterey, CA) (88.0).  This wine was smooth, creamy, and delicate.  It has green apple flavors with a touch of butter and with a hint of pineapple.  Our favorite and a potential crowd pleaser was an offering from Babich.  Their 2007 "Unoaked" Chardonnay $13 (88.5) was quite popular.  This panel liked its light body and subtle citrus flavors.  They found this wine to be a very versatile option.
The remaining recommendations from the Mini Tastings:
#3 Bouchard Finlayson 2006 "Crockodiles Lair"$25 (Overberg, South Africa) (88.0)
#4 Bouchard Finlayson 2006 "Missionvale" $28 (Walker Bay, South Africa) (88.0)
#5 Folie à Deux 2007 $15 (Napa Valley) (86.5)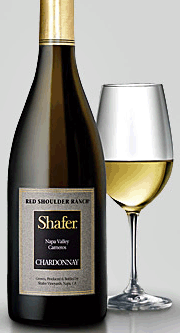 Finally, we would be remiss if we didn't mention 2 extraordinary Chards that we reviewed non blind over the last 6 months.  The first is the Shafer 2006 "Red Shoulder Ranch" Chardonnay $47 from Napa Valley, CA.  We had this wine this summer at Siro's in Saratoga, NY.  This wine is extremely well made.  It appears as a top Chardonnay every year it seems.  We found this wine to be smooth, creamy, nicely balanced, with delicious lemon-like flavors with a hint of minerality.  We would pair this elegant Chard with seafood at a special occasion dinner.  Our last wine is one of our absolute favorites.  It's a terrific Chard and a steal.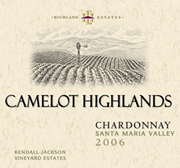 The Kendall Jackson 2006 "Camelot Highlands"$26 is a fabulous wine and a bargain for $26.  This wine hails from Santa Maria Valley bench.  It is very creamy, has no hard edges, has excellent concentration, and displays mouth watering golden delicious apple like flavors with a dash of vanilla and oak.  Winemaker Randy Ullum calls this wine his "Filet Mignon of Chardonnay."  So if you love Excellent Chard and a wonderful deal as well, look no further and buy a case of this gem.  But hurry supplies are very limited.
In conclusion, we found many Very Good or better Chardonnays over the last couple of months.  As we mentioned, there is a movement away from the traditional oaky and buttery styles that made Chradonnay the front running white wine in America.  The current trend is to emphasize the fruit.  All in all, there are many styles out there and we hope we helped you find one that fits your palate, taste, and budget.
Cheers,
Ken