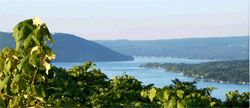 The Ken's Wine Guide Tasting Panel recently tasted New York Finger Lakes Rieslings.  We were pleased with the quality of the wines we tasted.  Before we get to the Riesling results, I wanted to mention that Theresa and I visited this up and coming wine region in August 2007.  The Finger Lakes wine region is located in upstate New York, south of the New York State Thruway (Interstate 90), between Syracuse and Rochester.  During our visit to the Finger Lakes wine region, we were impressed with how tranquil and scenic the area is.  We found the wineries to be welcoming and the wine to be of Very Good quality.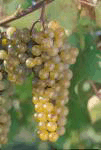 The Finger Lakes wine region is well known for its Rieslings.  We conducted two tastings of the 2007 Rieslings from this region.  Our blind tasting was focused on "Dry" Rieslings.  We reviewed twelve wines and recommended nine of them as Very Good or better.  In our second non-blind mini tasting, we reviewed "semi dry" or regular Rieslings.  From that tasting, we recommended five additional Rieslings.  In both wine tastings the Rieslings we recommended were food-friendly, and we suggested some foods we thought would pair well with the wines.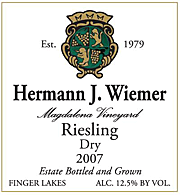 Which wine won the Riesling tasting?  The winner was the 2007 Hermann J. Wiemer "Magdalena Vineyard" Dry Riesling $30.  This wine was the only wine in this tasting to score in the Very Good+ range.  The panel awarded it with 90.1 points, and it was our clear winner.  It was light-bodied, impressively balanced, off-dry, and uniformly coated the mouth with lemon tea-like flavors.  The panel also noted some peach flavors and notes of minerality as well.  The finish is very refreshing and dries out in the aftertaste.  The panel would pair this terrific Riesling with swordfish or ham.  This wine is limited in production with only 160 cases made.  Call the winery and see if you can get some.  You will be very happy that you made the call.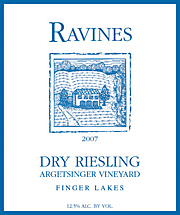 Our second place finisher was also a limited production single vineyard offering.  The Ravines 2007 "Argetsinger Vineyard" Dry Riesling for $25 was a very nice Riesling.  The panel scored this wine an 89.33.  This wine was truly a dry-styled wine.  It was also light-bodied, well-balanced, and crisp.  The flavor profile is citrus with mineral notes infused throughout.  The finish remained dry and was very refreshing.  This was another wine we thought would pair well with swordfish.  Again, I would call the winery to obtain some of this wine as there were only 150 cases made.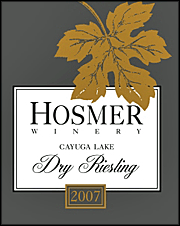 In third place was our value-priced Riesling winner.  The 2007 Hosmer "Dry" Riesling for $12 is a steal.  Hosmer is located on Cayuga Lake.  They made 350 cases of this wine.  At this price, it will be gone soon!  Be sure to stock up on this one for sure.  We scored this wine 89.3 points.  It is light-bodied, crisp, and brisk.  It displays tangy, green apple flavors with notes of grapefruit.  We recommend it with chicken divan or chicken cordon bleu.
Our 4th and 5th place finishers both came from the Hermann Wiemer Winery.  The 2007 Hermann Wiemer Winery "Dry Reserve" Riesling for $25 scored 88.3 points.  It was medium-bodied, balanced, and had some viscosity.  It tasted off dry with ripe Anjou pear, and white peach-like flavors.  Just behind it was the 2007 Hermann Wiemer "Dry" Riesling.  This entry level offering from Wiemer is a bargain at $18.  It displays light lime flavors with hints of lemon, and notes of minerality.  With 3,500 cases made, this wine should be much easier to find than some of the others.  We scored this wine 88.2 points.
Other Recommended Finger Lakes "Dry Rieslings":
6.) Hermann J. Wiemer 2007 Riesling "HJW Vineyard Dry" $39 (87.3)
7.) Dr. Konstantin Frank 2007 Riesling "Dry" $17 (87.2)
8.) Atwater Estate 2007 Riesling "Dry" $18 (87.1)
9.) Red Newt 2007 Riesling "Dry Reserve" $24 (87.0)
In the New York Finger Lakes Riesling Tastings Part 2 we tried a few Rieslings and "Semi Dry" Rieslings.  From this grouping we recommended five wines.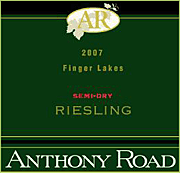 Our winner was the 2007 Anthony Road "Semi-Dry" Riesling for $16.  We scored this wine 90 points and found it to be a terrific bargain.  On the palate, we thought this wine was light-bodied, very nicely balanced, and smooth.  It displayed off dry green apple flavors with a touch of honey.  There were notes of green grape flavors as well.  The finish was slightly sweet, and it lingers quite nicely.  This Riesling would be the perfect accompaniment for lobster bisque or chicken cordon bleu.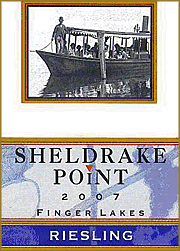 Next up was the 2007 Sheldrake Point Riesling for $16.  We thought this was another nice bargain and scored it 89 points.  There were 743 cases made of this wine, so you should be able to find some.  It is light-bodied and very nicely balanced.  It displays very tasty green apple flavors and pleasant notes of minerality and honey.  In third place was the 2007 Dr. Konstantin Frank "Semi Dry" Riesling for $16.  This wine opens with an attractive aromatic ripe peach and orange peel-like bouquet.  It is light-bodied, balanced, and easy to drink.  The flavor profile was "off dry" with tasty apricot flavors.  We thought it would be a refreshing choice poolside this summer.  We scored this wine 88.7 points.
The last two recommended Rieslings are from two producers that have scored well with the KWG Tasting Panel in the past.  The 2007 Standing Stone Riesling for $14 scored 88 points.  This wine displayed off-dry lemon flavors with some tea mixed in as well.  We thought this wine was food-friendly and would be a nice complement to a turkey dinner.  The last wine we recommended from this group was the 2007 Atwater Estate Riesling for $17.  We scored this wine Very Good, and awarded it 87 points.  This wine was light-bodied, balanced, and displayed unique guava and light green pear-like flavors.  This wine would also pair nicely with turkey.
The Finger Lakes Wine Region is also well known for their delicious Dessert and Ice Wines.  Listed below are three wines we recently tried that are affordable, and we think you will absolutely love them.  We did!

The 2007 Standing Stone "Vidal Ice" is outstanding.  It is consistently one of my favorite wines from the Finger Lakes.  I savor every drop each year.  This year I shared it with the KWG Tasting Panel.  They loved it and scored it 91.1 points.  This 375 ml bottle costs only $20 and is a heck of a bargain.  It is golden yellow in color, and opens with an attractive apricot and honey-like bouquet.  On the palate, it is full-bodied, rich, and creamy.  It displays sweet apricot flavors.  It's delicious!  There were 832 cases made, so you should be able to get some for your next dinner party.
Two other options you should consider:  The 2007 Wiemer "Late Harvest" Riesling $23 was very well received in one of our mini tasting panels.  We also recently re-tried the Wagner 2007 "Riesling Ice Wine" $23.  Both of these dessert wines are terrific and are wonderful bargains.  The Weimer is in a full size bottle, and that is a lot of delicious wine for the money.  The Wagner Riesling ice wine was one of the top dessert wines we tried at last year's Golden Nose awards.  We think both are worth enjoying with your friends after dinner.
We really enjoyed tasting the variety of Finger Lakes Rieslings from this terrific New York wine region.  If you would like to explore the Finger Lakes and experience these wonderful wines, you should check out www.FingerLakesWineCountry.com.  Most of the wineries are on both sides of Seneca Lake.  There are also wineries of note on the western shore of Cayuga Lake and down at Keuka Lake.  We previously wrote a blog post on some of the wineries we visited on our August 2007 trip to the Finger Lakes wine region.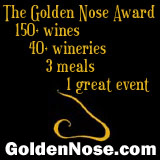 There are two exciting Finger Lakes wine events coming up this spring and summer.  Coming up in May is the 2009 Golden Nose Awards which is a wine tasting where the public can participate in the judging.  Each participant will be trained on the aspects of technical wine tasting.  This is a fun event and very educational.  The Golden Nose Awards will be held in Corning, New York on May 29th and 30th, 2009.  Coming up this summer in the Finger Lakes is the ever popular Finger Lakes Wine Festival held at the Watkins Glen Race Track on July 17-19th, 2009.  Both events are a great excuse to visit the area, and experience the wines of the Finger Lakes.  Enjoy – Ken