A Visit to Oregon Wine Country…and My Top Five Reasons to Return
Where to?
Ken and I recently had the pleasure of visiting Portland, Oregon, for the annual Wine Bloggers Conference put on by Zephyr Adventures and the Vincent Group Consulting. As part of the conference, eight mystery buses were assembled on the Friday afternoon of the conference to take us to Oregon Wine Country.
Our adventure began when we boarded a bus with an "unknown destination," unknown except that we knew the bus was destined for Oregon Wine Country. Although Ken and I like to know where we are going at all times, we knew we couldn't go wrong riding a mystery bus to Oregon Wine Country—even if it was a bit out of our comfort zone! Soon after our bus departed, we were delighted to learn we were headed to the Dundee Hills AVA (American Viticultural Area), which is in the heart of Oregon Wine Country. You might not be surprised to hear that soon after our bus departed for wine country glasses were passed around and wine bottles were quickly opened, pleasing all passengers. Our first wine tasting of the day would be a white blend from our host winery, the NV (non-vintage) Sokol Blosser "Evolution" 15th Edition. We enjoyed this cool, crisp wine on an unseasonably hot day. It was close to 95°F in the Portland area, which I am told is almost unheard of. Everybody but the bus driver savored this refreshing wine on our 1.25 hour bus ride down to Dundee Hills.
So many wineries, so little time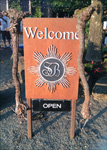 Reason #5 to visit Oregon Wine Country—it's easy to get to! There were six other wineries in close proximity to Sokol Blosser that all participated in our winery visit, including Lange Estate Winery, Domaine Drouhin, Archery Summit, Argyle Winery, Winderlea, and Stoller Family Estate. At the host winery we were able to try wines from all of these local wineries. Each winery had friendly and informed staff on hand for questions and answers. If you visit the Dundee Hills AVA, Ken recommends that you stay a while and also visit DePonte Cellars, Domaine Serene, The Eyrie Vineyards, and Thistle Wines in addition to the wineries we mentioned above.
East coast, west coast
Reason #4 to visit Oregon Wine Country—friendly and down-to-earth people! We enjoyed meeting and chatting with Bill Sweat and his wife Donna Morris, founders of the Winderlea Vineyard and Winery. We learned that Bill and Donna were originally from the Boston area and moved to Dundee, Oregon, to start second careers and pursue their passion in 2006.
Learning new things in gorgeous settings
While we were visiting with some new friends and taking in the beautiful views at the winery, the Sokol Blosser tasting room manager, Jenny Mosbacher, pulled up in an ATV. She asked if anyone wanted to go out and see the vineyards. Ken and I were feeling adventurous and hopped aboard the dusty, over-sized ATV. We were whisked away with five others on a brief, but very informative, tour around the vineyards, with Jenny as our very knowledgeable tour guide at the wheel.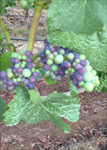 One of the most exciting sights for me was when Jenny pointed out grapes that were showing the beginning of veraison, the onset of ripening. I had never seen this stage up close. We also learned a little about the volcanic ash soil and its favorable influence on the wines of the region. This soil is what makes the Dundee Hills Terroir so unique. Mount Hood and Mount Saint Helens can both be seen easily in the distance on a clear day from Portland, not that far from wine country—constant reminders of the volcanic history that surrounds the area.
Did I mention Reason #3 to visit Oregon Wine Country? Stunning scenery near and far! At the Sokol Blosser Winery, there were gorgeous rolling hills of vineyards as far as the eye could see, a 360° panorama. You could also see the neighboring wineries and vineyards. My photos from that day do not do justice to the beautiful scenery.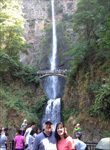 Ken and I rented a car on our trip and decided to take in some of the other breathtaking scenery not far from wine country. Some of the highlights included the Columbia River Gorge, which I think is a must-see. The historic Vista House with its panoramic views of the Columbia River Gorge offered the best view. We also stopped to see the Multnomah Falls, which are 611 feet tall and do not dry up in the late summer. According to Native American lore, Multnomah Falls were created to win the heart of a young princess who wanted a hidden place to bathe. For the adventurous at heart, you can hike a mile up to the top of the falls. (In retrospect, taking a long hike might have been a good idea to burn off some of the calories we consumed between the delicious wine and food we enjoyed!)
Food: Local, Varied, and Very Tasty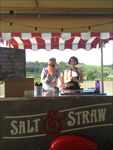 Reason #2 to visit Oregon Wine Country—culinary delights! Or, fabulous food! At Sokol Blosser we tried ice cream from a local favorite, Salt & Straw. I can see why this business is a local favorite. The ice cream was melt-in-your-mouth good! They had some unusual flavors, too. Ken and I tried the caramel and sea-salt ice cream. I was a little skeptical, as I couldn't imagine liking salt in my ice cream. It was amazing! I wanted to go back for a second cup of ice cream, but I resisted the temptation!
We also tried some watermelon soup at Sokol Blosser. Again, I was a little skeptical; unlike my kids, I am not a huge watermelon fan. Guess what they served the watermelon soup in? I'll give you a hint—they don't serve it with a soup spoon. The watermelon soup was served in a wine glass! How fun is that? When I first saw it, I thought it was some kind of funky cocktail. I have to admit it was really good!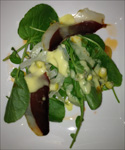 One of the first things I noticed on our visit to Oregon was that there seemed to be extraordinary care taken to cook with the freshest ingredients grown as close to home as possible. Saturday night's amazing wine dinner put on by King Estate Winery featured food either grown on the estate or near the estate to ensure the freshest ingredients possible. We loved each course, paired with a delicious wine. Our first course was a salad of fennel with heirloom tomato, grilled corn, and duck-breast prosciutto, and it was paired with the 2011 NxNW Horse Heaven Hills Riesling. Ken and I didn't have a chance to visit the King Estate Winery on this trip, but we definitely want to visit on our next trip to Oregon Wine Country.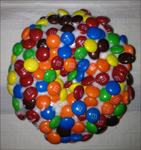 I would be remiss if I didn't mention one of the breakfast culinary delights I enjoyed on the trip to Portland, Oregon: the Voodoo Donuts! Voodoo Donuts can be summed up as yum and fun! A must try if you visit the Portland area. Voodoo Donuts come in zany flavors including "Captain my Captain" (raised yeast doughnut with vanilla frosting and Cap'n Crunch cereal) and "Marshall Matters" (plain cake doughnut with vanilla frosting and mini M&M's). Since I love both M&M's and donuts, I chose the "Marshall Matters." It was really hard to choose, as they had so many wacky choices! These delectable treats were even paired with wine at the Wine Bloggers Conference!
It's all about the wine
Finally, Reason #1 to visit Oregon Wine Country—the wine of course! For the Pinot Noir fans out there, the 2009 Pinot is showing particularly well. Here's a random list of some of our favorite wines that we tried on our brief, but incredibly fun and adventurous, visit to Oregon Wine Country:
2009 Sokol Blosser Pinot Noir "Dundee Hills", (Dundee Hills, Oregon) $38 (89)
2011 Benton Lane Winery Pinot Gris "Willamette Valley", (Willamette Valley, Oregon) $17 (90)
2009 Thistle Pinot Noir "Dundee Hills", (Dundee Hills, Oregon) $30 (91)
2008 Folin Cellars Syrah "Folin Vineyards", (Rogue Valley, Oregon) $30 (89)
2009 Winderlea Pinot Noir "Winderlea Vineyard", (Dundee Hills, Oregon) $54 (91)
2009 Evening Land Pinot Noir "Seven Spring Vineyard", (Eola Amity Hills, Oregon) $45 (93)
2009 Dion Pinot Noir "Winemakers Reserve", (Chehalem Mountain, Oregon) $35 (90)
2009 Archery Summit Pinot Noir "Red Hill Estate", (Dundee Hills, Oregon) $85 (92)
NV Sokol Blosser "Evolution 15th Edition" White Blend, (Oregon) $15 (88)
2008 Domaine Drouhin Pinot Noir "Laurene", (Dundee Hills, Oregon) $65 (92)
2011 Left Coast Cellars Pinot Gris "The Orchards", (Willamette Valley, Oregon) $16 (89)
2010 Lenne Pinot Noir "Karen's Pommard", (Yamhill Carlton, Oregon) $55 (91)
2009 Anne Amie "Prisme Pinot Noir Blanc", (Willamette Valley, Oregon) $45 (90)
2008 Domaine Serene Pinot Noir "Evenstad Reserve", (Willamette Valley, Oregon) $65 (92)
2010 Chehalem Riesling "Dry Reserve", (Willamette Valley, Oregon) $21 (90)
2009 De Ponte Cellars Pinot Noir "Estate", (Dundee Hills, Oregon) $70 (92)
To learn more about the wines of Oregon, check out the Oregon Wine Board and Wine Julia, winner of the 2012 "Best New Wine Blog" Award. If you haven't been to Oregon Wine Country, you'll want to visit soon. We are looking forward to our return trip!
Cheers!
Theresa & Ken