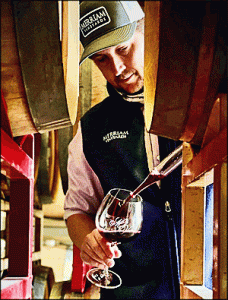 On April 5, 2023, we had a chance interview Will Weese. Will is the winemaker for Merriam Vineyards. I have been covering Merriam wines for a very long time and have gotten to know Peter Merriam over the years. This was our first chance to virtually meet and talk to his winemaker Will. In our Zoom interview, we covered five of his new-release wines. Check out what we learned about Will.
Before we get to the wine reviews, I thought I would share a few tidbits we learned during the tasting with Will.
• Will was born and raised in Santa Rosa. He joined Merriam in 2020.
• He spent some time in Dry Creek working at Mauritson winery.
• He is a big fan of biodynamic and organic farming.
• Will does some winemaking consulting work as well.
• Merriam bought a new vineyard in May 2022. They call it the "Eastside Estate."
• The new vineyard is 50% Chardonnay. The rest is a ¼ Sauvignon Blanc and the other ¼ Pinot Noir.
• This Vineyard is neighbors with "Ritchie Vineyard". Some pretty good Chard comes from there!
• 2022 was a challenging vintage. They had 110 degrees for 7 straight days.
• The Malbec for "Lower Pond" comes from the J. Rickards Vineyard in Alexander Valley.
• The "Windacre Vineyard" is 10 acres. Mainly clones: 08, 04, & 412.
• Their Petit Verdot for "Fence Line" and their blends is grown on the estate.
• "Miktos" is Greek for Mixed or Blend.
• "Right Bank Red Wine" is the contrast to Miktos.
• "SNED Red" is named after the Merriam children: Stefan, Nicholas, Evan & Danielle!
Below is a summary of the wine offerings from Merriam that we covered with Will. The links below are to our full reviews. If you are interested in ordering and trying these wines, you will find some of these wines via your favorite fine wine shop or on top quality wines lists. You can also purchase these wines on the Merriam website.

1) Merriam 2021 Sauvignon Blanc "Danielle's Vineyard Fume Blanc" (RRV) $42 (KWGTP 90.5)
2) Merriam 2022 Sauvignon Blanc "Russian River Valley" $30 (KWGTP 90)
3) Merriam 2022 Chardonnay "Sonoma Coast" $30 (KWGTP 89.5) (Winery Only)
4) Merriam 2019 Malbec "Lower Pond" (Alexander Valley) $54 (KWGTP 90)
5) Merriam 2019 Red Blend "Miktos" (RRV) $84 (KWGTP 91)
Bonus offerings of other Merriam wines that I have covered and are still available:
Merriam 2019 Red Blend "Right Bank Red Wine" (RRV) $84 (KWGTP 93)
Merriam 2019 Red Blend "SNED Red" $38 (KWGTP 90.5)
Merriam 2020 Pinot Noir "Russian River Valley" $38 (KWGTP 90)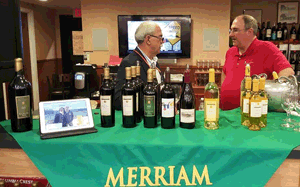 I have been covering Merriam wines since the early 2000's. Here is a shot of Peter & I at Colonial Spirits in Acton back in the day. Be sure to check out the older reviews in the historical wines section below the current wines. Yesterday, some friends & I really enjoyed a bottle of Merriam 2015 "Windacre" Merlot. It was showing even better than the 91-point score it received in August 2018.
You can find reviews of past and future Merriam wines that we cover on the Merriam KWG winery page on our website. We hope you enjoy these terrific wines as much as we did. Cheers! – Ken