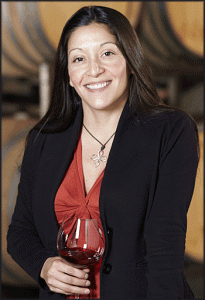 During our Zoom interview on June 7th, we had a chance to meet with Theresa Heredia who is the winemaker for Gary Farrell Wines. During the interview we covered four of her new-release Chardonnays and five of her new-release Pinot Noirs. We have been covering Theresa's wines for the last few years and we are always looking forward to the next batch that we receive.
Theresa has been the winemaker at the Gary Farrell Winery since 2012. Prior to that she was the winemaker for the Joseph Phelps' Freestone Vineyards project on the Sonoma Coast. Her Pinot Noir and Chardonnay's brought that winery significant critical acclaim. As you will read below, similar accolades have followed her to Gary Farrell.
While at Gary Farrell, Theresa gets fruit and makes wines from some of them most sought out vineyards in California. Some of those vineyards include Rochioli, Bacigalupi, Hallberg, Ritchie, Martaella, Durell and Gap's Crown.
Below is a summary of the 9 impressive wines that we covered with Theresa. As you will see, many of them come from these impressive vineyards. The links are to our full reviews. If you are interested in ordering and trying these wines, you will find the Russian River Selection wines via your favorite wine shop. The rest are available for order via the Gary Farrell Winery website.
Gary Farrell 2019 Chardonnay "Olivet Lane Vineyard" (Russian River) $50 (KWGTP 92)
Gary Farrell 2019 Chardonnay "Durell Vineyard" (Sonoma Valley) $65 (KWGTP 93)
Gary Farrell 2019 Chardonnay "Ritchie Vineyard" (Russian River) $65 (KWGTP 92.5)
Gary Farrell 2019 Chardonnay "Rochioli Vineyard" (Russian River) $65 (KWGTP 93)
Gary Farrell 2019 Pinot Noir "Russian River Selection" (Russian River) $45 (KWGTP 92.5)
Gary Farrell 2018 Pinot Noir "Martaella Vineyard" (Russian River) $65 (KWGTP 93.5)
Gary Farrell 2018 Pinot Noir "Gap's Crown Vineyard" (Petaluma Gap) $80 (KWGTP 94)
Gary Farrell 2018 Pinot Noir "Fort Ross Vineyard" (Fort Ross-Seaview) $75 (KWGTP 92)
Gary Farrell 2018 Pinot Noir "Rochioli Vineyard" (Russian River) $80 (KWGTP 92.5)
You can find reviews of past and future Gary Farrell wines that we cover on the KWG Gary Farrell winery page on our website. We will close with the quote from Theresa's bio page that I liked. "My approach to winemaking is very much about taking advantage of specific vineyard and fruit qualities." says Theresa. Based on what we tasted, Theresa certainly has done a terrific job showing off the characteristics and qualities of each vineyard she works with. Enjoy – Ken