Winemaker Interview Series – Todd Graff from Frank Family Winery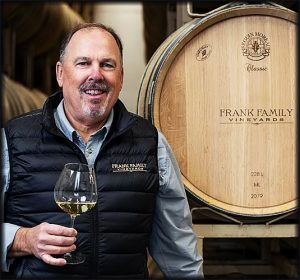 During our interview on May 25, we had a chance to meet with Todd Graff who is the winemaker and general manager for Frank Family Vineyards. We had covered Frank Family wines over the years, but really did not know much about Todd or the details behind the winery. It was fun to learn about Todd's background. Having worked at Schramsberg Vineyards (A KWG favorite) we are looking forward to covering one or two of his sparkling wines this fall. He has been leading the effort here for 19 years and has built a very strong team that was clearly reflected in the wines that we covered. They have a very good short video on their winemaking process. It is worth checking out.
We also discussed that Frank Family Vineyards was acquired by Treasury Americas last fall. The good news for us and fans of the winery and its wines, is that Todd Graff, will remain with Frank Family Vineyards after closing. We also have a nice relationship with the folks at Treasury and look forward to continuing to cover the wines made by Todd and his team. Rich and Leslie Frank will maintain the ownership of Winston Hill Vineyard in Rutherford and the Lewis Vineyard in Napa. That said, those vineyards will continue to source grapes for the Frank Family reserve tier after the closing. That is also very good news, as you will see those vineyards sourced the grapes for some very good wines. Overall, the future looks bright for Todd and Frank Family Vineyards. Below is a summary of the impressive wines that we covered with Todd. The links are to our full reviews. If you are interested in ordering and trying these wines, you will find the Carneros and Napa Valley wines via your favorite wine shop. The rest are available for order via the Frank Family Vineyards website.
Frank Family 2020 Chardonnay "Carneros" $38 (KWGTP 92)
Frank Family 2019 Chardonnay "Lewis Vineyard" (Carneros) $75 (KWGTP 93)
Frank Family 2019 Pinot Noir "Lewis Vineyard" (Carneros) $85 (KWGTP 92.5)
Frank Family 2019 Zinfandel "Reserve" (Chiles Valley) $70 (KWGTP 93)
Frank Family 2019 Cabernet Sauvignon "Napa Valley" $60 (KWGTP 92.5)
Frank Family 2018 Cabernet Sauvignon "RHF" (Rutherford) $110 (KWGTP 94)
Frank Family 2018 Red Wine "Winston Hill" (Rutherford) $175 (KWGTP 96)
You can find reviews of past and future Frank Family wines that we cover on the KWG Frank Family winery page on our website. We will close with the quote from Todd's bio page that I liked. "As soon as we think we know what we're doing, we're rookies again. But winemakers don't have erasers. We have to do it right the first time." Based on what we tasted, Todd and his team are certainly doing it right! Enjoy – Ken