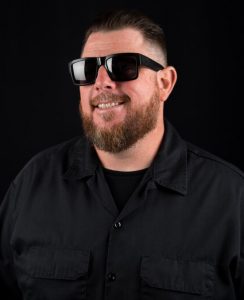 During our Zoom interview on August 24th, we had a chance to meet McPrice "Mac" Myers who is the winemaker and founder at McPrice Myers winery. This interview came about after I heard Mac and Billy Grant on Adam Montiel's Paso Robles based podcast "Where Wine Takes You." The Episode was "Paso Wine's Person of the Year" Billy Grant and McPrice Myers. I had covered some of Mac's wines in the past, but after that podcast episode, I had to reach out to Billy to set up the interview. I had to showcase his wines to the Tasting Panel.
We learned a ton about Mac in the interview and grew huge respect for Mac's accomplishments. Mac's path the winemaking was not your traditional path. He was first introduced to wine in 1994 at his first job at Trader Joe's. They did weekly wine tastings and that was the trigger point for Mac. From there he visited wine country every two weeks to learn more and more about the wine industry. He learned his future craft by volunteering on his time off from his real job. Once again, this was not the traditional path for sure. Eventually, Mac, Russell From (Herman Story) and their cellar master is Edgar Torres created Barrel 27 wines. There motto was "We work hard to make good wine. You work. You work hard and need good wine." Given their roots, they made Barrel 27 wines for people like them! Affordable and very good "Hard Working Wines" for hard working folks! Long after that project, Mac is still dedicated to making these wines. He puts as much effort into those wines as he does his premium McPrice Myers offerings. He really gives back!
Below is a summary of the seven premium McPrice Myers wines that we covered with Mac. As you will see, they were all very well done and impressive.
The links below are to our full reviews. If you are interested in ordering and trying these wines, you will find many of these wines via your favorite fine wine shop or on top quality wines lists. You can also order them all via the McPrice Myers website.
1. McPrice Myers 2021 "Beautiful Earth White" (Paso) $35 (KWGTP 91.5)
2. McPrice Myers 2021 "Beautiful Earth Rosé" (Paso) $35 (KWGTP 90.5)
3. McPrice Myers 2020 "Beautiful Earth Red" (Paso) $45 (KWGTP 92)
4. McPrice Myers 2020 "Paper Street Cuvée" (Willow Creek) $65 (KWGTP 94)
5. McPrice Myers 2020 "Brave Fortune" (Santa Barbara County) $55 (KWGTP 92.5)
6. McPrice Myers 2020 "Cuvée Kristina" (CA) $85 (KWGTP 94)
7. McPrice Myers 2020 "Fait Accompli" (Paso) $55 (KWGTP 94)
You can find reviews of past and future McPrice Myers wines that we cover on the KWG McPrice Myers winery page on our website. You can and should also explore his very affordable and very good Hard Working Wines series. As mentioned above, The Hard Working Wines series are value-driven wines from Paso Robles and the Central Coast. From these value driven wines to the Excellent premium we covered, there is something for everyone at MacPrice Myers. Enjoy!