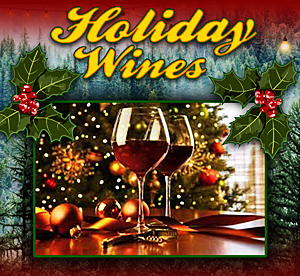 I was recently listening to the The Wonderful World Of Wine (WWW) podcast and I thought they were discussing a great topic:  Wine Holidays!  I found it really fun to listen to because each time I write the newsletter, I always look to see if their is a wine holiday coming up in the next two weeks. I reached out to Mark Lenzi who hosts the show with Kim Simone. I asked if he could share with me the list he compiled; he did.  It was quite extensive and well beyond just wine. It covered beer, wine, spirits, coffee, etc.  If you want to hear the entire list, please check our Episode 150 of their Wonderful World Of Wine podcast. I asked him if I could post just the Wine Holidays on the KWG Blog so my readers could plan to celebrate these fun events in the weeks and months to come. He agreed, and the wine list is below.  Please enjoy each Wine Holiday responsibly and with a KensWineGuide.com recommended wine.  Cheers!
Wine Days, Wine Months and Wine Holiday List
January Wine Holidays
National Hangover Day is January 1
Champagne and French Fries Day is January 10, 2021
February Wine Holidays
Wine Lover's Day is February 14, 2021
International Syrah Day is February 16, 2021
Global Drink Wine Day is February 18, 2021 #DrinkWineDay
Open That Bottle Night (OTBN) is February 27, 2021 (The Last Saturday in February)
March Wine Holidays
Mulled Wine Day is March 3, 2021  #MulledWineDay; #MulledWine
Riesling Day is March 13, 2021 #RieslingBirthday; #RieslingDay
April Wine Holidays
Michigan Wine Month
World Malbec Day is April 17, 2021 – #MalbecWorldDay; #WorldMalbecDay; #MalbecDay
International Cava Day is April 23, 2021
Sauvignon Blanc Day is April 24
May Wine Holidays
Oregon Wine Month #ORWineMonth
Finger Lakes Wine Month
International Sauvignon Blanc Day is May 7, 2021 #SauvignonBlancDay; #SauvBlancDay
World Moscato Day is May 9, 2021 #WorldMoscatoDay
May 16th Official Mimosa Day
Pinot Grigio Day is May 17
May 24th: Anniversary of the Judgment of Paris.
National Wine Day is May 25, 2021 #NationalWineDay
International Chardonnay Day is May 27, 2021 #ChardonnayDay
June Wine Holidays
Ohio Wine Month
Idaho Wine Month
National Rose Month (Wine!)
National Prosecco Week, #NationalProseccoWeek (June 11–16)
National Bubbly Day is June 5, 2021 (First Sat In June)
National Rosé Day June 8th or 12th (Second Sat. In June also 4th Friday)
Drink Chenin Blanc Day is June 19, 2021
July Wine Holidays
Sparkling Wine Week (first week of July)
National Wine & Cheese Day is July 25, 2021
August Wine Holidays
Washington Wine Month
Rosé Month
World Albarino Day is August 1, 2021
National White Wine Day is August 4, 2021
International Prosecco Day is August 13, 2021
August 14th: International Rosé Day (Hotly debated, at least insofar as Rosé Days can be; some say August is Rosé Month, and some say Rosé Day is June 10th or 11th. Cut your losses and celebrate all.)
International Pinot Noir Day is August 18, 2021 #PinotNoirDay
International Red Wine Day is August 28
September Wine Holidays
California, Missouri, North Carolina, and Illinois Wine Month
Aussie Wine Month
International Cabernet Day (Thursday before Labor Day in the U.S.) #CabernetDay; #CabernetSauvignonDay
National Chianti Day is September 3, 2021
International Grenache Day is September 17, 2021- #GrenacheDay (Third Friday of September)
 October Wine Holidays
Texas, Virginia, and Pennsylvania Wine Month
International Pinotage Day is October 9, 2021
October 11-17th: Drink Local Wine Week
World Champagne Day is October 16, 2021 23rd  (UK) #ChampagneDay; #WorldChampagneDay
November Wine Holidays
National Wine Tasting Day – November 7, 2020 (First Saturday in November)
International Merlot Day is November 7, 2021
International Tempranillo Day is November 11, 2021
Wine Tourism Day is November 12, 2021
National Zinfandel Day is November 17, 2021
Beaujolais Nouveau Day is November 18, 2021 (Third Thursday of November
Carménère Day is November 24
December Wine Holidays
Cabernet Franc Day is December 4, 2021#CabFrancDay; #CabFranc; #CabernetFrancDay; #CabernetFranc
Repeal of Prohibition Day – December 5
Give a Wine Club Day – December 18
National Champagne Day – December 31