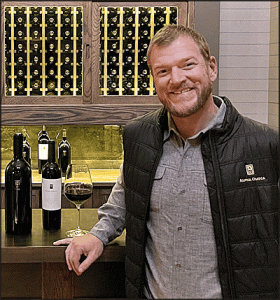 On December 8th, Alpha Omega winemaker Matt Brain, joined the Tasting Panel on Zoom to cover 10 of his new release wines. We learned a lot about Matt's technical background and how he came to be Alpha Omega's currant winemaker.
We also had a little fun talking about his former Baker & Brain project where I once scored a 2016 Gruner Veltliner he co-produced 92 points. It was fun bringing up that wine and to get the history on his relationship with Josh Baker.
Below is a summary of all the impressive wines that we covered with Matt. The links are to our full reviews. If you are interested in ordering these wines, you should most likely reach out to the winery directly. I am sure the concierge service team will be very happy to assist you.
Alpha Omega 2020 Sauvignon Blanc "1155" (Napa Valley) $85 (KWGTP 91.5)
Alpha Omega 2019 Chardonnay "Napa Valley" 100% $85 (KWGTP 94)
Alpha Omega 2019 Cabernet Sauvignon "Napa Valley" $108 (KWGTP 93)
Alpha Omega 2019 "Proprietary Red" (Napa Valley) $108 (KWGTP 93)
Alpha Omega 2019 Cabernet Sauvignon "Cordes Vineyard" (Atlas Peak) $245 (KWGTP 96)
Alpha Omega 2019 Cabernet Sauvignon "Drew Vineyard" (Mt. Veeder) $245 (KWGTP 95)
Alpha Omega 2019 Cabernet Sauvignon "Sunshine Valley Vineyard" (Oak Knoll) $245  (KWGTP 95)
Alpha Omega 2019 "Right Bank" (Napa Valley) $108 (KWGTP 92.5)
Alpha Omega 2019 Petit Verdot (Napa Valley) $110 (KWGTP 96)
Alpha Omega 2019 "ERA" (Napa Valley) $305 (KWGTP 97)