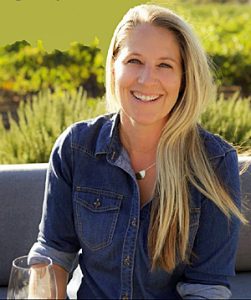 During our interview on April 27th, we had a chance to catch up with Janell after a very long hiatus. I first met Janell many years ago during the early days of the Boston Wine Expo. These days, Janell is the head winemaker and owner Janell Dusi Winery. Janell was born and raised on the Dusi Vineyard where her grandfather Dante taught her the old-world Italian style of winemaking. The Dusi family's heritage and history in Paso Robles Wine Country dates back to the early 1920's, where grape growing was a craft.
Another fun discovery, was the story of the Paper Street Vineyard. We learned that after years of searching, in 2013 Mike Dusi found a 360-acre parcel of land in the Willow Creek AVA. It was hilly, rocky, covered in dead trees, and had been ignored for many years. It was a brutal piece of land – and in his eyes, perfect. The family thought he had gone a little crazy, but that was just the beginning.
A Paper Street is a road or street that appears on maps but does not exist in reality. The piece of land off Kiler Canyon was quite literally on one of these. Mike Dusi saw something special, and the Paper Street Vineyard was born. Continuing and expanding on the legacy of generational farming, for 3 years he worked with sons Matt and Michael to clear the land and plant the vineyard. The elevation, steep hillsides, and white calcareous terrior create excellent growing conditions for making bold, balanced, and complex wines. Of the 360 acres, 110 was cultivatable. Those 110 acres are steep, rocky, and full of limestone. They include varieties such as (of course) Zinfandel, Mourvedre, Grenache, Syrah, Clairette Blanche, Tempranillo, Carignane, Cabernet Sauvignon, and Petite Sirah. Their first official Paper Street vintage was 2016.
We certainly left the interview knowing that Janell and her family are farmers. Janell is also a passionate winemaker and very good at what she does.
To get a cool visual of the J. Dusi winery, check out this video of the vineyard and the tasting room.
Another cool video is this one of the Paper Street Vineyard. Enjoy!
Below is a summary of all the impressive wines that we covered with Janell. The links are to our full reviews. If you are interested in ordering and trying these wines, you will find a few of them via your favorite wine shop. The rest are available for order via the J. Dusi winery website.
J. Dusi 2021 Pinot Grigio (Paso Robles) $20 (KWGTP 90)
J. Dusi 2019 Zinfandel "Dante Dusi" (Templeton Gap) $44 (KWGTP 90)
J. Dusi 2019 Zinfandel "Gazzaroli" (Paso Robles) $52 (KWGTP 93)
J. Dusi 2019 Petite Sirah "Caterina's" (Paso Robles) $52 (KWGTP 93)
J. Dusi 2019 Red Blend "The Other Brother" (Paso Robles) $44 (KWGTP 94)
Paper Street 2019 Mourvedre "Cornflower Blue" (Willow Creek District) $68 (KWGTP 92)
Paper Street 2019 Red Blend "The Narrator" (Willow Creek District) $68 (KWGTP 92.5)
Paper Street 2019 Zinfandel (Willow Creek District) $68 (KWGTP 93)
Paper Street 2018 Cabernet Sauvignon (Willow Creek District) $78 (KWGTP 92)
 J. Dusi 2016 "Zinfandel Port" (Templeton Gap) $32 (KWGTP 93.5)
You can find reviews of past and additional J. Dusi wines that we cover on the KWG J. Dusi winery page on our website. Cheers! Ken