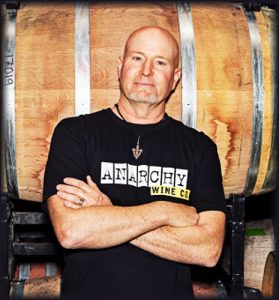 During our interview on May 4, we had a chance to catch up with Christian Tietje. I first met Christian many years ago during the early days of the Boston Wine Expo. Christian and Billy Grant were enlightening the world with their Four Vines and Freak Show wines. These days, Christian is the winemaker and owner Anarchy Winery. He is as fun as ever and perhaps even more of a mad scientist with his of winemaking. That said, with many vintages of experience under his belt, he is churning out fantastic wines that consistently over-deliver for the price. They will also blow your mind!
The fun part me these days when I interview Christian, is I get to bust his balls about Bordelaise grapes. In the early days, Christian would swear off any wines made from Cabernet Sauvignon, Cabernet Franc, Merlot, Malbec and Petite Verdot. The funny part now is that our two highest scoring wines were a 100% Cabernet Franc and blend featuring Petit Verdot, Malbec and Cabernet Sauvignon. These wines kick ass and are a great reflection of Christian's winemaking skill. Some people might say Christian found religion; Christian would probably say he has crossed over to the dark side! Either way, it worked out for the best!
Below is a summary of all the impressive wines that we covered with Christian. The links are to our full reviews and complete wine details (Including blend %'s) . If you are interested in ordering and trying these wines, you will find a few of them via your favorite wine shop. The rest are available for order via the Anarchy winery website.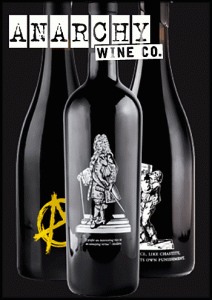 Anarchy 2019 Grenache "Drop Dead Legs" (Edna Valley) $64 (KWGTP 92.5)
Anarchy 2020 Mourvedre "The Agony & the Ecstasy" (Paso) $69 (KWGTP 91)
Anarchy 2019 Red Blend "Anarchy" $57 (KWGTP 92)
Anarchy 2019 Red Blend "The Peasant" (GSM) (San Luis Obispo) $57 (KWGTP 93)
Anarchy 2019 Syrah "Auspicious Omen" (San Luis Obispo) $69 (KWGTP 93)
Anarchy 2020 Cabernet Franc "Furious Muse" (Paso Robles) $80 (KWGTP 94)
Anarchy 2019 Red Blend "Monarchy" (Paso Robles) $57 (KWGTP 95)
Anarchy 2019 Petite Sirah "Heretic" (Paso Robles) $57 (KWGTP 93.5)
You can find reviews of past and additional Anarchy wines that we cover on the KWG Anarchy winery page on our website. We will close with the quote from the Monarchy bottle. "I prefer an interesting vice to an annoying virtue." – Moliere. So, explore your favorite vice with these Anarchy wines and enjoy! – Ken