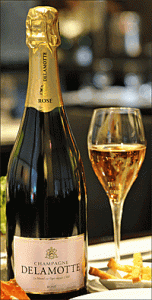 As each year comes to a close, we like to finish our annual recommendations with a list of Sparkling Wine and Champagne recommendations for our readers to consider for their New Year's Eve celebrations. We will start with our very good values and work our way up to the more expensive options.
We will start with the Perlage non-vintage "Sgajo Vegan Extra Dry Prosecco" for $12. This 100% Glera wine scored 89 points from our chief bubblehead Tasting Panel member Nicolay. He really liked its red delicious apple flavors with touches of vanilla, chamomile, and a slight hint of caramelized flavors.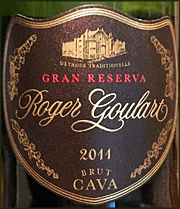 The next two values are Cava's from Roger Goulart. The first is the very impressive 2011 "Gran Reserva Brut Cava" for $20. This stunner was awarded 92 points from Nicolay. The mouthfeel is wide showing tons of bread and custard flavors along with fresh apples, minerality, caramel, and a touch of anise. Nicolay thought it was one of the better sparkling wines outside of Champagne. Also Roger Goulart is the 2013 "Gran Reserva Brut Rose Cava" also for $20. This offering received 90 points from Nicolay. The mouthfeel of this Cava is round with medium-sized bubbles coating every inch of your mouth. The finish is medium to long in length and is pleasant with red fruits intermingling well with its acidity. Clearly these two Cava's are impressive value worthy of your consideration.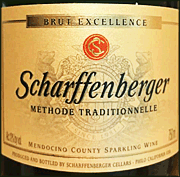 Coming back to United States, we find two 90 pointers that also will not break the bank. We will start with the Scharffenberger Non-Vintage "Brut Excellence" for $20. This Mendocino County based Sparkler is very nice and will be a crowd pleaser. Nicolay points out that this offering is fresh, even though it has quite a bit of weight to it. He enjoyed its golden apple and ginger flavors with hints of lemon zest and a touch caramel towards the end. He would pair this Sparkler with bacon-wrapped scallops. Next we move on the Finger Lakes where Nicolay recommends the 2016 Dr. Konstantin Frank "Brut" for $25. This bone-dry offering is light on the palate, with small bubbles. The flavor profile is rich with green and yellow apples leading towards some hints of caramel, custard and a touch of orange marmalade.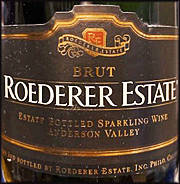 Staying in the US, we return to California's Anderson Valley. From there we recommend two 90-point offerings from the Roederer Estate. The first is the Roederer non-vintage "Brut" for $27 which was medium to full bodied, round and pleasantly acidic. I really liked its mineral influenced green apple flavors with notes of ginger ale, yellow grapefruit and white tea. I would recommend this one with quiche Lorraine tarts. The other option is the Roederer non-vintage "Brut Rose" for $31. The Tasting Panel described this sparkler as displaying mineral influenced red cherry flavors with notes of bread dough along with a hint of caramel and white pepper towards the end. They suggested pairing this Rose sparkler with shrimp cocktail.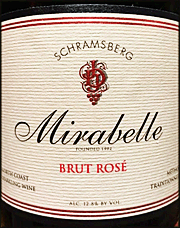 Another winery that has done consistently well with us over the years is Schramsberg. Their North Coast offerings always seem to show very well. This year, we are going to recommend two of their Rose's. Both of them scored 90 points. We will start with the non-vintage "Mirabelle Brut Rose" for $31. Nicolay described its flavors as strawberry, raspberry and cranberries along with notes of basil and sage. He though this one would pair great with smoked salmon or simply on its own. The 2016 Schramsberg "Brut Rose" for $47 was well received by the Tasting Panel. We found it to be medium bodied and slightly acidic with nutty raspberry flavors and notes of soft minerality, green tea and a hint of lemon. The Panel suggest pairing this Brut Rose with cherrystones or shrimp cocktail.
Our final 90 pointer is the 2010 Gloria Ferrer "Anniversary Cuvee" for $45. This Carneros offering is made mainly from Pinot Noir. It displays pronounced brioche, vanilla, and glazed golden delicious apple aromas. On the palate, it displays flavors of cloudberry and candied Meyer lemon and baking spices like nutmeg and cardamom. This Sparkler is meant to be a standalone sipper. It would be a very nice choice to your New Year's Eve toast wine.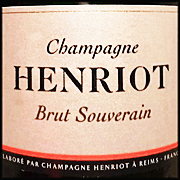 The next recommendation hails France. The non-vintage Henriot "Brut Souverain" Champagne for $45 received 91 points from Nicolay. The bubbles are light on this one, but allows its flavors to show through. Those tasty flavors are toasty almonds and sweet green tea. This is another very good offering that shines bright enough to be enjoyed on its own.
Another great discovery from earlier this year was the 2014 Iron Horse "Wedding Cuvee" for $45. I scored this gem, 93 points. It opens with slow gliding and streaming bubbles that lead to a fresh bread dough bouquet with a hint of shelled nuts. I found it to be medium bodied, pleasantly acidic and mouthwatering with mineral influenced walnut flavors along with notes of green apple and touch of strawberry mousse towards the end. As the label denotes, this would be a superb wedding wine and a very impressive New Year's Eve offering.
The 2012 Roederer Estate "L'Ermitage Brut" for $48 was a standout from all sparkling wines that Nicolay sampled this year. He scored it 94 points. He described the palate as an orchestra of flavors that range from sweet to savory and from ripe to a touch tart. Notes of brioche can be found alongside orange marmalade and roasted pecans. The palate continues with the acidity bringing in flavors of Asian pear and Honey-crisp apples. The finish lingers for minutes without subsiding. This one should be served on its own because it deserves it.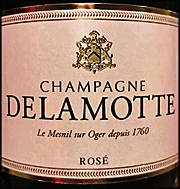 Our last recommendation is a bit pricey, so we would suggest sharing a bottle of this gem with someone special vs. a big party. The non-vintage Delamotte "Brut Rose" for $96 won our Big Blind Tasting with an Excellent score of 94 points. This pink colored Champagne displays a lot of tiny streaming bubbles. We loved its medium bodied that was balanced, soft and delicate. Its delicious flavor profile featured tasty gentle mineral and Maraschino cherry flavors with hints of grapefruit and strawberry. The finish was dry and nicely extended. As already noted, the Panel suggested enjoying this elegant Brut Rose Champagne on its own with someone special.
We hope you find can find a few of these for your New Year's Eve celebration. We are certain if you do, you and your friends will enjoy them all. Happy New Year. – Cheers! – Ken