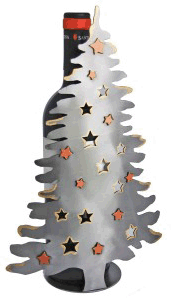 This is the year to give the wine lover in your life a great High End Cab based wine for Christmas.  Why?  The economy stinks.  So why is that a good reason to spend a lot of money on wine?  The first reason is because this might be the only time you can get some of these wines.  Demand is off for high end wines.  In past years these wines are highly allocated and frequently sold out.  This year these wines are now available for consumers to get their hands on.  This is a great opportunity to get that special wine for your wine lover.  You also can probably get a discount as well.  Now the key is to buy the right ones to make sure you get your moneys worth.
Just before Thanksgiving we conducted our annual High End Cab tasting.  We found several terrific Cabs for you to consider as gifts.  Below we will list all winners that scored 90 points or more.  In addition, some of the best High Ends Cabs I tried this year were wines I covered during my trip to California this summer during the Wine Bloggers Conference.  Those Cab's are also included in this ultimate Christmas wish list.  So which wine will you choose to put behind your Christmas Tree Wine Caddy?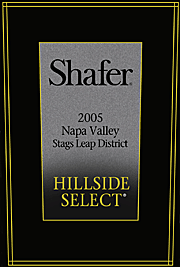 So what Cab tops the list?  The answer is the 2005 Shafer "Hillside Select."  I scored this wine as Excellent and awarded it with 97 points.  Now it is expensive at $215, but it was the best wine that I tried on my trip to California.  So I can confidently say it was worth the investment.  I found the wine to be full bodied, extremely well balanced, and elegant.  It displays absolutely stunning refined blackberry flavors with delicate notes of black cherry, black licorice, and spice.  It's just delicious.  Anyone that receives this wine as a gift will certainly remember it for a long long time.  Score some points yourself and consider this wine for as you top Christmas gift for the wine lover in your life.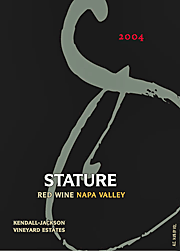 The next two wines both scored 95 points and were considered Excellent as well.  Both wines are very limited in production, but are worth seeking out.  The 2004 Kendall Jackson "Stature" for $110 is one heck of a wine.  The best features of this Napa Valley wine is that it is super silky and displays very extracted lush blackberry flavors.  Another highlight is its very very lengthy finish.  I just loved it.  The next wine has a little more availability with 669 cases made.  The 2006 Lokoya "Mount Veeder" Cab for $225 is big and juicy.  I loved its ripe blueberry flavors with notes of blackberry and spice.  If the wine lover in your life loves fruit forward Cab, this is the wine you should try to get for them.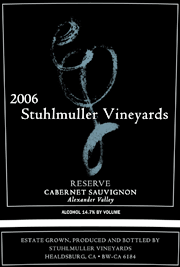 The next wine we are going to recommend is the winner our Big Blind tasting.  That wine was the 2006 Stuhlmuller "Reserve" Cab from the Alexander Valley in California.  Like the Lokoya and Stature, this wine is also very limited in production.  There were only 295 cases of this gem made.  However, Fritz has a few cases left after the KWG Tasting Panel took some off his hands.  At $65 with 94 points awarded this wine is an absolute steal.  It opens with a fragrant ripe blueberry bouquet with a delicious blend of black raspberry and black cherry flavors.  It is extremely well balanced and silky which added to its appeal.  In the end, it was very dry and its enormous tannins go on for several minutes.  The panel suggested that you could enjoy it fireside on a cold winter's night or cellar it and pair it with a filet mignon in 5 to 10 years.  This is a perfect wine to put in your cellar.  However, we will bet you won't be able to resist trying one soon.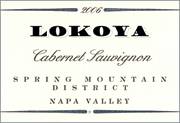 Other Cabs that scored 94 points were three additional wines that I covered this summer.  The 2006 Lokoya "Spring Mountain" for $200 was just a step behind its big brother from Mt. Veeder.  This offering was distinctive because of its very creamy and ultra elegant style.  It had a different flavor profile, led by delicious mild dusty blackberry flavors with a hint of black cherry on the back palate.
Another consistent winner is the Lail Vineyards "J Daniel Cuvee" Cabernet Sauvignon for $125.  This year I gave the 2006 vintage 94 points.  It is an impressive wine.  I loved how silky and elegant this Cab was.  If displays delicious ripe black cherry flavors on the palate and rather lengthy cherry soaked tannins that stick around for quite some time.  It was definitely a memorable wine.
The last 94 pointer was the 2006 Merryvale "Profile" for $135.  This Napa Valley gem is made from 82% Cabernet Sauvignon, 12% Merlot, 5% Petite Verdot, and 1% Cabernet Franc.  It was my second favorite wine from a blind tasting of ultra premium Napa Cabs and blends that I attended in September.  It showed excellent finesse from start to finish.  I was enamored by how smooth it was.  That aspect of the wine, when combined with is delightful light blueberry and black cherry flavors made it one of the top wines of the year.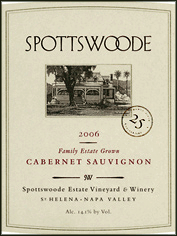 Now we come back to our Big Blind tasting.  Our second place finisher from that tasting was another big boy.  The 2006 Spottswoode Cab for $130 hails from St. Helena, California.  We awarded this wine with 93 points.  It is very nicely balanced and displays very tasty black cherry flavors with notes of menthol and oak.  Its finish is rather dry and its substantial tannins sail on for quite a while.  So our panel recommended that you cellar this wine or decant it before serving it with a ribeye steak.
Just behind the Spottswoode in third place came from another big name from the Napa Valley.  The 2005 Trefethen "Reserve" for $100 really caught our attention.  We scored it 93 points.  It opens with a very interesting wintergreen and cherry bouquet with a hint of plum.  It displays very tasty cherry vanilla flavors with notes of nutmeg and spice.  Better yet it was very nicely balanced and silky smooth.  The panel felt this wine was a perfect wine for a special dinner.  So get a bottle and enjoy it with the wine lover in your life.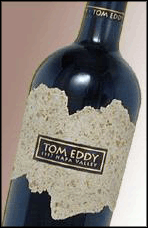 The other 93 point wines that I covered are all worthy of your attention and investment.  The 2003 Tom Eddy Cabernet from the "Napa Valley" is a heck of a wine for $80.  This Cab is full bodied and fruit forward with its very spicy black cherry flavors.  This wine is still a baby and just beginning to emerge.  I certainly think it has plenty of fruit and tannins for the long haul.  It would be a great investment wine your wine lover.
The 2006 Caymus "Special Select" for $160 came in just behind the "Profile" in that September blind tasting.  It was full bodied, extremely well balanced, and ultra smooth.  My favorite part was its delicious blend of blueberry and ripe black cherry flavors.  That combined with its substantial smooth and lengthy tannins made it a real winner.  You can't go wrong giving this wine away as a gift.

One of my new favorite wineries is Pina.  For 2 years running I have loved their "Buckeye Vineyard" Cabernet from Howell Mountain for $85.  I awarded the 2006 with 93 points.  As I mentioned, this impressive Cabernet is highly recommended for the second vintage in a row.  It is full bodied, nicely balanced, and smooth with very spicy black currant and black cherry flavors.  It also has complex hints of anise and blackberry mixed in as well.  Its fine tannins are nicely prolonged and make it a perfect complement to a NY strip steak. 
Nickel and Nickel makes many single vineyard Cabs.  I tried all the current releases at a tasting at Post 390 in Boston.  The 2006 "Kelham Vineyard" Cab from Oakville for $90 was my favorite.  It was full bodied and nicely balanced with delicious ripe blackberry and boysenberry flavors with hints of black licorice and black pepper.  It also displayed noticeable big tannins that are lengthy and sticky.  So this Cab will do well long term and will age well in your cellar.

Returning to the Big Blind tasting, the next couple of wines were the big boys!  Both these wines might be the best wines of the bunch in the long run.  They are both substantial wines right now.  Both wines got 92 points from the panel.  The first of these 2 wines is the 2005 Merus for $135.  This Napa Valley wine is mostly Cab.  It is full bodied, dense, extremely well balanced, and smooth as silk.  It is delicious with its complex blend of black raspberry, tobacco, bacon, and menthol flavors.  You should really wait 5+ years before you drink this monster of a wine.  But if you can't resist we suggest decanting.  Next up is the 2006 Joseph Phelps "Insignia" for $200.  It always finishes near the top of our high end blind tasting.  This year's vintage is a savory blend of black cherry and black raspberry with some notes smoky oak and black pepper.  It is also very smooth.  The panel felt this wine would be perfect to pair nicely with a NY strip steak with Hollandaise sauce at some point down the road.  In the interim you should consider drinking your 2005 Insignia as it is showing great right now and it won that Ultra Premium blind tasting back in September.

The next wine has impressed me twice.  The 2006 Darioush "Signature" Cabernet for $80 was awarded with 92 points this summer and then recently impressed clients at our Christmas dinner at the Wayside Inn in Sudbury.  This full bodied Cab is very well balanced and ultra smooth.  Its dusty black cherry flavors with notes of oak, spice, and black pepper were a hit with everyone.  It's very well managed tannins sail on nicely and it paired well with everyone's food.
The next three 92 point wines are defined by elegance.  The 2005 Altamura for $75 is full bodied and very nicely balanced.  Our group was very impressed by this wine's very silky mouthfeel.  It also displays a delicious cherry vanilla flavor profile with hints of spice and pepper.  It is a winner and very food friendly.  The 2006 Cardinale for $200 is pitch black colored wine that is full bodied, very well balanced, silky, and extremely refined.  Its flavor profile is a tasty mild black cherry with a hint of strawberry.  It fine tannins build up and sail on and on.  It is an easy going Cab based wine that would pair well with a filet mignon over the next few years.  The 2005 Raymond "Generations" Cab for $85 is made from 100% Cabernet Sauvignon.  This Napa Cab was a real crowd pleaser.  It is very well balanced and smooth with delicious black cherry flavors.  I noted, I could drink this wine all night long and certainly would enjoy it with a filet mignon.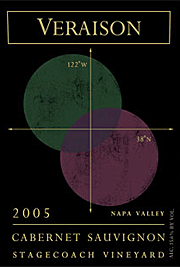 Our next wine is the Krupp Brothers 2005 "Veraison" Cab which comes from the famous Stagecoach Vineyard. It opens with a mild black cherry like bouquet with a hint of sage.  Its juicy black cherry flavors with a hint of black pepper are impressive.  Its building tannins will catch your attention as they sail on for quite sometime.  This wine retails for $60, so it is a nice bargain when compared to its peers.
If you remember my Beckstoffer post from this summer, you know we were very impressed by one of Paul Hobbs Cabs.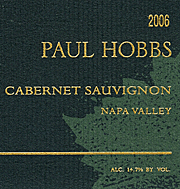 So when I went to California this summer, I made it a point to stop by the winery and try some more wines.  I was impressed again with 2006 "Napa Valley" Cab for $75 which I gave 92 points.  It was full bodied, well balanced, and concentrated with rich black cherry flavors with notes of blackberry, black currant, and black licorice mixed in.  I also recommended the 2006 Dr. Crane's Vineyard Cab as well.  This wine was $165 and received 93 points.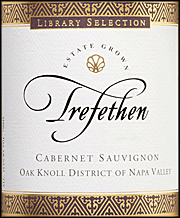 Our last highlighted wine is the 2002 Trefethen "Library Selection" Cab for $80.  This new late release was quite impressive.  The extra aging at the winery certainly has made this wine very special.  It opens with an attractive boysenberry and black raspberry bouquet.  On the palate, it is ultra smooth with very tasty black currant flavors and integrated spice.  The late release of this wine made it really approachable now with its well managed moderate tannins that are nicely extended and linger.
Other wines Cabs scoring over 90 points that would make a great gift and are worthy of your investment:
1) Chappellet 2006 Cab "Pritchard Hill" (Napa Valley) $135 (91)
2) PreVail 2005 Cab "Back Forty" (Alexander Valley) $85 (91)
3) Shafer 2006 Cab "One Point Five" (Stags Leap) $70 (91)
4) Spring Mountain 2004 Cab "Elivette" (Napa Valley) $100 (91)
5) Kendall Jackson 2006 Cab "Trace Ridge" (Knight's Valley) $70 (91)
6) Stonestreet 2005 Cab "Christopher's" (Alexander Valley) $100 (91)
7) Nickel & Nickel 2006 Cab "Vogt Vineyard"  (Howell Mountain) $90 (91)
8) Blue Rock 2004 Cab "Alexander Valley" $47 (91)
9) Freemark Abbey 2004 Cab "Sycamore Vineyard" (Rutherford) $55 (91)
10) St. Supery 2005 Cab "Dollarhide"  (Napa Valley) $80 (91)
11) Duckhorn 2006 Cabernet "Napa Valley" $65 (91)
12) Lancaster 2006 Cab "Estate" (Alexander Valley) $70 (90)
13) Concha y Toro 2006 Cab "Don Melchor" (Peumo Valley, Chile) $70 (90)
14) Viader 2006 Cab "Napa Valley" $100  (90)
15) Kuleto Estate 2005 Cab "Napa Valley" $60 (90)
16) Chalk Hill 2005 Cab "Estate Bottled" (Chalk Hill) $65 (90)
17) Duckhorn 2005 Cab "Estate Grown" (Napa Valley) $95 (90)
18) Duckhorn 2005 Cab "Monitor Ledge Vineyard" (Napa Valley) $90 (90)
19) Joseph Phelps 2006 Cabernet (Napa Valley) $54 (90)
20) J. Davies 2006 Cabernet "Diamond Mountain District" $75 (90)
21) Heitz Cellars 2005 Cab "Napa" $42 (90)
As you can see, I have had the luxury to trying a lot of really good Cabs this year.  These memorable wines are very impressive.   If you want to make your wine lovers Christmas very special, call a winery and have one of these gems sent Express to you for a perfect last minute Christmas gift.  You can also check in with your favorite wine merchant, I'm sure they will have at least one of these.  Good luck.  I know these wines will be your wine lover's favorite gift under the tree.
Cheers! – Ken