Wonderful White Wines & Blends – Some Great Values Too
Our review of miscellaneous White Wines in the fall is always one of my favorite tastings. We are able to taste all the uncommon grapes. These wines will probably not be your household names, but they offer unique flavors and opportunities to try something new. This is a treat for those of us who enjoy wine tasting and wine reviewing because with each new vintage there is a new treasure hunt! This tasting always offers me a great opportunity to discover many gems. Below is the list of the best white wine blends that I discovered over the last couple of months. I hope you enjoy them as much as I did.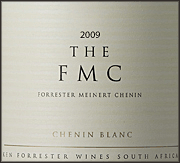 Our first wine and highest scoring of the evening, is a Chenin Blanc from South Africa. This wine is 2 for 2 with me. The 2009 is a great follow up to the Excellent 2008 vintage. What is this mystery 93 point gem? It is the 2009 Ken Forrester "The FMC" Chenin Blanc for $65. I have found it to consistently be the best Chenin Blanc that I have covered from South Africa. This year's vintage opens with a rich banana cream pie bouquet. On the palate, it is full-bodied, balanced, and creamy with delicious mild oak-infused pear flavors. I also detected hints of green apple and honey that added to its intrigue. This wine is so good that I would pair it with one of my favorite meals: Chicken St. Timothy.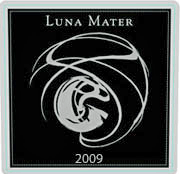 Next up is a white blend from Italy: the 2009 Fontana Candida "Luna Mater" received 92 points from me and was quite popular at a family gathering that we attended. This wine did not last very long. It is made from 70% Malvasia, 10% Greco, 10% Bombino, and 10% Trebbiano grapes. If you have never tried any of these grapes, this would be a perfect place to start. The wine is medium-bodied, balanced, and fruit forward. I really enjoyed its ripe Bosc pear flavors with notes of red apple and a hint of almond. The wine finishes semi-dry and is very refreshing. This wine is very food-friendly and unique. Try it with shrimp scampi or rainbow trout almandine. You can thank me later.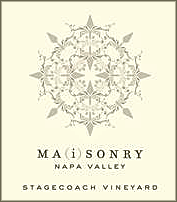 Another 92 pointer is the 2009 Maisonry "Stagecoach Vineyard" Marsanne. This offering comes is at $38, but is worth every penny. It is very impressive. This wine is full-bodied, well balanced, and displays a very round mouthfeel. Its flavor profile is a spiced pear and vanilla oak blend with a hint of toffee. It was yummy! This Marsanne will appeal to readers who like classic California-styled Chardonnay. If you are lucky enough to snag a bottle or two of this gem, I would pair it with chicken cordon bleu. Hurry, there were only 313 cases made and now everyone knows how good it is!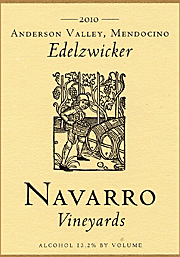 Our next wine is the steal of the year in this category. The 2010 Navarro "Edelzwicker" for $13 is an amazing wine for the money. I awarded it 91 points. This special wine is a very unique blend of 35% Riesling, 33% Pinot Gris, 28% Gewurztraminer, and 4% Muscat Blanc. As you might suspect, given the grape blend, it opens with a fragrant peach and lychee bouquet. On the palate, this wine is nicely balanced and slightly sweet. Its flavors are a very tasty blend of peach and ripe lychee with a hint of minerality and apricot. It's finish is semi-dry and drifts away so nicely. This white wine blend is a terrific Friday night wine to pair with take-out chicken lo-mein after a very long work week.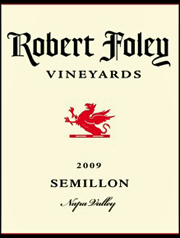 Our other 91 pointer is the 2009 Robert Foley 100% Semillon from the Napa Valley. I have to say that this is perhaps the best Semillon that I have covered recently. That tends to happen a lot with Bob's wines! This offering is light-bodied and very friendly on the palate. Our group really enjoyed its very tasty and pleasant gentle Anjou pear flavors with hints of stony minerality and apple. Like many of these unique white wines, it is very food-friendly and would pair well with many foods. I personally would choose the grilled trout from Les Z's. There was not much of this gem made, so call the winery to improve your chances of getting some. Only 200 cases were made. It is $25 per bottle.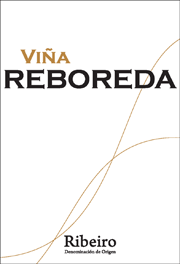 OK, are you ready for another steal? Try the 2010 Bodegas Campante "Vina Reboreda" from Ribeiro in Spain. I scored this impressive $11 quaffer 90 points. Here is the best news: they made 25,000 cases so you should easily be able to find it. This wine is light to medium-bodied and is made from 40% Treixadura, 20% Godello, 20% Torrontes & 20% Palomino grapes. We really liked its pleasant Anjou pear flavors with nicely infused mineral notes. This offering is dry and quite refreshing with just a touch of lingering residual acidity. We enjoyed this white wine blend from Spain. We found it to be very easy to drink. I would pair it with swordfish skewers or steamed mussels. Buy it by the case!
Our next two 90 pointers are also really good values. We will start with the 2010 Principessa Gavia "Gavi" for $14. I like Gavi wines in general, but I really like this one. The 2010 vintage is almost clear colored and opens with a mild lemon and Anjou pear bouquet with notes of wet stone.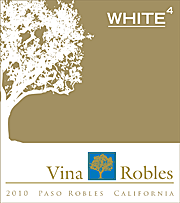 On the palate, it is slightly crispy and mouthwatering. I was drawn in by its mineral-infused Bosc pear flavors with notes of lime. While I was drinking it, all I could think of was how good it would be with Emeril's pan fried Maryland crab cakes or a seafood casserole. Next up is the 2010 Vina Robles "White 4" for $16. This white wine from Paso Robles is an interesting blend of 29% Viognier, 28% Verdelho, 27% Sauvignon Blanc & 18% Vermentino. It opens with a fragrant apple and pear-like bouquet. On the palate, it is slightly acidic and crisp with very tasty grapefruit and clementine flavors. I also detected notes of white pepper and a hint of lemon which added to its complexity. This is a very impressive wine for the money. As a matter of fact, it is a steal in my opinion. I would serve it as an opening wine with shrimp cocktail. Your friends will constantly keep asking you, what is this white wine? It's really good!
The 2010 d'Arenberg "Hermit Crab" from the McLaren Vale is consistently Very Good. I found this vintage to be the best Hermit Crab that I have covered for as long as I can remember. I scored it 90 points, and quite frankly could not get enough of it. This year's blend is 68% Viognier & 32% Marsanne. It opens with mild candied orange bouquet and displays pleasant Anjou pear and green apple flavors with a hint of minerality. I would pair this Very Good $16 wine with shrimp scampi. Stock up soon.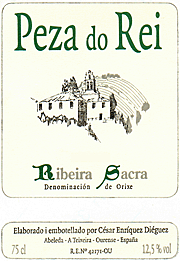 Our next 90 pointer is another interesting white blend from Spain. The 2009 Adega Cachin "Peza do Rei Blanco" costs $19 a bottle, but is well worth trying. It is made up of 70% Godello, 20% Treixadura & 10% Albarino. If you have never had these grapes before, this would be a great place to start. You will find tasty mild mineral-infused green pear flavors on the palate. Its finishes is dry, elegant and nicely refreshing. It is very versatile and food-friendly and would pair well with broiled halibut stuffed with crab. It might be tough to find as only 300 cases were imported. But it is definitely worth a quick online search.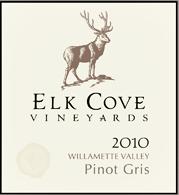 An easier wine to find would be the 2010 Elk Cove Pinot Gris which also costs $19 and received 90 points. This wine is consistently one of my favorite Pinot Gris out of Oregon. It opens with an attractive peach and mild apricot bouquet. It slightly viscous and shows pleasant acidity. Its tangerine flavor profile with notes of mild minerality and hints of apricot and green pear is very appealing. This Pinot Gris would be prefect with grilled swordfish.
Another 90 pointer is the 2009 Shannon Ridge Viognier from the "Morine Ranch" in High Valley, CA. It comes in at $19. On the palate, this wine is full bodied and creamy with tasty mild peach flavors with hints of cantaloupe and a hint of oak towards the back palate. This wine is very food-friendly and it would pair well with wild mushroom risotto.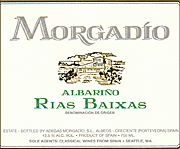 Another very consistent 90 point wine is the 2010 Morgadio Albarino from Rias Baixas, Spain. At $20 it is a bit more than many Albarinos but it is consistently very good. This vintage opens with a mild pilsner beer bouquet with a hint of green apple. On the palate, it is light-bodied and slightly acidic. Its flavor profile is a mineral-infused Anjou pear with a hint of gentle lime and saline. This Albarino is a perfect pairing for shellfish. I would recommend Alaskan king crab legs or broiled scallops.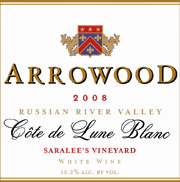 Another interesting blend that we discovered was this Rhone-styled wine from Arrowood Winery in the Russian River Valley. Their 2008 "Cote de Lune Blanc" for $25 is a blend of 41% Marsanne, 40% Roussanne, and 19% Viognier. It is full-bodied, nicely balanced and displays a pleasant round mouth feel. I really enjoyed it very tasty Bosc Pear flavors with notes of anise spice. I also detected hints of minerality and white pepper towards the end. It finishes in a crispy, dry style, while its flavors linger for a little while after the wine is gone. This wine is food-friendly and would pair well with linguine in a white wine clam sauce.
Here is another Spanish blend. The 2009 Herdade do Esporao "Private Selection White" for $25 is a blend of 90% Semillon, 10% Marsanne, and Roussanne. I referr to this wine as a "winter white," as it is a little heavier than most. Also, readers who like aged white wines will appreciate this offering. It is full-bodied, slightly viscous, round and balanced. Its favor profile is a tasty ripe pear and honey blend with hints of oak and a touch of butterscotch towards the end. This offering would be perfect with squab with truffled mashed potatoes.
The following 90 Pointers cost $30 or more and are worth a peak. Enjoy.
Kendall Jackson 2008 Viognier "Alisos Hill" (Santa Barbara County, CA) $30
John Duval 2010 "Plexus MRV" (61% Marsanne, 26% Roussanne, & 13% Voignier) (Barossa Valley) $35
Tablas Creek 2009 "Esprit de Beaucastel Blanc" (62% Roussanne, 26% Grenache Blanc, & 12% Picpoul Blanc) (Paso Robles, CA) $40
Cantina Terlano 2007 "Lunare Gewurztraminer" (Alto Adige, Italy) $55
These wines are our 89 Pointers.  There are some values in the range.
Pine Ridge 2009 (80% Chenin Blanc and 20% Viognier) (California) $14
Cantina Tramin 2010 Pinot Bianco (Alto Adige, Italy) $14
Tiefenbrunner 2010 Pinot Bianco "Weissburgunder" (Alto Adige, Italy) $15
Dr. Konstantin Frank 2010 Gewurztraminer  (Finger Lakes, NY) $15
J Vineyards 2010 Pinot Gris "California" $16
Navarro 2010 Gewurztraminer "Dry Estate Bottled" (Anderson Valley, CA) $19
Cadaretta 2010 "SBS" (Columbia Valley, WA) $23
Skylite Cellars 2009 Viognier "Upland Vineyard Snipes Mountain" (Walla Walla, WA) $19
Dr. Konstantin Frank 2009 Gewurztraminer "Reserve" (Finger Lakes, NY) $25
Freemark Abbey 2010 Viognier "Napa Valley" (CA) $27
Tramin 2009 Pinot Grigio "Unterebner" (Alto Adige, Italy) $31
Our 88 point list also includes several Very Good deals. Check it out!
Esporao 2010 "Duas Castas" (Portugal) $13
Stickybeak 2009 "72% Semillon & 28% Sauvignon Blanc" (Sonoma County, CA) $15
Paco and Lola 2009 "Estate Grown Albarino" (Rias Baixas, Spain) $15
Ferrari Carano 2010 "Bella Luce" (Sonoma County, CA) $16
Adegas Morgadio 2010 "Legado del Conde Albarino" (Rias Baixas, Spain) $18
Chehalem 2009 Pinot Gris "3 Vineyard" (Willamette Valley, OR) $19
Novy 2009 Viognier "Russian River Valley" (CA) $19
Adega dos Eidos 2010 "Eidos de Padrinan Albarino" (Rias Baixas, Spain) $24
Benessere 2009 Pinot Grigio "Carneros" (CA) $24
Robert Foley 2009 Pinot Blanc "Napa Valley" (CA) $25
Greyscale Wines 2009 (Sauvignon Blanc and Rousanne) "Cuvee Blanc" (Napa Valley, CA) $34
Don't rule out our 87 pointers. There are some good values here as well.
D'Arenberg 2009 (Riesling, Marsanne, & Sauvignon Blanc) "The Stump Jump" (McLaren Vale, Aust.) $10
Big House 2010 "Big House White" (CA) $10
Ken Forrester 2010 Chenin Blanc "Petit" (Western Cape, South Africa) $12
St. Michael Eppan 2009 Gewurztraminer "Alto Adige" (Italy) $16
St. Michael Eppan 2009 Pinot Grigio "Alto Adige" (Italy) $16
Biohof Pratsch 2010 Gruner Veltliner "Rotenpullen" (Niederosterreich, Austria) $20
Leeuwin Estate 2009 (62% Sauvignon Blanc & 38% Semillon) "Siblings" (Margaret River, Aust.) $20
We hope you enjoy exploring these tasty white wines as much as we did.  Please leave a comment with your opinion on your favorite discovery.  We would love to hear from you.  Cheers! – Ken