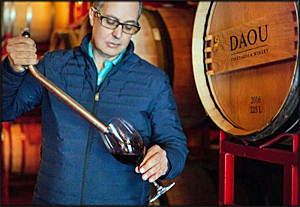 On January 12th, DAOU and Patrimony winemaker Daniel Daou, joined the Tasting Panel on Zoom to cover 11 of his new release wines. This is the second time Daniel has meet with the Tasting Panel.
We really have enjoyed both of our sessions with him. His story is incredible and very impressive. You can hear all the details of this journey in this comprehensive Cork Talk podcast with Tim Atkin. His passion is also very impressive. And we loved his quote "chase your passion, don't do it for the $." That certainly rings true with for the members of the Ken's Wine Guide Tasting Panel. We also learned a ton of details about his Patrimony project. How he is building his team with former members from the legendary Opus One winery. You can learn more about the Patrimony story in the Where The Wine Takes You podcast with Adam Montiel.
Finally, Daniel is convinced that the Adelaida District in Paso Robles is ideal for growing world class Cabernet Sauvignon. The proof is in the bottle and you should see for yourself. Below is a summary of all the impressive wines that we covered with Daniel. The links are to our full reviews. If you are interested in ordering these wines, you can find most of them on the DAOU website.
1) DAOU 2019 Pinot Noir "Solomon Hills" $90 (KWGTP 93)
2) DAOU 2019 Red Blend "Cuvee Lizzy" $85 (KWGTP 93)
3) DAOU 2019 Malbec "Estate" $100 (KWGTP 95)
4) DAOU 2018 Red Blend "Mayote" $100 (KWGTP 94.5)
5) DAOU 2019 Cabernet Sauvignon "Eye of the Falcon" $75 (KWGTP 94)
6) DAOU 2019 Cabernet Sauvignon "Reserve" $50 (KWGTP 93.5)
7) DAOU 2019 Cabernet Sauvignon "Estate" $95 (KWGTP 96)
8) DAOU 2019 Cabernet Sauvignon "Soul Of A Lion" $150 (KWGTP 96.5)
9) DAOU 2018 Cabernet Sauvignon "Family Cuvee" $130 (KWGTP 93)
10) Patrimony 2018 Cabernet Sauvignon $275 (KWGTP 98)
11) DAOU 2018 "Port" $100 (KWGTP 94.5)
You can find reviews of all the DAOU wines that we cover on the KWG DAOU winery page on our website. Most of the wines that you can find at your favorite retail wine shop are located on this page. Enjoy & Cheers! Ken